Looking good always enhances a person's confidence and that gets yet more impactful when you feel beautiful from within. Inner beauty reflects on one's face and, of course, on skin too. No makeup in the world can beat the beauty of a glowing and radiant skin. Taking care of your skin is as important as taking care of your health. Whenever we talk about skin care, the first thing comes in our mind is beauty products - be the natural ones or the ones we buy from beauty shops. Many of us follow regular beauty regime to take care of the skin, but amidst all these, we often forget that diet too is an integral part of health overall, including skin health. Several studies have shown that healthy diet slows down skin aging. Moreover, various health and beauty experts have said that unhealthy diet leads to several skin issues, including the very common pimple.


So, we must keep a check on our diet to get healthy, glowing skin. The very first step towards the same is to know the foods that are good for our skin.


(Also Read: Seasonal Fruit Masks to Hydrate Your Skin)
Here We Bring You A List Of Foods That Are Good For Your Skin Health:
Yogurt
The good bacterium in yogurt helps in stopping the ageing process and protects skin from chronic diseases, like acne, rosacea, et al.
Eggs
It helps to improve skin texture. Egg yolk is rich in fatty acids, lending moisture to the skin; whereas, egg white contains albumin that tighten the pores.
Salmon
This fish is rich in Omega-3 fatty acids that fight inflammation, wrinkles and acne.Moreover, it helps hydrate your skin from the inside out.
Avocados
The natural oil in avocados helps in hydrating the skin. It also helps in treating sunburns and reduces wrinkles.
Papaya
With high antioxidant content, papaya gives our skin a healthy glow. The Vitamin A and papain in it helps increasing collagen level.
Lettuce
Lettuce contains Vitamin A and C. Vitamin C helps in building collagen, which makes the skin firm and gives elasticity.
Red Bell Pepper
It contains Vitamin C, B6 and dietary fibre. Bell pepper's rich carotenoid content helps in preventing wrinkles and increasing blood circulation to the skin.
Nuts (Walnut/Almond/Hazelnut)
Nuts are packed with healthy vitamins and minerals like copper, zinc, vitamin A, C and E among others that lead to a glowing, healthy looking skin.
Tomato
The antioxidants intomato, especially lycopene, fight cellular damageandskininflammation. A study in 2012 stated that antioxidants in tomatoes, such as Vitamin C and lycopene, may help in fighting fight free radicals, which can damage skin cells and increase the risk of premature aging.
Broccoli
This vegetable is filled with Vitamin A and C and minerals, including zinc, which is important for skin health. The antioxidants in this vegetable improve skin health and slow down aging. Few studies have show that extracts of broccoli sprouts protect against skin damage and cancer caused by UV radiation.
Asparagus
It contains Vitamin A, which is a powerful antioxidant in the body that is known to protect theskinagainst sun damage.
Garlic
Ithas antibacterial, antifungal, antiviral, and antiseptic properties from allicin, which helps to kill the acne-causing bacteria.
Green tea protects skin from damage and aging. The powerful compounds found in green tea are called catechins, which works as one of themost effective agents againstskininflammation.
Turmeric
Turmeric hasanti-inflammatory, antimicrobial and antioxidant properties that help toprevent breakouts, fight eczema and psoriasis, reduce acne scarring and bring out skin's natural glow.
Spinach
Spinach is a rich source of iron, folate, chlorophyll, Vitamin E, magnesium, Vitamin A, fibre, plant protein, and Vitamin C. Due to its antioxidant abilities, spinach helps in fighting skin problems.


Here Are Recipes For Healthy Skin (With The Above Ingredients) That You Can Try At Home:
Breakfast Recipe For Healthy, Glowing Skin:
Omlette With Oven Roasted Asparagus


Make a healthy omelette for breakfast with two eggs, 2 tbsp chopped tomatoes, half cup spinach, 2 tbsp red bell pepper and a pinch of turmeric powder. Have the omelette with some pan-tossed or oven roasted asparagus. Alongside, have a bowl of papaya and a cup of green tea and give a healthy start to your day.


How To Make Oven Roasted Asparagus?


Place the asparagus on a baking tray.


Drizzle some olive oil, finely chopped garlics, parmesan cheese, salt and pepper on the asparagus.


Put the tray in the pre-heated oven and bake for 12-15 minutes, depending on the thickness of the asparagus.


Your roasted asparagus is ready to be served with the healthy omelette.
Lunch Recipe For Healthy, Glowing Skin:
Baked Salmon Salad
Ingredients:


Lettuce - 1 cup


Boiled broccoli - half cup


Salmon - 2 fillets, cut into 8 pieces


Avocado - little less than half cup


Yogurt - 4 tbsp


Olive Oil - half tbsp


Hazelnut/Almond - 4-5 pieces (chopped)


Orange - 1 (cut into small pieces)


Salt and pepper


How To Make Baked Salmon Salad:


Season the salmon with salt and pepper.


Place the fish on a baking tray (skin side down).


Bake for 12-15 minutes in a preheated oven.


Take a salad bowl and put lettuce, broccoli, avocado and orange.


Drizzle olive oil and yogurt it.


Place the baked salmon.


Sprinkle chopped nuts.


Add salt and pepper as per your taste.


Your baked salmon salad is all set to be served.
Dinner Recipe For Healthy, Glowing Skin:
Stir Fried Veggies
Ingredients:


Spinach - 2 cups


Broccoli - 1 cup


Tomato - half cup


Bell pepper - half cup


Garlic - 2 tsp


Honey - as per taste


Chilli Flakes - 1 tsp


Peanuts - handful (roasted)


Olive Oil - 1 tbsp


Salt and Pepper


How To Make Stir Fried Veggies:


Add some olive oil to the pan on medium flame.


Put garlic and let it turn light brown.


Add broccoli, bell pepper, tomato and toss for a while.


Increase flame, add spinach and toss for a while till it looks crunchy.


Now, add honey, chilli flakes, salt and pepper.


Toss for a while and serve on a plate.


Garnish it with peanuts and eat!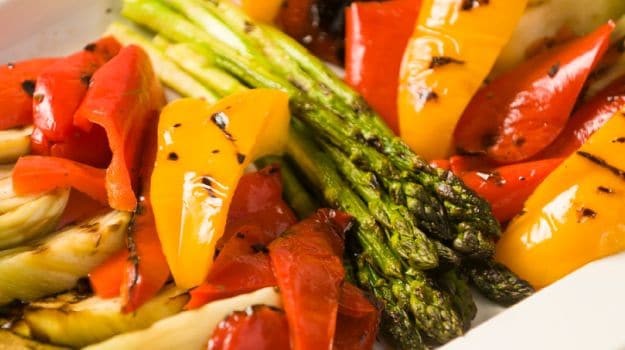 Enjoy these recipes for healthy and glowing skin. If you have any other recipes for healthy skin, do let us know in the comment section below.




(This content including advice provides generic information only. It is in no way a substitute for qualified medical opinion. Always consult a specialist or your own doctor for more information. NDTV does not claim responsibility for this information.)
About Somdatta SahaExplorer- this is what Somdatta likes to call herself. Be it in terms of food, people or places, all she craves for is to know the unknown. A simple aglio olio pasta or daal-chawal and a good movie can make her day.