There used to be this restaurant on the corner of Broadway and 12th Street in New York with enchanting wrought iron balconies, brilliant pots of flowers spilling out and thick curtains draped behind them. It was called La Belle Epoque. And it was, certainly from the outside looking in, beautiful, evocative and mysterious. And when I was in New York many, many moons ago doing a summer course at NYU, I would walk past it every day and each time became a little more obsessed. I would dream about a meal there, yearned for a seat at those white tablecloths (I just knew the napkins would be red), I imagined the play of Creole flavours as I pored over its menu outside. On a student budget I couldn't, then, afford the indulgence.By the time I returned with wider purse-strings it had shut down. I was devastated. To me those windows were a peek into a world that was mystical, grand and gorgeous. And I was gutted that I wouldn't get to have it. It wasn't just the food—I had managed with the help of other trips, and sundry cookbooks to get a sense (or so I thought) of what the food was like. To me La Belle Epoque was as close as I could get to New Orleans without actually going there.And then, well, I got a chance to finally go there. Not LBE but to New Orleans itself. I was as giddy as a young girl off to meet her first crush. I had read books about it, dreamed about it, planned obsessively for it—but nothing could have prepared me.
(Mississippi Mud Cake)
Sitting on the wide sweep of the Mississippi River, New Orleans or NOLA as its often called was both more and less than I had imagined. I had in my head a vision of this gorgeous, but crumbling sort of a city. I pictured it as old, gracious and beautiful, but just a bit tatty around the edges. An old Victorian woman in dusty pink, a Miss Havisham of a city, if you will. Instead I found the gown intact, every frill perfect. I was told those edges did exist, but post Katrina, of course, most of the city had to be restored and revamped.And it is lovely-- the wide avenues, tree lined and splendid, the promenade past the river, the Vieux Carre` or French Quarter with its quirky, tiny little lanes, its wrought iron balconies, the flower boxes (yes!) spilling over displaying its aesthetic that was more Spanish than French in nature. Most of the buildings trace back to the 18th century. Here was my dream come to life.La Nouvelles Orleans was founded in 1718 and was named after the then Duke of Orleans, who also happened to be Regent of France at the time. It was subsequently ceded to the Spanish Empire, then went back to France before being finally sold to the United States (by Napoleon!). Along with the French and Spanish came a diversity of migrants—some voluntarily, looking for a chance in the New World, some not so much—but they came anyway: from Africa, Haiti, the Caribbean, Italy and Germany. And with them something extraordinary happened.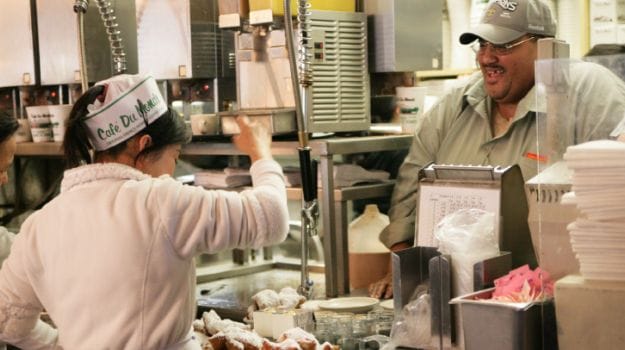 Café Du Monde, New Orleans
My first breakfast here, was of Beignets at the legendary Café Du Monde. Beignets are a New Orleans staple- French style donuts, dense and delicious, deep fried and drowning in powdered sugar. A short while later I sat down to a plate of Jumbalaya – a classic rice dish which some say can find roots in the Spanish Paella. Later, at the marvellous Cochon Butcher, Chef Donald Link introduced me to their Andouille Sausage (the name is French, but the shape and filling owe more to the Germans) and the Muffaletta—a sandwich created by the Italians.
Café Du Monde's Scrumptious Beignets
So what then is Creole food? In New Orleans, it is the name given to the cuisine born out of its complicated, multi-cultural history. Now that may sound like no big deal—but there is a subtle distinction. In most corners of the world, you can see what happens when conquerors, invaders and the indigenous meet and mingle. A cuisine is born. Or to be precise—a subset. Anglo Indian for example. Or Cape Malay. And so forth. In New Orleans—what is extraordinary is that an entire cuisine has evolved that factors in
all
of this: the indigenous flora and fauna, that which was imported (they didn't have wheat till the French bought it, or tomatoes till the Sicilians came), the native Americans, the French, the Spanish, the Africans, the Germans, the Italians and probably some that I may have forgotten. Every traveller, every settlement has brought something to the food. (And they swear that as more will come—they are ready to absorb them too).
(How to Bake, American-Style
)And so you have Creole and Cajun food in all its staggering variety. Meats and breads and stocks and stews and seasonings. It's like no other food in the world. Take just the Gumbo—the classic New Orleans soup. Though it sounds vaguely sacrilegious to refer to something this complex as just soup. It has roots in Africa, and often uses okra (
bhindi
, to you and me) as a thickener. Alternatively, it will use the French sauce base, a roux—flour and oil cooked together till golden, though here, they cook theirs for hours till it is chocolate brown in colour. And when combined with their holy trinity (onions, peppers and celery), stock, rice and the meat of choice (seafood, meat or sausage) boasts of a flavour so deep, so rounded and rich that it defies description (give me points though for trying?). And in this bowl, again so much exists— a natural game, the French sauce base, okra from the Africans, sausage probably from the Germans. And that spice blend, sorry, seasoning, must owe something to the Spanish.
(What Americans Really Eat - and Tweet)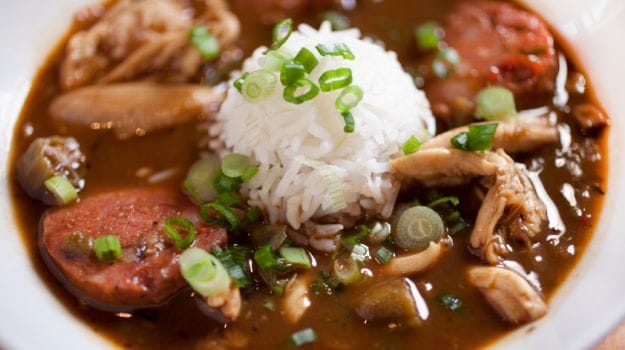 Gumbo
And there are so many surprises, so many forms it takes. At Brigtsen's Restaurant Chef Frank Brigtsen warmed both heart and palate with his blackened fish and his corn bread with smoked corn and jalapeno butter. At the legendary Commander's Palace (it's not just New Orleans'—but one of America's longest running restaurants) I tried luscious local quail lacquered with coffee and chicory and turtle soup, made with turtle fresh from the swamps. Where do you get that? Where do you get an upside down, utterly up-to-the minute crab gratin? Or the freshest fried oyster salad? You head to the Windsor Court. And then carry on to Palmetto's by the Bayou, outside the city in Slidell, where I had fresh Gator Stew and Oyster Stew one after the other. Each distinct, each delicious. And don't get me started on their seafood Gumbo.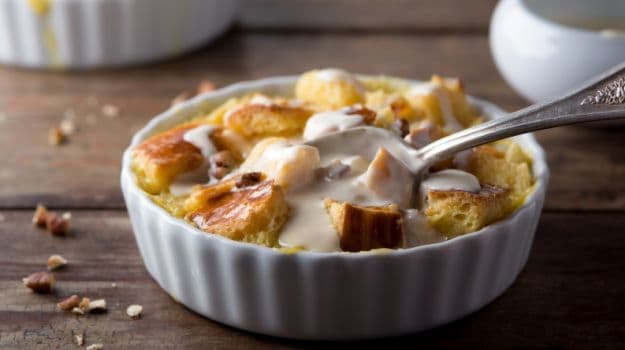 Bread Pudding
And here's the very best part: every person but every person who lives here is vested in the food. They take pride in it. As one meal ends, another is being planned. You understand now why it's my kind of town? They do not cook for tourists, they cook for themselves. Beignets, Gumbo, red beans and rice, dirty rice, Etouffee, Remoulade, Bread Pudding and booze—that's just how they roll. As a side—can we also acknowledge what terrific names they are too?
Etouffee
And along with that they find time to make music at every corner. I would wake up every morning at 5:15 am (jet lag from hell) and trot down for my morning smoke—and every morning I would sit in my charming hotel courtyard and I could hear the strains of music playing somewhere. Bluesy, beautiful heartbreaking music. At 5:15 am. I don't think there's a minute that goes by without a song somewhere. And you don't have to hunt it out, it will find you. If it's done without muss or fuss, it's because this is their way of life: they play and they sing because they like to. They eat well—because they don't believe there's another way to do it.I tell you this, if New Orleans didn't actually exist— no-one would believe it could.