Story Progress
Back to home
Apple Kheer Recipe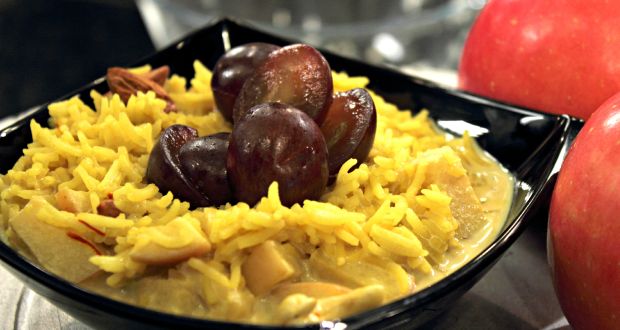 How to make Apple Kheer
About Apple Kheer Recipe | Kheer Recipe: One of the most loved Indian dessert gets a fruity makeover! Apple kheer is a refreshing change from the traditional Indian dessert with the goodness of apples and aromatic cinnamon. Rice kheer with an added punch of apples, red grapes and nuts, you just cannot miss this one!

Ingredients of Apple Kheer
2 Apples
1/2 cup basmati rice, boiled
50 gms nuscovado sugar (you can also use normal sugar)
60 gms cashew nuts and almonds
1 Cassia bark or cinnamon stick
to taste red grapes
1.
Chop 2 apples in cubes and put them in saffron infused milk.
2.
Cook to slightly soften the apples.
3.
Add 4 tsp brown sugar, 1 cassia bark /cinnamon stick and some cashew nuts and almonds.
5.
After some time add half cup of boiled rice, 2 green cardamoms.
6.
Turn down the heat and let the kheer simmer.
7.
Garnish it with slices of red grapes and serve.
Recipe Notes
You can also try our other best Kheer recipes.