Story Progress
Back to home
Avial Curry Recipe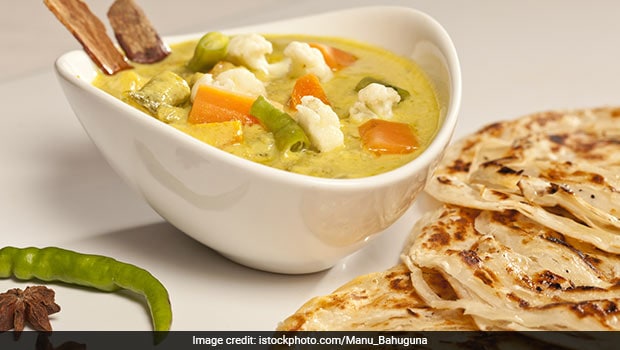 How to make Avial Curry
About Avial Curry Recipe: Celebrate onam with Kerala's traditional dish - Avial. Vegetables like drumsticks, yams, carrots, pumpkin and beans cooked with curd, coconut and varied seasonings.

Ingredients of Avial Curry
1 Cup drumsticks (shingh phali), chopped
1 cup yam (jimikand), chopped
1 cup carrots, chopped
1 cup green beans, chopped
1 cup tindora (tendli), chopped
1 cup ash gourd (winter melon/ petha), chopped
1 cup yellow pumpkin, chopped
1 plantain, chopped
1/4 tsp turmeric
Salt
1/2 cup curd
2 tsp coconut oil
1 tsp cumin seeds
1 spring curry leaves
For the coconut paste:
3/4 cup freshly grated coconut
1 tsp cumin seeds
3 green chillies, sliced
Water (to make a paste)
Prepare paste:
1.
Coarsely grind the grated coconut into a paste. While making the paste, add cumin seeds, curry leaves and few chillies.
Prepare avial:
1.
Cut drumsticks, yam, carrots, green beans, ash gourd and yellow pumpkin into long rectangular pieces. Each piece needs to be about one and half inches long. Make sure all the vegetables are of the same size.
2.
For plantain, peel only the ridges keeping the outer skin. Chop them also into rectangular pieces.
3.
Add some water in a pan along with the chopped vegetables. Cover the pan for some time and cook them till soft.
4.
Now, add a tsp of turmeric, curry leaves, 4 slit chillies and salt as required.
5.
Add the coconut paste into the pan and let it simmer for 15 minutes.
6.
Now add curd, oil, cumin seeds to the mix and simmer it for 2 to 3 minutes. Wait until the mix is semi-dry.