Story Progress
Back to home
Gobhi Aloo Recipe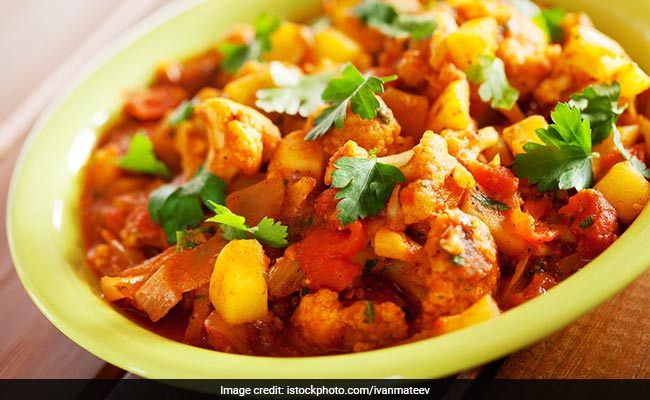 How to make Gobhi Aloo
About Gobi Aloo Recipe | Aloo Gobi Sabji: The staple recipe of an Indian household, Gobi Aloo is an easy and quick dish to make for lunch or dinner, which makes it a favourite of every cook. Cauliflower and potatoes make for a tasty pair in this popular recipe.Over the time, there have been many variations of this dish, but this one here is an exclusive Gobi Aloo recipe with a dash of yogurt to make it thick and tasty. With a great combination of spices and generous garnishing of coriander leaves, this Aloo gobhi recipe is going to leave your taste buds happy!
Ingredients of Gobhi Aloo (Aloo Gobhi) recipe: This delicious Aloo Gobhi recipe is made of thick yogurt with a hint of butter that makes it a bit different from the usual aloo gobhi and is a semi-gravy dish. Mixed with spices and green chillies, this recipe makes for a spicy and tangy dish to savour for lunch!
Best Way to Enjoy Gobhi Aloo | How to Serve Aloo Gobhi: Gobhi Aloo sabji would go best with a chapati or paratha. You can even eat it with plain rice.

Ingredients of Gobhi Aloo
500 Gram Cauliflower (cut into small pieces)
250 gram Potatoes (cut lengthwise)
1/4 cup Clarified butter
1 tsp Cumin seeds
1 tbsp Ginger, sliced
1/4 cup Yogurt
2-3 Green chillies (slit)
1/2 tsp Chilli powder
1/4 tsp Turmeric
1/2 tsp Garam masala
1 tbsp Coriander powder
to taste Salt
1 tbsp Coriander leaves, chopped
1.
Parboil the potatoes and set aside.
2.
Heat the clarified butter in a heavy-based pan and add the cumin seeds.
3.
When they splutter, add the ginger. When the ginger begins to brown, add the yoghurt, a Tbsp at a time, stirring vigorously till the fat separates between each addition.
4.
Add the cauliflower, potatoes and green chillies
5.
Stir-fry the vegetables over high for 2-3 minutes till they get coated with the clarified butter.
6.
Then add the chilli powder, turmeric, garam masala, coriander powder and salt. Stir a few more times, till well mixed.
7.
Lower the heat, cover the pan and let the vegetables cook till tender, stirring 2-3 times.
8.
Serve hot, garnished with chopped coriander leaves.