Story Progress
Back to home
Khatte Channe Recipe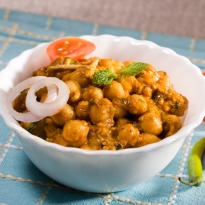 How to make Khatte Channe
A tangy serving of channas, mild spices and tamarind paste, fat free

Ingredients of Khatte Channe
2 Cups Kabuli channas (soaked overnight)
2 tsp Salt
2 tsp Zeera (cumin seeds)
1 Cup Onions, grated
1 Tbsp Ginger, finely chopped
1 tsp Garlic, finely chopped
1 Tbsp Dhaniar
1 tsp Garam masala
1 tsp Chilli powder
1/2 tsp Haldi (turmeric)
1 Tbsp Imli paste (thick, made of 20 gm imli)
1/2 Cup Pudina leaves, finely chopped
3-4 Green chillies (slit)
To garnsh Hara dhania
1.
Drain the channas and cook till tender, in fresh water, along with the salt. Drain and keep the water and channas separate, till required.
2.
Soak tamarind in water and strain pulp, and keep aside.
3.
Dry roast the zeera in the saucepan till they splutter, and then add onions, ginger and garlic.
4.
Stir- fry till the onions are dark brown, keeping the heat on high or low, depending on how often you are stirring. You will have to sprinkle water a few times to avoid scotching.
5.
Add the dhania powder, garam masala, chilli powder and haldi, stir a few times then add the green chillies. Mix well and add the channas and turn around for about 1/2 a minute.
6.
Measure the liquid of the channas, add enough water to measure upto 2 cups and add to the mixture.
7.
Add the chopped mint and bring to a boil and then simmer for about 15 minutes, or till well blended.
8.
Add the imli, and serve hot, garnished with the hara dhania--try having it with bread or kulcha!