Story Progress
Back to home
Mooli Ka Paratha Recipe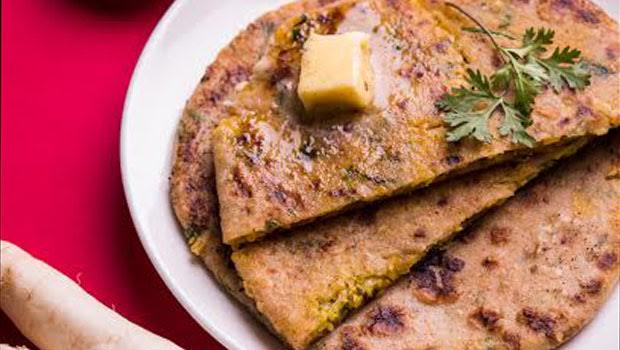 How to make Mooli Ka Paratha
Radish and seasoning stuffed in dough and rolled out to make simmering hot paranthas.

Ingredients of Mooli Ka Paratha
For the Parantha:
2 Cups Whole Wheat Flour
1 Cup Ghee
For the Filling:
2 Cups Mooli, grated
2 Tbsp Coriander Leaves, chopped
1 tsp Ginger, finely chopped
1 tsp Green Chillies
1 Tbsp Salt
1 Tbsp Lemon Juice
1.
Break the dough into small pieces, shape into round balls and flatten.
2.
Pinch the edges to form a cup, and place some mooli mixture in the center.
3.
Wet the edges and bring together to enclose the filling. Pinch to seal.
4.
Roll out this stuffed ball to smoothen, dip in dry flour and roll out as thinly as you can without tearing, like you roll a chapatti being careful not to tear it.
5.
Heat the tawa till very hot, lower the heat and place one parantha over it.
6.
When the edges start lifting, take some ghee and make a trail along the outer edge of the parantha and some on the surface.
7.
Brown on both sides and serve.