Story Progress
Back to home
Pan Seared River Sole with a Soya Milk and Bhawnagri Sauce Recipe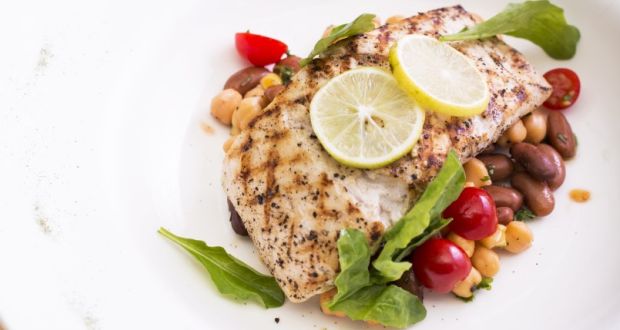 Exquisite river sole marinated in a blend of parsley, dill, lemon juice and cooked in a flavourful sauce made of bhawnagri chillies, soy milk, arrowroot powder, lemon juice, ginger and spinach puree.
Total Cook Time

1 hr 15 mins

Ingredients of Pan Seared River Sole with a Soya Milk and Bhawnagri Sauce
For the sauce
Bhawnagri chillies - 60 gms
Soya milk - 60 ml
Arrowroot powder - 10 gms
Spinach puree- 1 Tbsp
Lemon juice - of one lemon
Garlic - 1 chopped
For the fish
River sole - 200 gms
Parsley - a few sprigs chopped
Dill - a few leaves chopped
Lemon juice - of one lemon
How to Make Pan Seared River Sole with a Soya Milk and Bhawnagri Sauce
Hide

Show

Media
2.
Roast bhawnagri chillies on charcoal till black then remove the skin and puree
3.
In a pan add olive oil and sauté the garlic
4.
Add soya milk, bhawnagri puree
5.
Add salt and adjust seasoning
6.
Dissolve the arrowroot in water to from a slurry then thicken the sauce with it
7.
Finish with spinach puree and lime juice
10.
Marinate the fish with the rest of the ingredients
12.
In a hot pan add a little cooking olive oil
13.
Sear the fish on all sides then reduce the flame
14.
Put the pan in the oven and bake for 10 minutes or till the the fish is cooked at 180 degrees
15.
Once the fish is cooked remove the juices and add to the Bhawnagri sauce prepared earlier
16.
Serve hot along with Bhawnagri sauce and grilled veggies