Story Progress
Back to home
Paneer Pasanda Recipe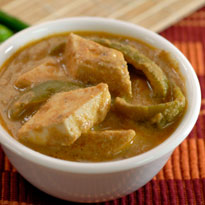 How to make Paneer Pasanda
Golden pieces of paneer stirred in zesty chickpea or besan gravy.

Ingredients of Paneer Pasanda
1/2 kg paneer - cut into broad slices
2 Tbsp chickpea flour
1/4 cup clarified butter
1 tsp cumin seeds
1 Tbsp finely chopped ginger
1 cup hung yoghurt
1/4 tsp turmeric
2 tsp coriander powder
Salt to taste
1/2 tsp chilli powder
1/4 tsp garam masala
2-3 green chillies-slit
1 1/2 cup water
1 Tbsp chopped coriander leaves
2 Tbsp malai
1.
Heat the clarified butter in a pan and fry the pieces of paneer.
2.
Lift them out and set aside. In the same clarified butter, add the cumin seeds, saute a little and add the ginger.
3.
When the ginger turns a light brown, add the chickpea flour.
4.
Saute and add yoghurt, turmeric, coriander powder, salt, chilli powder, and garam masala.
5.
Saute over a medium heat till the fat separates.
6.
Add the green chillies, saute a little, then add the water and bring to a boil. Simmer for 3-4 minutes.
7.
Add the fried pieces of paneer, simmer for about 2 minutes and serve hot, garnished with chopped coriander leaves and cream.