Story Progress
Back to home
Pineapple Upside Down Cake Recipe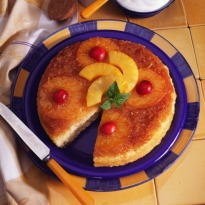 Silky pineapple topping and cake mix baked to perfection, served upside down.

Ingredients of Pineapple Upside Down Cake
For the cake topping:
2 Tbsp butter
1/2 cup brown sugar
6 pineapple rings
7 inch round saucepan or frying pan with a heavy base
For the cake:
2 eggs
1/3 cup flour
1/3 cup powdered sugar
1/2 tsp vanilla essence
1/2 tsp baking powder
For the cake topping:
1.
Heat the pan and melt the butter in it on a slow fire.
2.
Spread the brown sugar over it to caramelize.
3.
Switch off the fire, arrange the pineapple rings in a layer over this and leave.
For the cake:
1.
Break the eggs, into a mixing bowl. Add the sugar, vanilla and baking powder to the eggs and beat well till light and foamy.
2.
Fold in the flour with downward, upward and outward strokes.
3.
Pour the batter into the pan, over the topping.
4.
Cover and and cook over a low flame for 12-15 minutes.
5.
Now turn the pan upside down on to a plate and serve.