Story Progress
Back to home
Puri Basundi Recipe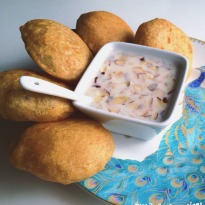 How to make Puri Basundi
Basundi is popular Maharashtrian dessert generally prepared during the festive season, you can serve it with crisp puris.
Total Cook Time

1 hr 05 mins

Ingredients of Puri Basundi
For puri:
2 cup wheat flour
1 tsp salt
1/4 tsp sugar for enhanced taste and golden color
1/2 cup fine rava (suji) for prolonged crispiness
2 Tbsp oil for kneading
Oil for deep frying
For basundi:
1 liter or 4 cups skimmed milk
1/2 cup sugar
1/2 tsp cardamom powder
2 Tbsp chopped almonds
8-10 strands of saffron (optional, mix the strands of saffron in 2 Tbsp warm milk to release flavor and color)
1 Tbsp charoli / chironji
Method for puri:
1.
Mix the whole wheat flour, 2 Tbsp oil, sugar, salt and rava. Knead into soft dough using water.
2.
Cover and keep aside for 10-15 minutes.
3.
Divide the dough into equal portions tennis ball sized and roll out each portion in rounds. Not too thick or too thin.
4.
Heat the oil in a deep kadai and deep fry the puri.
5.
Gently press the puri with the ladle when it tries to float on the top. This will make it puff well.
6.
Fry until they turn golden light brown in color. Drain on absorbent paper.
8.
Boil the milk in a heavy bottom kadai. Keep stirring the milk constantly and reduce it until it becomes thick and quantity of the milk is about half a liter.
9.
Add the sugar, saffron, and cook for another 5 minutes. Stir the mixture. Remove from stove.
10.
Add chopped almonds, cardamom powder and charoli. Mix well.
11.
Let the basundi cool down. It will become thick once when cooled.