Story Progress
Back to home
Radha Ballavi (Stuffed Puri) Recipe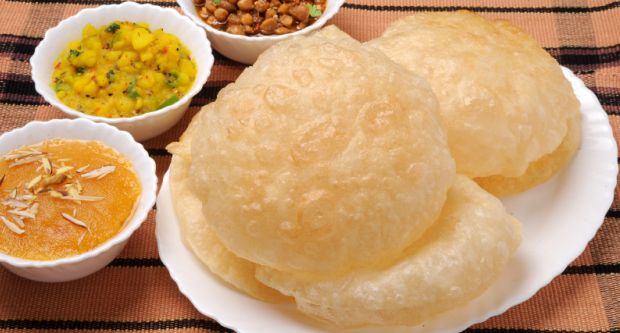 How to make Radha Ballavi (Stuffed Puri)
About Radha Ballavi (Stuffed Puri) Recipe: They're part of a typical Sunday breakfast in any Bengali's home. Lentil stuffed puris that are hot, round, fluffy and will surely make your day.

Ingredients of Radha Ballavi (Stuffed Puri)
1 Cup flour
1 cup arhar dal (split pigeon peas)
1 tsp red chilli powder
1 tsp asafoetida (hing)
1 tsp fennel seeds (powdered), roasted
1 tsp ginger paste
1 tsp kaala jeera (onion seeds)
Vegetable oil (to fry)
Sugar (to taste)
Salt (to taste)
1.
Strain arhar dal (split pigeon peas) and blend along with hing and fennel powder to form paste.
2.
In a pan heat 2 tbsp oil.
3.
Add kaala jeera, ginger paste and a pinch of salt after 5 to 10 seconds.
4.
Saute for 5 to 10 seconds again.
5.
Addarhar dal paste, 1 tsp sugar, 1 tsp salt, red chilli powder and cook on low flame until the water is absorbed well.
6.
Stir in the middle to avoid sticking to pan.
Prepare the dough:
1.
In a bowl take flour, 1 tsp salt and 2 tsp sugar.
3.
Keep the dough covered for 20 minutes before cooking.
4.
Roll a dough to make a small round and place 1 tbsp of stuffing in the center.
5.
Bring all the edges together and close it. Roll again to give the shape of a puri.
6.
Apply the same process to the rest of the dough.
7.
In a pan heat enough oil for deep frying.
8.
Slide one puri into oil and turn it over when one side starts to inflate.
9.
Make sure that both the sides are well fried.
10.
Serve hot with masala aloo or sweet tamarind syrup and curd.