Story Progress
Back to home
Rista Recipe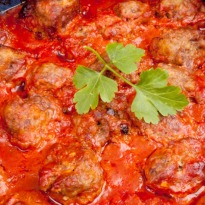 How to make Rista
A delicious Kashmiri recipe. Rista is made with mutton meat balls simmered in a red spicy gravy.

Ingredients of Rista
1 kg boneless mutton from the leg of lamb
1 tsp red chili powder
1 tsp ginger powder
1 cup meat fat
1 cup moval extract (cockscomb)
1 tsp asafoetida liquid
4 pieces of brown cardamom
3 tsp fennel powder
2 bay leaves
3 cloves
2 pieces of cinnamon stick
1 cup mustard oil /refined oil
Salt to taste
Note: Moval is a dried flower available only in Kashmir. Generally this is used for colouring dishes. Moval is soaked in a cup of water for about an hour then it is drained and stored and it is called moval extract. Since its not easy to get the flower we may use saffron extract. Soak 1 tsp saffron in a cup of water and add to the dish.
1.
Pound boneless meat on a smooth stone with a wooden mallet and add the meat fat while pounding. Make sure the pulp is mixed well to make the round balls.
2.
Add brown cardamom powder, a little salt and 1 tsp ginger powder. After mixing well make round balls about 3 inches diameter.
3.
Heat oil in a large vessel add salt ,asafoetida and a glass of water and red chili powder. Keep on stirring until it leaves the red color.
4.
Add about 8 glasses of water and the rest of the spices and bring to a boil.
5.
While the gravy is boiling add meat balls slowly and gently boil for an hour.
6.
Add the moval extract and simmer for 15 minutes.