Story Progress
Back to home
Schezwan Sauce Recipe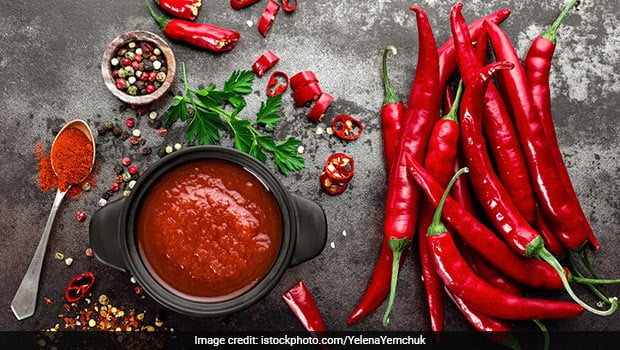 How to make Schezwan Sauce
About Schezwan Sauce Recipe: A delicious fusion of Indo-Chinese recipe of a spicy, hot and chilli sauce. Lots of garlic, red pepper, chilli sauce and chilli powder makes for this easy recipe of Schezwan sauce. This spicy chilli sauce goes well with both fried rice and noodles. Made in just 20 minutes, schezwan sauce can also be used in various other chinese recipes like chilli manchurian, chilli chicken, chicken wings, potato wedges, etc.

Ingredients of Schezwan Sauce
1/4 Cup Sesame oil
3-4 Whole red peppers
3/4 Onions, finely chopped
1 tbsp Garlic
1 tbsp Ginger
1/2 tsp Chilli powder
2 tbsp Corn flour (mixed in a cup of water)
1 tbsp Vinegar
1 tsp Soya sauce
1 tsp chilli sauce
1 tsp Salt
1.
Grind together the onions, garlic and ginger.
2.
Heat the oil in a wok add the whole red peppers and saute over high heat till they darken a bit.
3.
Add the onions, garlic and ginger and stir-fry over high heat till glossy.
4.
Add the corn flour mixture and bring to a boil.
5.
Lower the heat and add the chilli powder, vinegar, soya sauce, chilli sauce and salt and mix well.
6.
Cook till well blended (1/2 minute) and use.
Nutritional Value