Have You Ever Eaten a Meal in Complete Darkness?
Mohit Balachandran, @ChowderSingh | Updated: July 12, 2017 13:27 IST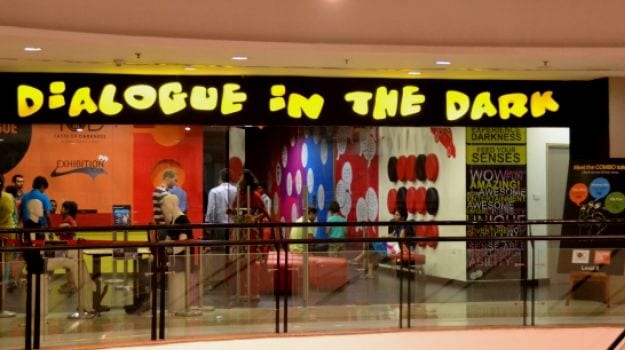 Pitch dark's a concept most of us aren't used to. Even at night, when we're ready to go to bed, there's always some light around. Be it the stars or street light filtering through the window. It's never really pitch dark. But this is a reality for many who are visually impaired. I came across a concept of having food in pitch darkness and was intrigued. This was at the Inorbit mall in Hyderabad. The concept's called Dialogue in the Dark. That got me very very curious.

So I went in on a Monday for dinner. Unfortunately, it shuts at 8 pm on Mondays and I was left disappointed. But curiosity got the better of me so I went again after a couple of days for dinner along with my friend Karan. We had to buy tickets in advance. One is offered three options of meals: a lower priced option, a mid-range one and the full deal with everything. We opted for the mid-range.

I was quite excited about the whole concept but wasn't sure about my companion. We had no idea what was in store for us as we were led towards dinner. A guard started frisking us like how they do at airports. Our mobile phones, watches, everything that could produce or reflect light was taken away. A bit taken aback, we started having second thoughts about going in. But now that we were here, we decided to go on. We were led to a guide, Faizal, who politely asked me to catch his shoulder and Karan to hold mine. We then went in. There was still a bit of light coming in from the door inspite of the black curtain. So all wasn't lost yet. We trudged on. Then came the first turn. It was pitch dark after that. So we reached the table with great difficulty and took our seats. We were then asked for our preference of vegetarian or non-vegetarian. Both of us opted for non-vegetarian. We were told by Faizal that the food would come in exactly 9 minutes. That was surprising. I'm not sure how many other restaurants can time their food like this. And in this space. All the more important was the fact you couldn't pull out your mobile phone or look at your watch. Time doesn't pass easily in places like these. Hence 'dialogue in the dark'. In an era when we usually pass time before the food is served by scrolling through our mobile phones, these nine minutes proved to be quite a challenge. The idea was for people to talk to each other, an art unfortunately forgotten in today's times.

The food arrived in more or less the timing mentioned. Faizal asked us to remove our hands from the table, lest the dishes topple over. Don't know if that's a standard operating procedure or he sensed our hands on the table. Faizal is visually impaired. And he's the lion of this den. Moving around effortlessly. Carrying and clearing dishes. Attending to everyone. Chit-chatting. All at the same time. All in pitch darkness. He was in control and knew everything that is going on. I see very few restaurants in India having service levels like this. Warm, precise, sharp, and informed. Always being there whenever the customer wants you. Outstanding, I must say!

The food on the other hand, was a bit of a let-down. Don't get me wrong. It was good. But in comparison to the service it didn't or couldn't match up. There was a starter, main course, rice, naan and some dal. I'm not going to tell you the menu and spoil the fun. But I can tell you this much that it was Indian food. North Indian you can say. I somehow expected a better play with textures and flavours. It was too straightforward. Tasty but homely and simple. And the darkness took away whatever visual appeal it might've had. Giving it an almost office cafeteria-ish feel. But even then. This was a superb experience. Unparalleled. Dialogue in the Dark is an experience that's meant to be savoured personally. I can share the experience with you in words but you will only realise how unique it is when you go dine there yourself.

Karan, I guess was a bit unnerved. I'm not sure if he quite enjoyed the experience the way I did. So I went back again to Dialogue in the Dark after a few days. This time for what they called the 'exhibition'. Usually they take in groups for the exhibition. I was fortunate to do this alone. Again, I was led inside towards the pitch darkness. This time the guide was a lady by the name Manasa. I was told to take a walking stick. I was a bit more confident this time around. Especially after Manasa explained to me how to use the walking stick. Tap in front of you from the corner of your left shoulder to your right. After some time, I could just walk with the stick. No need of touching the walls to move ahead and sense any obstacles in front. Trust me. It isn't that difficult. Once you get the hang of it.

The exhibition was superb. Again, I'm not giving away any details to spoil all the fun. At the end of it, you get to use all your senses except sight. What I also realised was that the exhibition was far superior an experience than just the dinner. It is quite amazing. Dialogue in the Dark teaches you many things about yourself. I didn't see this as a way to experience how the blind live. But more peeping into your own state of being. In a moment of utter helplessness, you start to discover things about yourself. Things you've never known. For me I felt at peace. I'm usually not afraid of the darkness. But never revel or look forward to it. At Dialogue in the Dark, I felt at peace. And I felt free.

You need to discover for yourself what does pitch darkness do to you. Your experience might or might not be the same as mine.

Details of Dialogue in the dark restaurant -

Address: Dialogue in the dark's located on the 4th floor of Inorbit mall, Cyberabad, Hyderabad. There are outlets in Bengaluru and Chennai as well now.
Timing: Monday – Sunday (10am – 10:30pm)
Phone: 040-4201-2428/29
Website: This is originally a German concept. Brought to India on license. Here's the website of the restaurant https://www.dialogueinthedarkindia.com
Pricing: Children below the age of 8 are strictly not allowed. The restaurant has three packages. One's Rs.349+. The second Rs.549+. And the third Rs.750+ (for non-vegetarian meals).

Happy hunting dialogue in the dark and chow-chow!

Disclaimer:

The opinions expressed within this article are the personal opinions of the author. NDTV is not responsible for the accuracy, completeness, suitability, or validity of any information on this article. All information is provided on an as-is basis. The information, facts or opinions appearing in the article do not reflect the views of NDTV and NDTV does not assume any responsibility or liability for the same.