In the hands of an able cook, fish can become an inexhaustible source of perpetual delight." - Jean Antheleme Brillt Savarin


Basa, salmon, tuna, king fish, red snapper, hilsa, cod - there are so many different varieties of fish in the market, it's easy to confuse one for the other. It's only when you get down to cooking them do you realise that each has a unique flavour profile and cooking technique. It's one of the biggest reasons why home cooks fear this lean protein. After all, the difference between overdone fish fillets and well-done ones is just a few seconds.


Before we get down to understanding how to cook with fish, let's go over why it's one of the most well-balanced sources of protein. These marine delights are rich in, minerals and vitamins like A and D. They are a valuable source of the much-talked about Omega-3 fatty acids. Omega-3 fatty acids are a type of unsaturated fatty acid that may reduce inflammation. A lot of studies indicate that consumption of Omega-3 reduces high blood pressure by regulating the flow of blood in the body and promotes mental health. Fish has always had a credible reputation of being the healthy 'brain food'. Since the body cannot naturally produce omega-3, it is best derived from fish. Some studies have also shown that consumption of fish may help in relieving symptoms of depression.
(Omega-3 fatty Acids Key to Heart Health)


Fleshy chunks doused in a rich gravy with the spark of spices and a magical aroma, fish curries can please even the most finicky eaters. Being blessed with a long coastline, India is home to a brilliant variety of fish like King Fish, Pomfret, Sea Bass, Indian Mackerel, White Snapper, Malabar Trevally, Pearl Spot, Katla and Hilsa to name a few. It's not just the variety that baffles you but also the diversity of cooking styles. Indian cuisine is known for its large assortment of fish curries. It is a staple in most coastal areas where flavours, cooking techniques and local ingredients are as varied as the population. West Bengal, Andhra Pradesh, Goa, Kerala, Tamil Nadu, Maharashtra and the North Eastern states form the heart of fish delicacies in the country.


West Bengal and Orissa boast of Maccher Jhol, a white fish stew liberally seasoned with turmeric, garlic, onions and ginger. A variant of this curry is the Doi Machh, created by marinating fish in curd or yogurt. Another white fish recipe popular in Andhra Pradesh is theHyderabadi Shahi Macchi Korma. Like the name suggests, this is a rich gravy with small pieces of fried fish that stays true to the authentic flavours of Hyderabad.


Moving own South, Malabar curry is a famously made with sardines. The fish is semi-stewed with an assortment of vegetables and goes well with bread and rice. Tamarind juice or coconut milk may be used to add some punch. Kerala is known for the Fish Head Curry using the head of red snapper and also Tuna Vattichathu. Another coastal region that is the hub of seafood is Goa where Mackerel and King Fish are widely used. From Spicy Sardines to Manglorean Lady Fish Curry, Maharashtrians also exploit their close proximity to the western coast.


Buying Tips


Do you find buying fish more challenging than cooking it? Not anymore! If you are buying fresh unfrozen fish, make sure that the flesh is firm and unmarred. The skin should be unfaded and moist. It should smell like seawater and should not give off foul odour. The fish scales should not be dry or 'ruffled'. Use fresh fish within two days of purchase. If you cannot consume it in two days, make sure you cook the fish and refrigerate it. This way, you'll manage to retain its quality.


In case, you are buying frozen fish, make sure it is solidly frozen. If the fish shows white, dehydrated areas or if you can see crystals formed inside the package, do not buy the fish. Make sure the package in which the fish is packed is moisture-proof and vapor-proof. In case of frozen fish, never thaw fish at room temperature and do not refreeze. It is advisable to thaw fish by placing it under cold, running water.


Cooking Tips


The two basic factors that one should keep in mind while cooking fish are - 'Time' and 'Temperature'. You have to be careful not to overcook it. Thus, timing is imperative. Another essential is to cook the fish evenly. This requires the fish to be cooked at the right temperature.


Before cooking your fish, it is important to remove all the belly bones. You can ask your fish monger to remove the bones from the fillet or you can do it yourself with the help of fish tweezers. To retain the flavour and color of the fish, rub lemon juice on the fish before cooking. To retain the natural fats in the fish, grilling, broiling or poaching are better options as compared to frying and baking.


We've fished out some of our best regional curries from across the country. These recipes won't let you down, promise.


1. Red Hot Chilli Fish Curry
Recipe by Chef Joey Matthew


Calling all spice lovers! This fiery fish curry is just what you need. It is made with kokum, coconut oil, spices, curry leaves and loads of red chilly.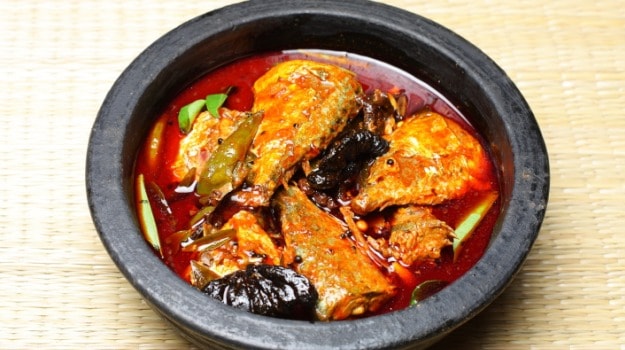 2. Fish Curry with Lotus Stems
Recipe by Chef Marut Sikka


An authentic curry from India's paradise, Kashmir. A hearty fish curry with surmai fish fillets, whole spices, desi ghee and the warmth of cinnamon. (Recipe Video)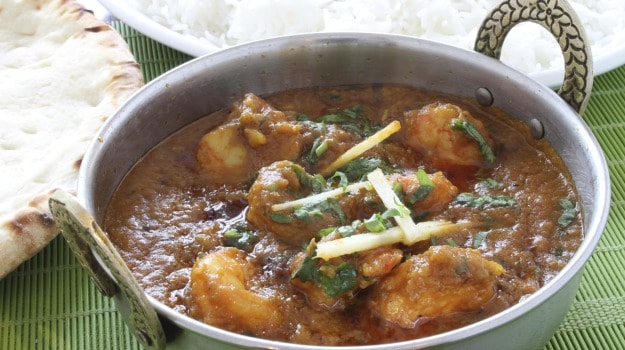 3. Assamese Fish Curry
User Recipe by Mrs. Mira Bordoli


This dish features Rohu in a spicy and tangy marinade made with turmeric powder, fish masala and mustard oil.

4. Ilish Machher Jhol (Hilsa Fish Curry)
User Recipe by Avanti


Oily fish, Hilsa is a much-loved local delicacy in Bengal. The tenderness of the flesh, unique taste and silvery appeal make it the 'queen of fish'. (More about hilsa)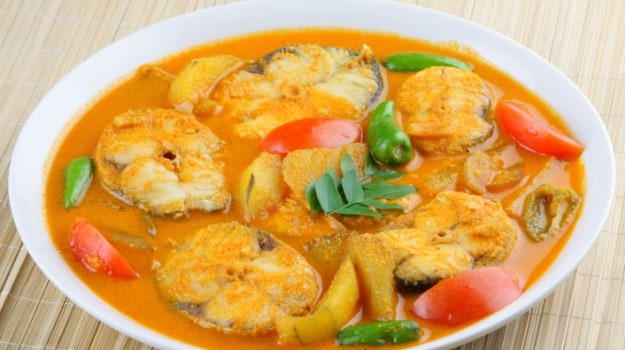 5. Meen Alleppey Curry with Brown Rice
Recipe by Chef Karan Suri


From God's very own country, Kerala, comes a dish that is prepared using raw mangoes and Pomfret fillet.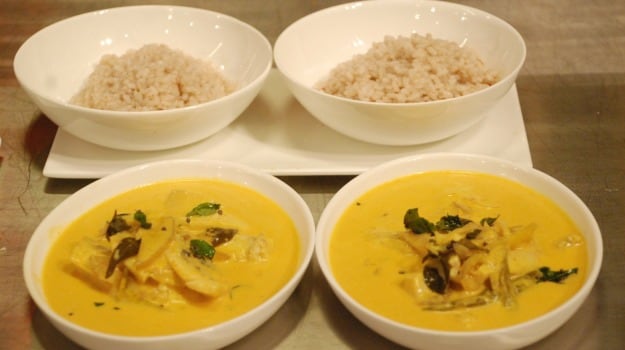 6.Goan Fish Curry
Recipe by Chef Rufina, Leela Palace, Goa


A lovely fish curry enhance with a freshly made masala of coconut, garlic, tamarind and red chillies. Spicy and tangy in every bite! (Recipe Video)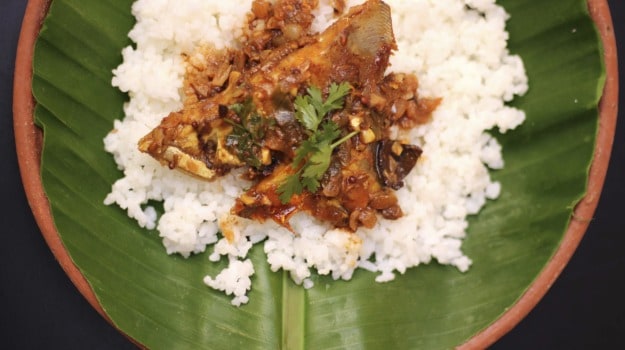 7.Bommidayila Pulusu
Recipe by Chef Sivaya, Sravanya Restaurant, Nellore, Andhra Pradesh


A staple of Andhra Pradesh, this mouth watering dish is credited to the fish in the Bommidayila region. This dish takes you back to the aromatic and spicy journey of Hyderabadi cuisine.




8.Machcha Besarou
Recipe by Chef Swajib Chatterjee, Hotel Swasti - Orissa


A classic from Orissa, this one is not just another curry. What makes it stand out is the bold flavour of turmeric in which Rohu is marinated, then fried and curried.


9. Bengali Doi Maach
Recipe by Chef Aditya Bal


This Bengali favourite is delicately marinated, spiced and cooked in a yogurt-based gravy.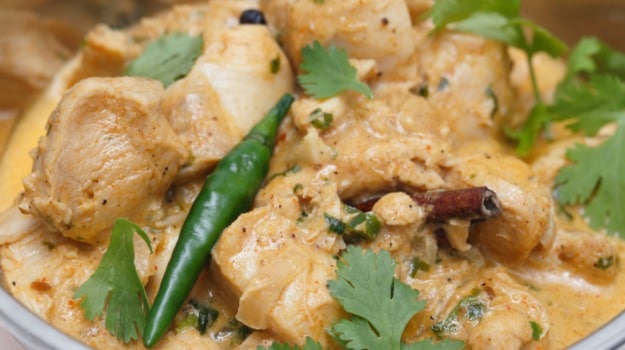 10. Fish Mappas
Recipe by Chef Laiju Jameson, Taj kumarakom, Kerala


A creamy fish curry made with coconut milk, spices and shallots. This curry goes best with appams.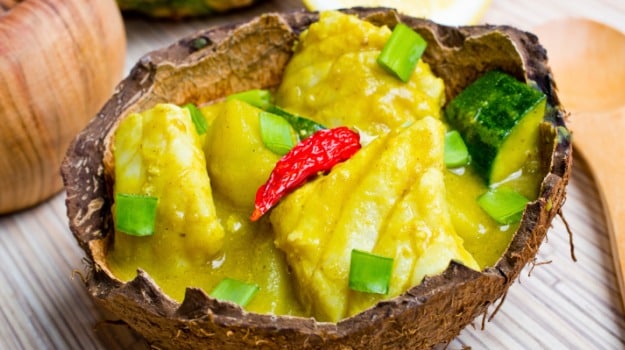 Delicious and very easy to prepare with the ingredients available at home and perfect to have with steamed rice and chapatis.
To satisfy our dhaba cravings, we have found out the recipe of a classic dhaba style dish and it is none other than dhaba-style fish curry! Indulge in the masaledaar delights of dhaba with this delicious fish curry.
If you are on the lookout for a simple yet wholesome curry to satiate your hunger on any given day, here is a village style fish curry that you can try.