Dinner - the last meal of the day, plays a crucial role in keeping our metabolism strong and healthy. After a long day full of activities and exertion, our body needs to fuel up to function efficiently. While it may be tempting to treat ourselves with something indulgent at the end of the day, it's not one of the healthiest things to do. Experts recommend having nutrient-rich food for dinner as they are light on the stomach and keep our health in check. Considering this, here we have curated a list of protein-rich desi dinner recipes that you'll absolutely love! The best part is that you can rustle up these recipes in just under 30 mins. Take a look.


Also read: Dinner Recipes: 5 Quick And Easy Recipes For A Light Dinner Meal
Here Are 5 Protein-Rich Desi Dinner Recipes You Must Try:
1. Soya Khichdi (Our Recommendation)
This aromatic khichdi will give an interesting break from everyday food. The addition of soya adds nutritional value to this khichdi, giving it depth, density, and flavour. Serve with raita and salad to relish its taste. Click here for the recipe of Soya Khichdi.
2. Paneer Bhurji
Paneer is one of the best sources of protein. This paneer bhurji is packed with tantalising spices and is quite easy to put together. It is extremely wholesome and makes for a delicious dinner meal. Click here for the recipe of Paneer Bhurji.
3. Chicken Masala
This recipe is for all the chicken lovers out there! Succulent pieces of chicken are cooked in an onion tomato-based gravy and finished with cream and coriander leaves. Serve with roti, naan or paratha. Click here for the recipe of Chicken Masala.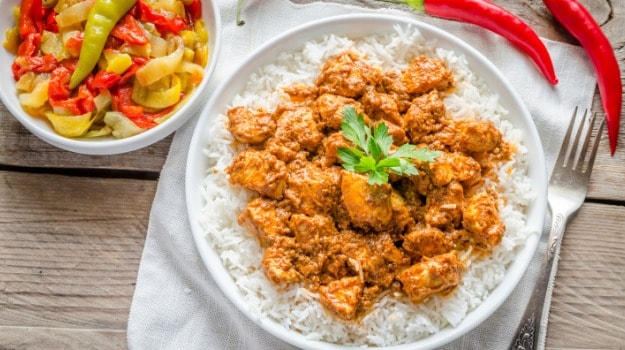 4. Chana Dal Biryani
Chana dal biryani is a Hyderabadi delicacy, and is one of the easiest biryanis that you can make at home. Whole spices and seasonings come together to bring aromatic flavours to this biryani. Don't forget to pair it with raita and salan. Click here for the recipe of Chana Dal Biryani.


Also read: 9 Protein-Rich Veg Biryani Recipes You Need To Know About
5. Mumbai-Style Egg Bhurji
If you're bored of regular egg bhurji and want to try something different, then this recipe is just for you! This egg bhurji is made with a special pav bhaji masala and makes for a wholesome dinner meal. Click here for the recipe of Mumbai-Style Egg Bhurji.

Try out these recipes at home and share your experience with us in the comments section below.

About Vaishali KapilaVaishali finds comfort in eating parathas and rajma chawal but is equally enthusiastic about exploring different cuisines. When she's not eating or baking, you can often find her curled up on the couch watching her favourite TV show - FRIENDS.