Biryani Recipes - Who doesn't love a plate of flavourful Biryani? Biryani, an evergreen classic, really needs no introduction. It's aromatic, it's heavenly and one of the most loved delicacies not just in India but across the globe. It is believed that Mughals were the first to introduce biryani in North India whereas South India was exposed to its brilliance through the Arabs. Biryani flourished in some of the notable Muslim centres throughout the country - including Lucknow, old Delhi and Hyderabad, to name a few - after which it was gradually embraced by all.

The style of cooking Biryani in North India differed from the Southern states. Since a large part of North India was inhabited by vegetarian communities like Brahmins and Marwaris, North Indians successfully experimented with it to arrive at the vegetarian versions. Vegetable Biryani, colloquially called 'Tehri' is a classic Sunday meal in most North Indian homes.

Rice is widely consumed in the Southern part of the country owing to which one can find a miscellany of mouthwatering versions. South India boasts of a wide variety of Biryanis over any other part of the country. Hyderabad itself is said to cook up to 40 distinct versions. The fiery chettinad cuisine of Tamil Nadu exhibits magnificent Biryanis. Some of the most celebrated Biryanis of South include - Hyderabadi Biryani, Coorgi Mutton Biryani, Bhatkali Biryani and Mangalorean Fish Biryani.

The Western part of the country bristles with a fantastic collection of Biryanis, one of the famous being the Bombay Biryani - a hearty combination of spices, meat and rice, studded with kewra. The Khojas and Boris Muslim communities kept alive the tradition of cooking Biryanis. When in Western India, one must try the Sindhi Biryani, Gujarati Biryani and Memoni Biryani. Aurangabad is also a centre where one can get a taste of Mughlai Biryani in Maharashtrian style.

(Also Read: Traditional Sweets To Prepare During Eid)
In East, Biryani is mostly cooked in Bengal. They combine rice with meat, fish and prawns and cook it with heart-warming spices and ingredients. To talk of North-East India, one of the most notable Biryanis is the Assamese Kampuri Biryani.

Unlike Pulao, Biryani involves cooking rice and meat separately and finally cooking them together by forming layers of each in a vessel. One of the most famous ways of cooking Biryani is the dum method. It involves sealing the vessel thoroughly and keeping the lid closed to trap in the aroma. The Biryani is then cooked over slow fire/dum.

Traditionally, Biryanis can be classified under two categories - Pakki, wherein cooked meat is coupled with half-cooked rice and further cooked - and Katchi which involves raw mutton pieces, marinated in yogurt and spices, cooked together with uncooked rice.

Biryani is a complete meal in itself, apt to suit all occasions; whether a hearty meal on a lazy Sunday afternoon or a grand, scrumptious indulgence at the dinner table - there are varieties available to please one and all.
Just in case you are in a mood to cook some yourself this festive season, our handpicked 21 best Biryani recipes from across the country will be enough to inspire the cook within you.
Straight from the streets of Hyderabad, get the authentic flavours simmering in your kitchen. One of the most popular biryani recipes, this dish is surely here to win hearts. It's nothing but half-boiled rice layered with fried onions, mint, cooked meat and cooked dum style. Find the recipe here.

(Also Read: Mouthwatering Eid Special Dishes You Must Binge On)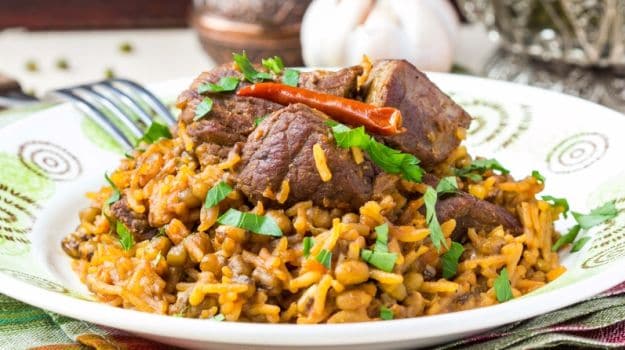 Hyderabadi Biryani Recipe- This flavourful and delicious gastronomic wonder is a treat to relish and can often be cooked for dinner parties. Image credits: iStock
Cook up a storm by combining minced lamb with aromatic spices and crunchy nuts. Keema biryani is the delicious amalgamation of rice with aromatic spices and minced meat, dry fruits and rose water that is a delight to relish on. Find the recipe here.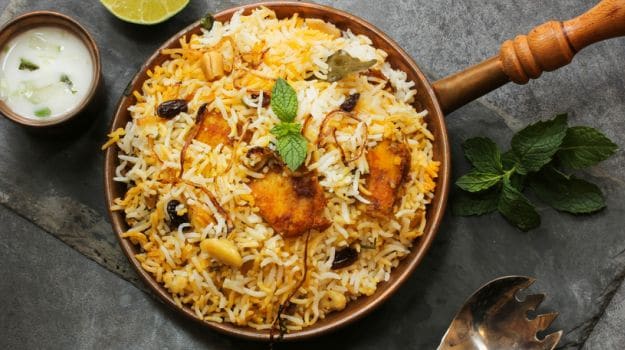 Keema Biryani is a popular Biryani recipe from South Indian cuisine that has a mouth-watering taste with spices, meat and dry fruits cooked together. Image credits: iStock
What's a biryani not cooked in a royal style. A classic from the royal Awadhi kitchen. Mutton pieces are cooked to perfection amid fragrant rice. Succulent, marinated mutton, slow-cooked in a melange of roasted spices to make a spicy Awadhi biryani. Find the recipe here.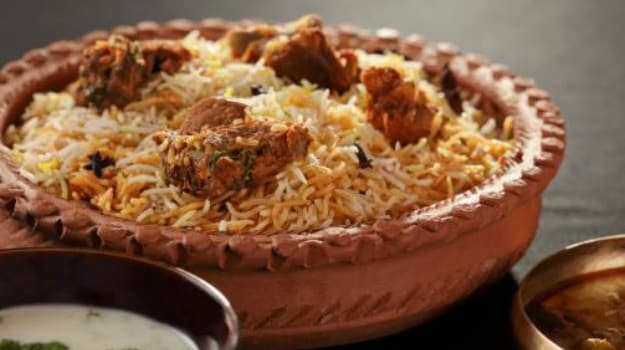 Breathe in the aroma of this princely mutton biryani, this easy biryani recipe is cooked the royal Awadhi style. Perfect for your dinner table feasting! Image credits: iStock
Explore the burst of flavours enrobed in a mix of chicken and rice. A simple recipe, chicken reshmi biryani is everything you need to celebrate Eid. Find the recipe
here
.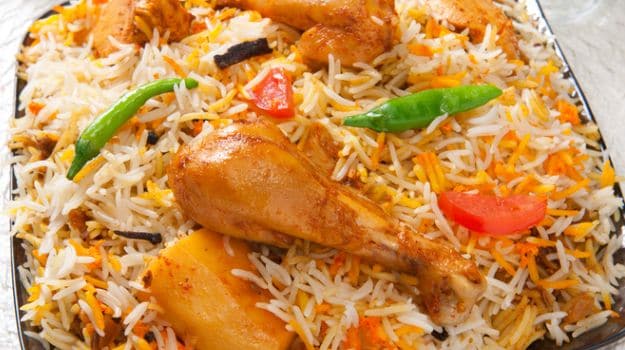 A single pot dish, chicken biryani recipe has chicken and rice flavoured with a burst of chillies mingling with the aroma of varied spices, this easy biryani recipe is sure to melt your heart and palate! Image credits: iStock
Tender
paneer
pieces cooked to perfection in a hearty mix of rice and local spices. Doused in a creamy texture, this special treat will please one and all. Find the recipe
here
.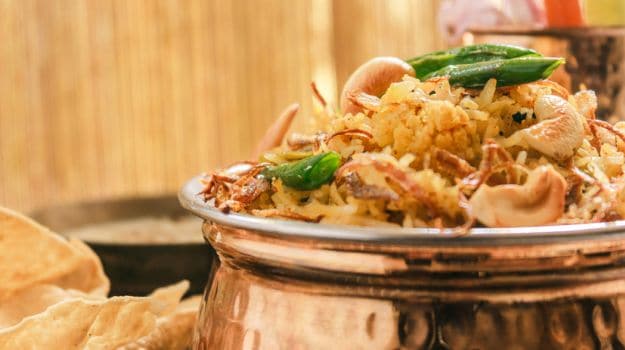 Paneer Biryani is the perfect biryani recipe for vegetarians and a paneer lover's delight. Image credits: iStock
From the beautiful city of Calicut, comes this authentic chicken Biryani. A quick and easy recipe using chicken and rice with distinct flavours of South. Yes, perfect biryani does exist. Find the recipe here.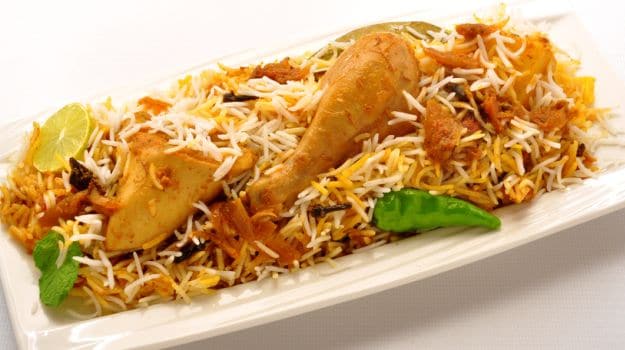 Calicut Chicken Biryani is a popular recipe down south that has the perfect amalgamation of Chicken and rice with pleasing flavours of the region in a melange of spices, chillies and herbs. Image credits: iStock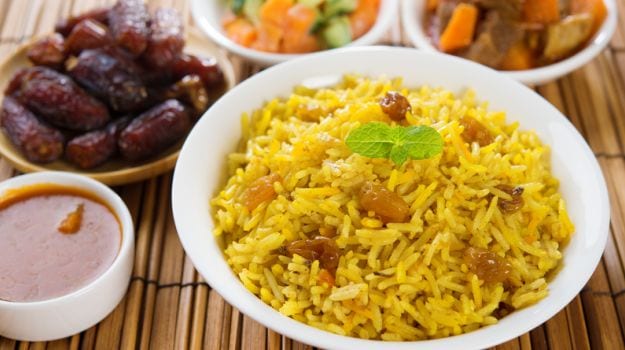 A traditional Iranian style biryani recipe, scheherazade biryani is layered with marinated fish and onion and oozing with distinct flavours of spices, cashews, raisins and rose water. Image credits: iStock
This one is a must try for all the chicken lovers. Raw chicken pieces are marinated and cooked with rice dum style - simply lip-smacking! Find the recipe here.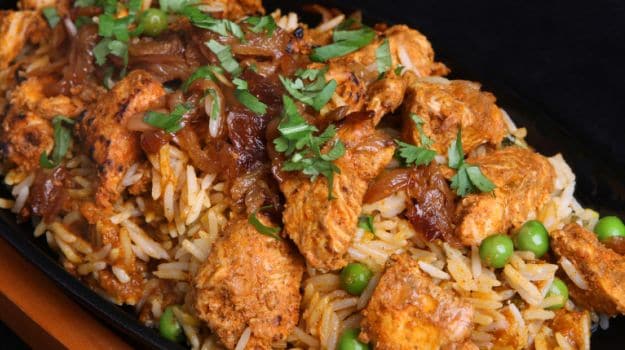 A dum biryani recipe with loads of spices makes Murgh ki kachchi biryani a delight for chicken lovers! Image credits: iStock
This one is a heartwarming combination of spices and condiments simmering with chicken pieces and rice. An added dose of coconut milk makes this one a creamy, aromatic treat. Find the recipe here.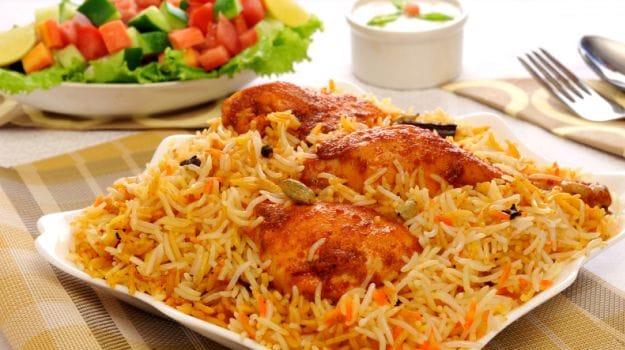 Chicken biryani with coconut milk recipe is an aromatic dish that can spruce up your dinner party menu in an easy and quick way! Image credits: iStock
Beautiful fish pieces layered with rice and truckloads of flavours - this one will steal you all the praises! If you are bored with your usual chicken and mutton biryani, it is time you get hooked on to fish biryani and surprise your guests this festival. Find the recipe here.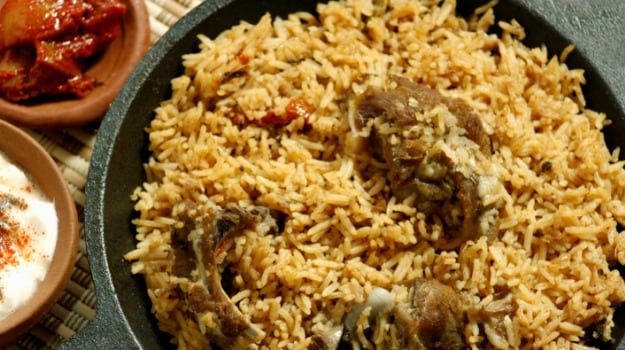 Fish or Macchli biryani recipe is a sumptuous biryani recipe that you won't be able to resist the second serving. Image credits: iStock
Dum cooked birynai loaded with flavorful, tangy fried fish and aromatic spices along with rich cashew nuts. Can it get any better? A delicious Biryani recipe from the authentic and popular kitchen of Malabar. Find the recipe here.
Another fish biryani recipes, a classic Malabar biryani that can be devoured at all times. Image credits: iStock
A slow-cooked, delectable chicken biryani recipe full of aromatic flavours and layered with masalas, milk, chicken and vegetables cooked in a Handi which is a round pot like vessel, with the neck narrower than the base. A mouth-watering dish that will surely win hearts at the dinner table! Find the recipe here.
Eggs are one of the most popular food in India and is often used in many Indian recipes such as Biryani. This egg biryani recipe is super easy and quick to make at home for dinner parties. Find the recipe here.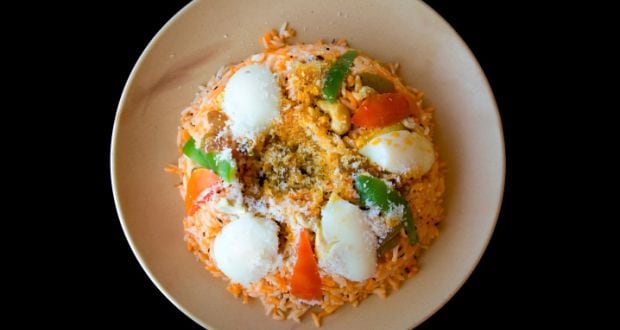 Egg biryani is a great dish to prepare for dinner party. Filled with spices along with scrambled and boiled eggs that makes for a sumptuous meal. Image credits: iStock
A delicious vegetarian biryani packed with the goodness of wholesome vegetables and flavourful spices, zaitooni subz biryani is a perfect party dish. Not just is it a delicious one to try, it is also super easy to prepare at home. Find the recipe here.


With the goodness of beetroot, French beans, zucchini, broccoli, bell pepper and much more combined with mint, kewda water, saffron and a host of spices, Satrangi biryani makes for a wholesome lunch meal. Find the recipe here.


Indulge in this mouth-watering veg biryani. Image credits: iStock
Cook up a mouth-watering dum-style lamb biryani with aromatic flavours of kewra, saffron, mint, chilli, brown onions, coriander and cream. A royal treat right inside your kitchen!


Perfect biryani to indulge in the flavours of juicy lamb.
Many people started to use kathal as an alternative to meat in biryanis! And well, it seems like it does taste amazing since even popular biryani restaurants have started to prepare the delightful dish.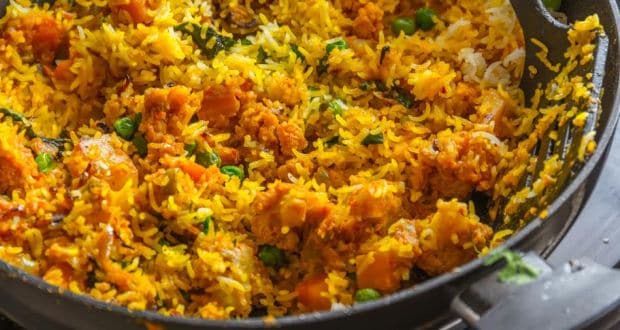 Chicken Mandi Biryani is served on giant plates; heaps of fluffy orange rice garnished with almonds, raisins, cashew and fried onions.


Degi biryani is a very famous biryani widely available in the streets of old Delhi. The unique selling proposition of this biryani recipe is - it includes chilli pickle in between the rice in the preparation.


A melting pot of tender mutton pieces, rice, dry fruits and saffron infused with the essence of kewra - this Kashmiri Style Biryani is great for treating special guests to a feast.
This dish is prepared in a pot with chicken at the bottom and rice on top, then the entire dish is turned over on a plate to make for a beautiful cake-like presentation.


A perfect Biryani can never be bereft of the sensational aroma. A quintessential Biryani is always studded with a scented element which takes the aromatic quotient to yet another level. Jasmine, Rose, Kewra, Saffron and Screw-pine are widely used for this purpose.