Perched over the Chalakudy River, in a quaint town 25 kilometres from Cochin International Airport, I discovered a hushed hideaway that effortlessly blends beauty with well-being. A beautiful,
back-to-nature retreat, Rasa Gurukul was Das Sreedharan's dream and passion who is relaxed and fun with an infectious smile.Over the next few days, I put up in a heritage cottage that felt more akin to a traditional Keralan home. It was perfect to wake to the soft murmur of the river flowing below and fling open your doors to greet the morning sun with a lush view of palm trees that intersperse the skyline. There is no aspiration in Rasa Gurukul to be anything other than what it is
–
a place of total peace.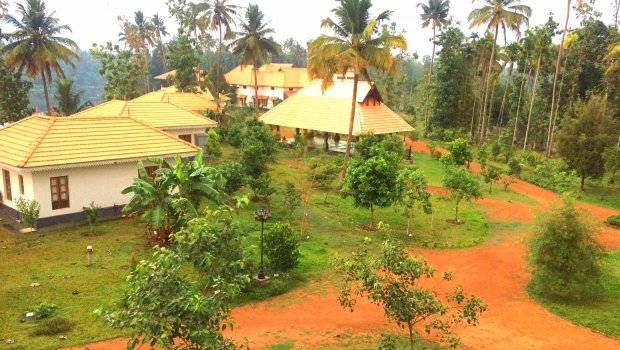 Kerala is a land of many treasures - an essential element being the deep understanding of the teachings and practices of Ayurveda. But Ayurveda is not just about spas and therapies. It is about adopting a holistic approach and adding spiritual quality to our modern lifestyles. Here are six traditions the benefits of which I felt in a really short time I spent at Rasa Gurukul in Kerala and decided to carry them back with me. These are lessons our parents and grandparents knew but we seem to have lost them with time.
1. Field to fork
Our diet should depend more on local vegetables and fruits and less on food that travels, Das points out. Local is healthier, cleaner and tastier. In Kerala, you will find some form of their local tuber, Tapioca along with Matta rice, an indigenous variety grown here, for lunch or dinner. The more steps there are between your food and its source the more its nutrition is lost. In the modern-day dictionary, this is known as 'Locavorism' which indicates that food grown within 100 miles (160 km) of its consumption is the healthiest. With this awareness, comes the need for urban farming - the practice of cultivating food in and around a city.Rasa Gurukul was inspired by the past to create the future. It has dedicated 25 acres of the resort premises to a rice field and varying shades of plush produce fringed with nutmeg trees, tangled vines of pepper and bushes of
curry leaves
. The farm serves as a primary source of
organic harvests
of ingredients used in their kitchen every day. I could taste the difference between the papaya plucked fresh from the tree every morning and the one picked weeks ago, factory-washed and trucked from thousand miles away.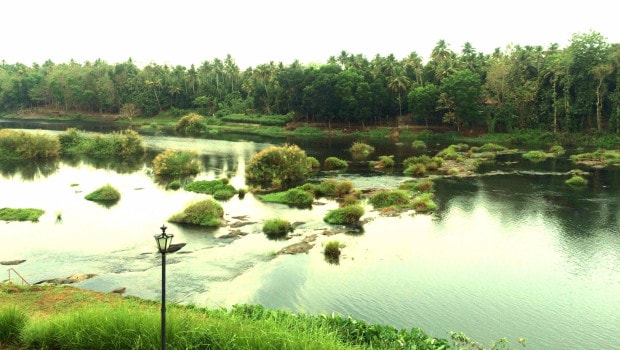 "We want to bring nature, food and people togethar," shares Das. His affection for naturally grown crops is a reflection of childhood trips to his own farm with his mother.
Yogurt
made with fresh milk from the farm's cow, subtlety spiced curries and bright
coconut chutneys
- every meal I had was not just to fill me up but it was a feast for the eyes and the soul. They were light, fresh and non-greasy – three qualities that your daily meals should have. A lot of care was put in to make each delicious dish and spices were used to bring out the flavours of the ingredients, not overpower them.(Also read:
10 Veggies You Can Grow at Home
)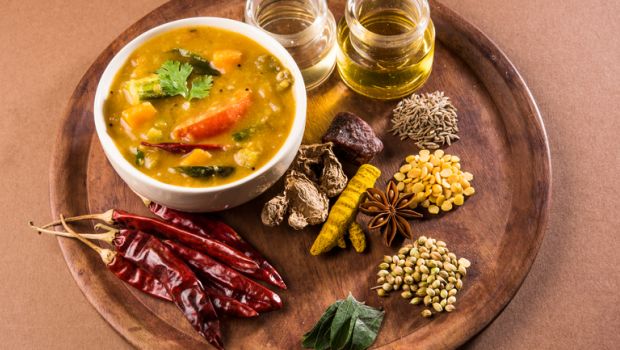 The concept of home-grown food is not new but a lost tradition that has made a comeback. It could be an
edible balcony
, a terrace garden or the latest rooftop hydroponic greenhouses, grow whatever you can and seek out local sources wherever you can.
2. Ayurvedic oil massage
Ayurveda has a living history of 5000 years. People in Kerala kept the tradition alive (even when the British Raj tried to replace it with allopathic treatments) because they recognized its healing power. Thousands of people visit Kerala every year to gain benefits from the source of the 'world's oldest health care system'.During my stay at Rasa Gurukul, I experienced Ayurveda first hand. I was prescribed a Shirodhara session to balance my Vatta dosha which had suffered due to weeks of poor sleep and stress. As I lay curiously on a wooden table, a stream of warm herbal oil was gently and continuously swirled across my forehead from a bronze pot hanging above me with a hole in the bottom. The gentle pressure and vibration of the oil on the 'Ajna Marma', an area where nerves are highly concentrated, is known to soothe the nervous system and induce rest. The 30-minute treatment weaved a meditative spell and helped me rejuvenate and reclaim mental strength.Ayurveda advocates the practice of Abhyanga – massaging every part of your body with warm oil daily for 15 to 20 minutes to revitalize your nerves and activate your marma (energy) points. According to Charaka Samhita, one of the oldest texts on Ayurveda, Abhyanga or self-massage makes you strong, relieves exertion, keeps you youthful and prevents age-related ailments.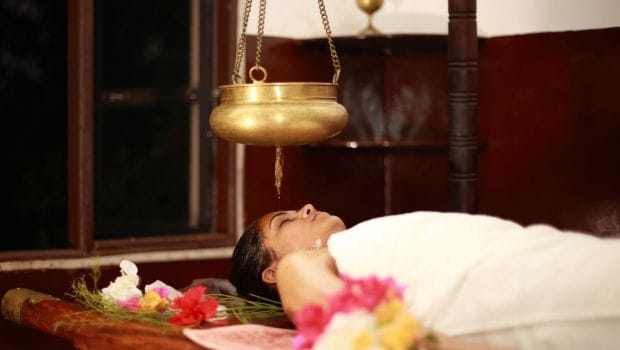 3. Herbs that heal
Kerala is renowned for its natural abundance of herbs. I visited a spice and herb plantation on my way to the Tea Mountains and was stunned to see the variety. There were herbs to cure every ailment.Back in Rasa Gurukul, we were served a pale warm drink with every meal instead of water. Pathimugam or the East Indian Rosewood is a medicinal tree who's hard, heart wood is boiled with water to disinfect it. When added to water, Pathimugam turns it into a pale pink colour. This herbal water is an excellent thirst quencher and also acts a blood purifier. In South India,
sipping warm water
with medicinal stems, barks and roots along with your meals is customary. It is known to stimulate Agni or the digestive fire and allows the body to easily absorb the medicinal qualities of the herb.The colourful cuisine of Kerala features distinct flavours of curry leaves, nutmeg, ginger and the South Indian start spice black pepper, also known as the Malabar Pepper. Most historians agree that the biting hot black pepper was a rare spice which only grew on the Western Ghats of Kerala in ancient times. It was so much in demand around the world that it is believed to have costed more than gold! All these wonderful spices and herbs can not only transform your meal with their captivating flavour and aroma but they also aid digestion and strengthen your immunity. (Also read:
5 Ayurvedic Herbs We Must Have in Our Kitchen
)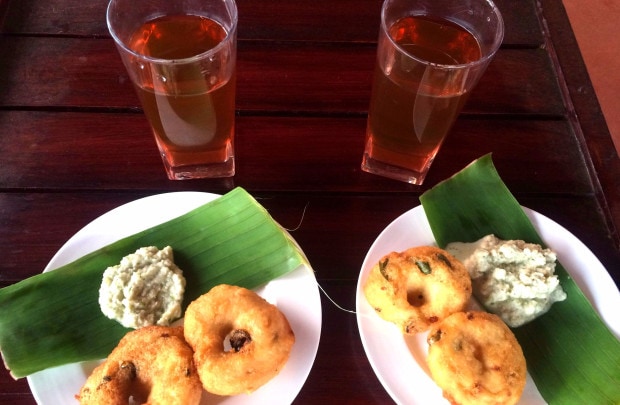 4. Free your mind with Yoga
At sunrise, I was standing on one leg at Rasa Gurkul's enchanting open temple, with firm shoulders and wobbly arms stretched ahead my chest trying to maintain my balance. While I take a deep breath as instructed, a gentle breeze passes by with a chirpy flock of birds and I tip over. For the next few days, I learnt how to relax and the art of stability. Yoga is more than just a form of exercise. It can
reduce stress
, increase a sense of calm and induce a sense of freedom.Rasa Gurukul has yoga sessions every morning at 6 a.m. and it was a great way to relieve my tensed muscles. Invigorated, I decided to try a form of yoga unique to Kerala, which is a combination of Hatha yoga and an ancient martial art practice called Kalaripayattu. Kalari, also known as Warrior Yoga, enhances your physical and spiritual power and it comprises of several animal postures. By the end of few basic poses and self-defense techniques, my shoulders were loose, my mind at ease and my body felt powerful.(Also read:
10 Basic Yoga Poses to Get You Started
)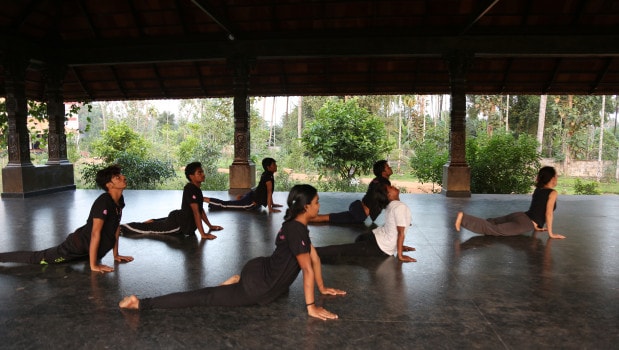 5. Using our traditional utensils
One of the best known traditional cooking utensils in Kerala is the Uruli which is made of brass or bell metal. It is a circular, wide-mouthed vessel with a polished surface. It is suitable for slow cooking and is capable of retaining the natural colour and flavour of ingredients when cooked while using less oil. I spotted it at the Rasa kitchen simmering a lovely Tapioca curry. "The sound of Uruli was like music in traditional cooking, also a very common sound in the temples of South India," says Das and informs me that Rasa Gurukul has frequent workshops to make their own traditional utensils and a blacksmith who makes kitchen knives.Sadly, most of our traditional vessels have been replaced with stainless steel and aluminium products (cheaper price and quality). These new-age utensils may contain some amount of Chromium and Nickel which can be toxic and should be kept away from the kitchen. Traditional cookware will always have a coating of Tin to prevent any reactions with food and they are known to add to the nutritional value of your dish. There's a reason why our grandmothers boiled and stored water in copper vessels and why you will still find traditional utensils like the Uruli in the kitchens of Kerala. Good cookware is an integral part of cooking and can have a far-reaching impact on your health. Choose wisely.(Also read:
Why Aluminium is Bad For Your Health
)
6. Coconut oil for cooking
The name Kerala has been derived from 'Kera', the local Malayali word for coconut. It is a wonderful natural resource prized for its flesh, water, milk, oil and even sugar. At Rasa Gurukul, fresh coconuts are collected and dried to make oil. The traditional way of extracting oil from coconuts involves the use of a 'Chakku' run by oxen. I also learnt how we can make coconut oil at home using
coconut milk
– the raw, virgin sort. The naturally obtained
coconut oil
was far more fragrant and flavourful. It is one of the healthiest
cooking oils
, especially for frying as it is less damaged and chemically altered on heating. In Ayurveda, it is often prescribed for oil pulling that helps in good digestion. So, it's definitely a healthier alternative to your industrially refined oils. It is always best (and healthy) to rely on indigenous varieties of cooking oil for daily use. I would be happier splashing some extra-virgin coconut oil over my salads than an imported variety of olive oil that could be a health impostor for all I know.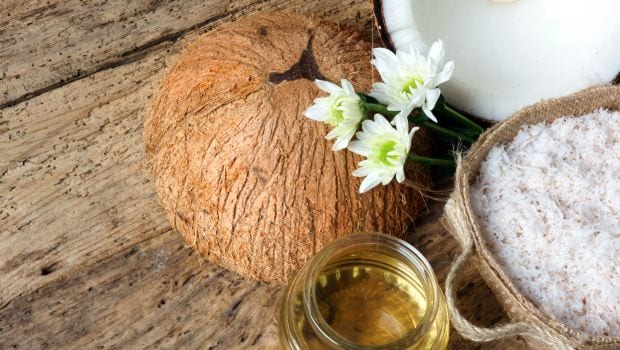 The pace is more leisurely in Kerala. They don't call it 'God's Own Country' for nothing. It certainly felt far from modern life. You may be disconnected but never isolated. Rasa Gurukul is a place to rejuvenate your mind and body. Relax by the river, potter around the farm, spend time alone or have a conversation with the young, enthusiastic children they mentor. It will compel you to think about your life in new ways. You're likely to leave a transformed person.Where: Kovilakam Kadavu Road, Poolani, Meloor, Chalakudy, Kerala.
Contact: 092075 64524
How to Reach: Fly down to Cochin. Rasa Gurukul is a 40-minute drive from the airport.