77 years-old, frail body with a strong opinionated voice hoping to fulfill his dream of making this world a better place, Haji Kalimullah Khan is nothing less than an inspiration. He is India's noted mango cultivator and has been growing distinct hybrids dedicating their names to celebrated public figures, politicians and celebrities. He is known to have grown a tree with 300 varieties of mangoes and interestingly each with different flavour and taste. Surprising, isn't it? Hailing from Malihabad in Uttar Pradesh, Kalimullah Khan has a lot to share. Read on to know what Haji Kalimullah has to say about himself and his journey!
Journey from School to Mango Cultivation
"I have been born and brought up in Malihabad, a small town in Uttar Pradesh. I went to school until I failed in class 7 only to give up on studies completely. I hated studying then and got rid of books. Although I wanted to learn English language, but unfortunately couldn't do and regret it today as I have to interact with people from different countries. Mango cultivation runs in our family and we have been doing it for about 300 years now. Our ancestors in our rajwadas used to have huge mango orchards that grew such beautiful hybrids. At the age of 17, I first cultivated a mango tree, which had seven varieties of mangoes and all had different tastes and flavours. Since then, I have been trying to grow new hybrids every year to show that it is possible to introduce newer varieties. I have eight children out of which only one kid looks after our orchard. However, I feel the way I looked after and nurtured the trees and wanted to develop newer varieties, I don't feel this generation has the same zeal to do the same."
(Also read:
Where does the Langra Aam Gets its Name From?
)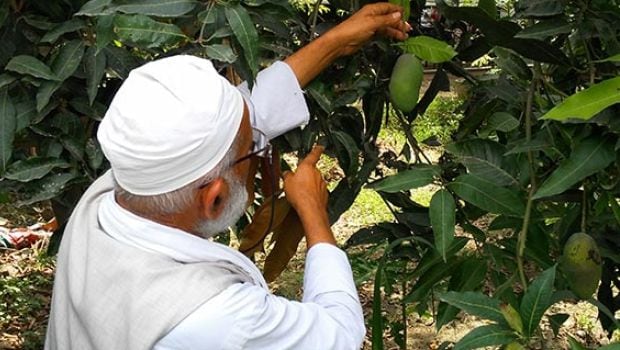 Haji kalimullah Khan grows different varieties of mango every year Haji Kalimullah has since then nurtured unique varieties of mango and became a celebrated cultivator over time. He also won accolades over the world including Padma Shri award for his outstanding work. There is a specific tree that he has been carefully nurturing and growing ever since 1987, which has 300 varieties of mangoes. Yes you read that right! 300 varieties of mangoes, each with distinct taste, aroma and flavour grown in his family orchard. He dedicated a mango variety to the Prime Minister of India, Narendra Modi, which was named as 'NaMo Aam' which grew into delicate red and super sweet delights. It is a hybrid of Kolkata's Husn-e-Aara and Lucknow's Dussehri. He also wishes to send at least five mango trees that can be planted in Gujarat or PM's home, whichever is possible.

Why Does He Dedicate Names of Mangoes to Public Figures?
When asked, he said, "I dedicate the names of mangoes to only those who I feel are doing great in their field of work. I named two hybrids after the two of the most popular actresses Aishwarya and Nargis known for their beauty. One mango tree is dedicated to Sachin Tendulkar as he is one of the best players in our country. I want to associate these big names with mangoes so as that these names keep shining throughout the world for their great deeds." He has also named a mango tree as Anarkali, a popular role played by Madhubala in the film Mughal-e-Azam. Interestingly each mango on that tree has two colours with distinct aroma.

What's Latest?
Last year, UP's very own 'Mango Man' had developed three mango trees, which were named after Mohammed Azam Khan who is a Member of the Legislative Assembly, Bollywood actor Amitabh Bachchan and Late A.P.J. Abdul Kalam. He has recently dedicated a new hybrid to Uttar Pradesh's Chief Minister Yogi Adityanath as he believes that the CM is doing a great job. "This year, the growth is not great, majorly because the fields need excess water and the water levels have gone down in Malihabad due to lesser rains.
Are these Mangoes Sold off Commercially?
He says, "We grow them to give away to people who love mangoes. As soon as the mangoes are cultivated, we give away the portions to be sold off. Although the network isn't that massive to send it across India, but we are trying to make it happen.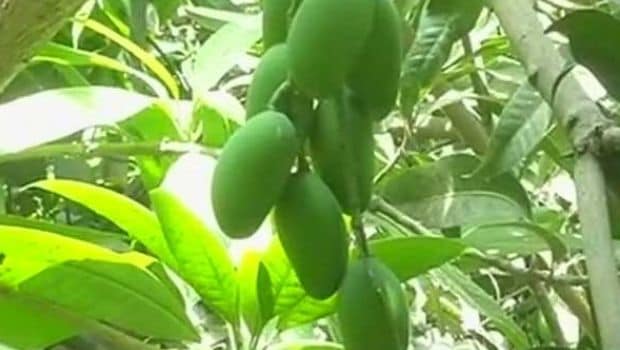 Mangoes named after UP Chief Minister Yogi Adityanath. Photo Credit: ANI
At this age, Haji Kalimullah Khan has been working hard to voice his thoughts and dreams to the world. We hope he continues to inspire us for many more years to come!