He was ridiculed for his
obese
frame and trolled mercilessly for his rich ancestry and luxurious livelihood each time he appeared in public events or on the stadium to root for his
IPL
cricket team (Mumbai Indians). But Anant Ambani, son of industrialist Mukesh Ambani, took his detractors down, when he appeared in his slimmer avatar, having shed over 108 kilos in less than 18 months, taking everybody by surprise. In a country that is infamous for fat shaming, to be
obese
and rich can be a tricky place to be. And such were the crossroads the Ambani scion found himself in. But did you know his obesity had quite little to do with his eating habits and more to do with a certain side-effect of strong medication?
Anant's Health Condition
Anant suffered from chronic asthma and the strong medication led to a condition called 'medicine induced-obesity'. Coupled with physical inactivity and unhealthy food habits, things got worse for Anant, leading him to gain morbid amounts of weight. Renowned celebrity trainer Vinod Channa, who has trained the likes of John Abraham, Ritesh Deshmukh and Ayushmann Khuranna, was Anant's aide in the uphill task. Vinod helped the then 20-year old Anant to shed the excess pounds in 18 months, that too in the most natural and the safest way possible. By the time he was 21 he was fitter, slimmer and leaner.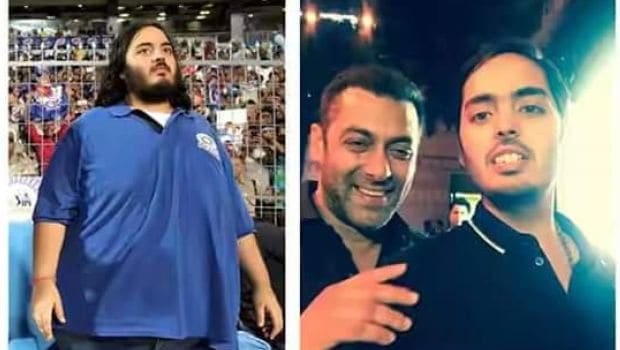 His Fitness Regime
Anant was determined to get fit by his 21st birthday. He worked out five to six hours a day and was on a strictly monitored diet. Keeping his medical state in mind, it was important for Vinod to chalk out a routine and diet for Anant that doesn't come in the way of his medical condition or cause any physical injury or muscle tear. Therefore he made him start with low intensity workout with high reps. Sessions of continuous walking and cycling slowly gave way to high intensity training for the 20-year old. Anant started walking from 30 minutes to two hours, progressing onto 21 kilometres everyday followed by yoga, weight training, functional training and high-intensity cardio exercises.Anant would work out from 9 pm to 12 midnight followed by low-intensity training, which sometimes went up to 4 am in the morning! Anant began with practicing balance training: leg reaches, arm reaches, and very gradually transitioned to light weight training with high reps. And only once he lost the excess fat did he move to push ups, planks, burpees, and various other methods of functional training.
His trainer Vinod Channa in one of his interviews said that
Anant is a born asthmatic and diabetic. He had to be doubly cautious before chalking out his weight-loss plan. For the first two-three months they were only making him walk or cycle for more than two hours a day. Then they slowly graduated to training with supported equipment and then moved on weights and high intensity training. They used to train for at least three hours on all days.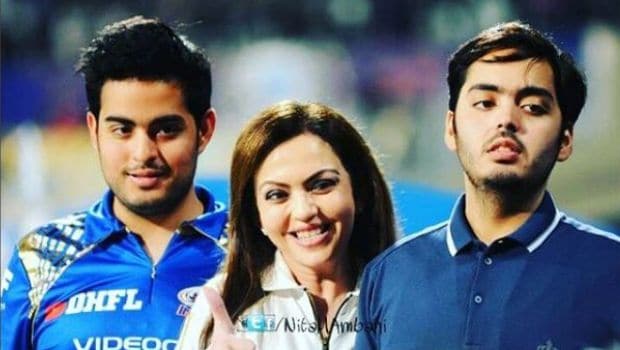 Akash Ambani, Nita Ambani and Anant Ambani; Photo Credit: Anant Ambani/instagram
Anant's Diet Plan
As far as his diet was concerned, he adopted a zero-sugar, low-carb diet, loaded with fibre and protein. He used to begin his days with sprouts, soups and salads and fresh cow milk. Junk food was off the radar completely. He would have six meals a day, loaded with vegetables, cottage cheese, fruits, quinoa etc. He would also include a teaspoon of ghee in his diet. His calorie consumption in a day was about 1200 -1400 calories. There were no cheat days."Anant is a strict vegetarian, therefore they had to plan his meal very carefully. He was put on a low-carb diet. His only source of carbs were fruits and vegetables. No bread or rice. Lots of paneer and sprouts and other sources of good facts, complex carbs and protein. We didn't have to face any injury or health issue in the course of our journey, touch wood. He now weighs 82, we still need to work a lot to tone him up and I am sure we will get there too, he is a determined kid," said Vinod. All the hard work finally paid off. Anant floored everyone with his jaw dropping transformation, but most of all his mother Neeta Ambani, who had also been a partial receiver of the harsh criticism, often trolled to be feeding her son all sorts of junk food. She said in an interview to a leading daily that her son's journey has been nothing short of "inspiring". Anant also impressed a bevy of Bollywood celebrities, who took to twitter hailing the inspirational journey undertook by the young lad.Bollywood Megastar Salman Khan congratulated the young boy on Twitter. "So happy to see Anant Ambani, lots of respect n sooo happy fr him.Takes a lot of willpower to loose 108kgs in 18mnths.(sic)"Anant who is currently pursuing his higher studies in the United States is mindful of his diet and fitness off the shores too. Way to go Anant!