The sight of our cook prepping
banana flower
/banana blossom was one to behold. She would spread a few sheets of newspaper on the floor, take two large bowls, one filled with
water
, and sit down to begin the routine. Rubbing mustard
oil
generously on both her hands, a step that prevents staining of the hands, she would begin by removing the dark purple outer layer first, detaching the florets attached to the base carefully, and soaking them in
water
. She did that with every single layer, checking to make sure she does not waste any floret. Going all the way in, she'd remove the heart of the flower. All the florets, including the heart, are soaked in cold
water
, with a little lemon juice squeezed in so as to prevent them from turning dark.But that was nothing. Cleaning each of these florets is a task in itself.One has to gently remove the outer
skin
of each of these florets, and then take out the thin stem from inside the floret. The skin and the stem are discarded. The heart of the flower too needs to be chopped carefully and quickly because they tend to turn
brown
fast.The chopped florets should ideally be soaked in the water for about half an hour. After that it is typically pressure-cooked with some salt and
turmeric
for about 15-20 minutes, and the
water
is drained out.By the time all this was done, and the actual meal was ready to be cooked, I am pretty certain that we would have been dozing with a book in our hands. However that preparation of banana flower (or mocha as the
Bengalis
call it), with
potatoes
, and shrimps, and always served as the first course with steaming
hot rice
, would rarely fail to evoke superlatives.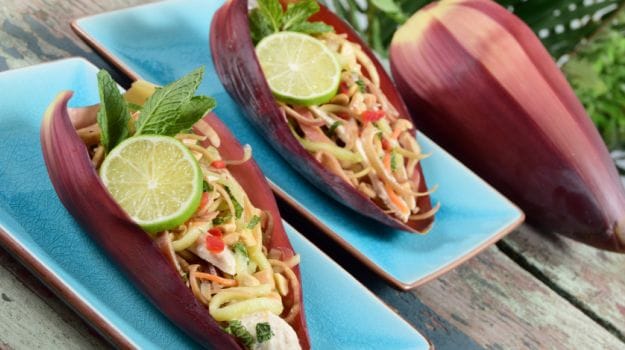 Cooking with Banana Flower
Called by many other names – kele ka phool in Hindi, bale moothi in Kannada, vazhaipoo in
Tamil
– the banana flower is cooked in plenty of ways across the country. In Bengal, the Mochar Ghonto, a
vegetarian preparation
, is yet another treat. Cooked with bits of
coconut
, whose crunch would offset the soft texture of the mocha beautifully, I always liked to eat it with rice and dal. And most often not care about what's coming next.The Vazhaipoo Poriyal – a stir-fried version of the dish – also uses
coconut
, with the addition of curry leaves, urad dal, and dry red chilli.In Kerala, the Vazhaipoo Thoran is yet another popular dish, which is prepared quite similarly to the poriyal mentioned above. What's interesting to note, and something I discovered much later, that in both the
recipes,
the banana florets are soaked in thin buttermilk, instead of
water
with
lemon
, to avoid discolouration.It also makes for a great
snack
. Making the Mochar Chop, a star appetiser in plenty of
Bengali
restaurants, is a tedious affair. The filling, apart from chopped and boiled banana florets, requires boiled
potatoes
, coconut, peanuts (it really doesn't taste the same without it) and raisins. Always make sure the banana florets have been drained off all the water after its boiling; water in the mix will not give the filling the right consistency. These are then shaped into mounds by hand, bread crumbed, and
fried
.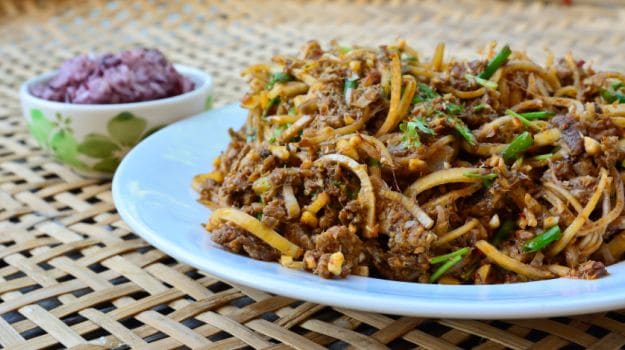 Over time, the process of prepping the banana flower got the better of us. People rarely have the time to go through the entire cleaning process. In fact, my friend was recently commenting that she always goes and picks up a ready dish from a
restaurant
, should the urge to eat 'mocha' arise.As for me, I haven't eaten a good
Mocha Chingri
(banana flower with shrimp) in a long time. For the recipe, click
here
.
Banana Flower – Health Benefits
The
health
benefits of the banana flower are simply brilliant. For instance, did you know that it contains protein, a lot of fiber,
calcium
, phosphorus, iron,
copper
, potassium
(which is why bananas are good for you)
, magnesium, and even
vitamin E
(heard of banana hair and face masks?)
?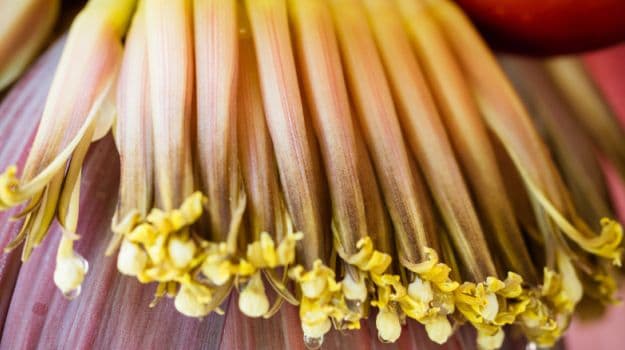 It's also low on fat, and about 100 grams of banana flower has about 51 kcal.It's also a great detoxifying agent, and incidentally given to control excessive menstrual bleeding. Plus it's known to reduce anxiety, and uplift mood. But I doubt you can get there by
eating
it just once.
About the author:
Priyadarshini Nandy would love to call herself the writer who "divides her time between London and Prague", but being able to call both Bengaluru and Kolkata her home is equally gratifying. As an independent journalist, she writes about food, theatre, travel, and more food, for various publications - new age and old school.
Disclaimer:
The opinions expressed within this article are the personal opinions of the author. NDTV is not responsible for the accuracy, completeness, suitability, or validity of any information on this article. All information is provided on an as-is basis. The information, facts or opinions appearing in the article do not reflect the views of NDTV and NDTV does not assume any responsibility or liability for the same.