Lucknow, also known as the 'City Of Nawabs', is a foodie's paradise. From biryani and kebabs to nihari, makhan malai, and more, there's an endless list of culinary delights to explore in the city. If you've ever been to Lucknow, another thing that you must've noticed while passing by its historic lanes or visiting restaurants is that they have an impressive range of breads. Their aroma alone is so enticing, so imagine how delectable they taste. Lucknowi breads are prepared using a blend of traditional ingredients and techniques and are all unique in their own way. If you wish to explore the rich culinary heritage of Lucknow, then you must certainly not miss trying the bread. Let's introduce you to some of the classic ones that should be on your checklist:
Also Read: 13 Best Bread Recipes | Easy Bread Recipes
Here Are 5 Different Breads From Lucknow You Must Try:
1. Sheermal
Sheermal is a classic bread made with maida, ghee, milk, sugar, and saffron. It has a soft and fluffy texture and is slightly orange in colour. You'll find several vendors across the city who have stacks of sheermal stacked on their food stalls. Its sweet flavour and the aroma of saffron make it an absolute treat to indulge in. Learn how to make sheermal with this easy recipe.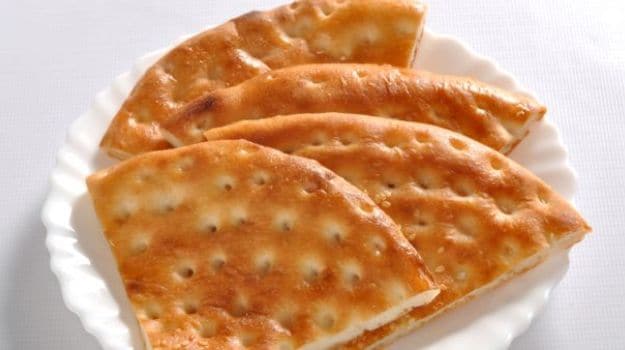 2. Taftan Naan
Taftan is somewhat like naan but flakier in texture. Thin and crispy layers of naan with a soft interior make it extremely light to eat. Taftan naan also requires the use of dahi, which gives it a tangy flavour. It is commonly flavoured with elaichi and poppy seeds. You can also add some saffron to it.
3. Gau Zabaan
'Gua zabaan' translates to cow's tongue in English. But don't get scared; this bread is called so only because its shape resembles that of a cow's tongue. Once you take a bite of it, you'll be surprised to see how perfectly soft and fluffy it is. Pair it with delightful curries and kebabs, and enjoy!
4. Khamiri Roti
Another delicious Lucknowi bread you must try is khamiri roti. Khamiri, which means yeast, is a key ingredient in making it and contributes to its spongy texture. It makes for a stellar addition to a dinner menu instead of serving regular rotis and parathas. Brush it with a generous amount of butter and garnish with coriander leaves. Find the complete recipe here.
Also Read: Indian Cooking Tips: How To Make Laccha Naan On Tawa At Home
5. Bakarkhani
Bakarkhani is a close sibling of sheermal, but it's a lot bigger in size. The dough for this bread is made using maida, sugar, ghee, and milk. It is flavoured with cardamom or saffron and baked to perfection. Bakarkhani is popularly made during festivals but can be enjoyed at other times when you feel like having a sweet bread as well. Click here for the complete recipe.


Try out these delectable breads and let us know which one turned out to be your favourite in the comments below.
About Vaishali KapilaVaishali finds comfort in eating parathas and rajma chawal but is equally enthusiastic about exploring different cuisines. When she's not eating or baking, you can often find her curled up on the couch watching her favourite TV show - FRIENDS.