Onam is a festival that celebrates the annual visit of the mythical king Mahabali who once ruled the modern day Kerala. Every year, in honour of the King, thousands of Malayalis across the world get together to celebrate in all grandeur. Food is usually the centre of all celebrations. The festival also showcases the bountiful harvest of the region, and the locals enjoy four days of state holiday and an overall 10 days of ongoing festivities. From traditional dance, music performances, snake boat races to thorough cleaning, decoration of houses and of course, cooking elaborate meals - there is a sea of activities that are carried out as a way to commemorate the festival.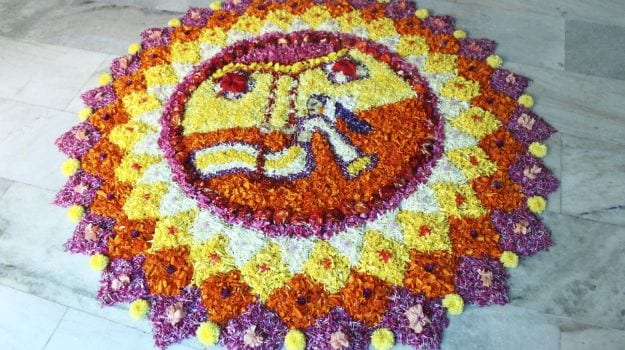 Song, dance and other activities: Onam festivities also include other activities such as traditional dance performances like Pulikali, Kaikottikali, Kathakkali, and Kummati Kali. Apart from these, there are a series of snake boat races (Vallamkali) that are organized. Some people also sing traditional Onam songs, called Onappatt.

The Grand Meal, Onasadya: Coming back to where we started, as mentioned earlier Onasadya is one of the most essential features of the festival. Meticulously prepared and even fastidiously plated, the entire arrangement exhibits a potpourri of different flavours - from sweet and salty to sour and spicy. There are papadams, sweet and sour pickles, tangy pachadis, dal preparations, spicy curries and of course, payasams and Ada pradhaman for dessert.


According to a Kochi-based food blogger Aysha Tanya, "The plating of Onam Sadhya starts with the banana leaf which is always positioned with its tapering end facing towards the left. Essentially, you have eight different kinds of preparations -
dals, curries, pickles, pachadis, payasams
, rice and so on - with each having multiple variants served on your plate." In olden times all eight preparations had up to eight different varieties served for Sadhya, making it to a grand total of 64 delectable dishes on your banana leaf!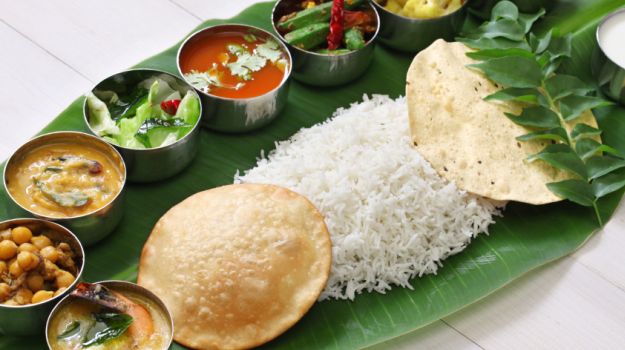 "The dishes are always served in courses and eaten in a specific order," explains Naren Thimmaiah, Executive Chef, Karavalli, Bangalore. The first course comprises rice, dal (parippu) along with ghee followed by rice with sambar. The third course includes rice with rasam and pulisherry followed by rice with curd/buttermilk. Then comes payasam and Ada Pradhaman. When it comes to desserts, many start the meal with it, most have it in between the meals and others finish off on a sweet note.

"There are a handful of semi-dry preparations that are served at the beginning itself for you to keep consuming them throughout the meal. These usually include cabbage thoran, avial, pachadis, curries made of red pumpkin (erisherry) and bhindi (vendakai kichdi)," says Chef Naren. You also have some salt and a banana placed on your banana leaf along with salted banana wafers and jaggery coated banana chips.

Comments"One of the most interesting things is the folding of the banana leaf once you are done. You should fold it completely from top to bottom and pull it towards yourself if you have had a happy meal. If the leaf is pushed further from oneself, it indicates that the meal was not satisfying," explains Aysha.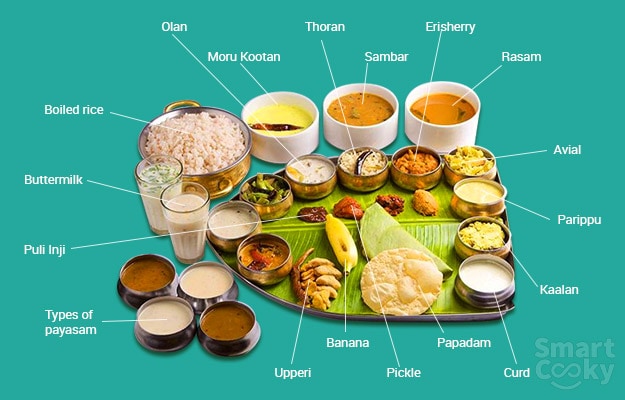 - Salt
- Rasam
- Sambar
- Banana
- Plain curd
- Rice with ghee
- Pappadam - papad
- Sambharam - buttermilk
- Olan - White pumpkin curry
- Upperi - salted banana wafers
- Kaalan - Raw banana curry cooked in coconut
- Parippu or Neiparippu - dal based preparation
- Erisherry - Essentially made with red pumpkin
- Pickles (mango pickle, kari naranga pickle, etc)
- Thoran - Dry cabbage curry cooked with coconut
- Avial - Semi dry preparation made with mixed vegetables
- Pulisherry - curry made with vegetables, curd and coconut
- Vendakkai Kichdi - fried okra cooked with curd and coconut
- Puli inji - Curry made from ginger, green chillies and jaggery
- Sharkara Varatti - Banana slices, deep fried and jaggery coated
- Ada Pradaman - Rice flakes cooked with jaggery and coconut milk
- Moru Kootan - Tomato and onion curry cooked with curd and coconut
- Pineapple Pachadi- Curd based accompaniment prepared with pineapples
- Payasam (kheer type desserts cooked with different ingredients like milk,jaggery,vermicelli)