Chaitra Navratri and Sharad Navratri are celebrated widely all across India. Chaitra Navratri is celebrated in the Hindu month of Chaitra that falls at cusp of spring and summer (usually around March and April). Each of the nine days of Navratris is considered to be very auspicious in every Hindu household. People wake up early, bathe and pray to the nine forms of Goddess Durga (Nav Durga) to seek her divine blessings.


(Also Read: When Is Chaitra Navratri? Date, Significance, Colours For Nine Days And Fasting Rules)



Devotees perform special poojas and havans to welcome Goddess Durga to take shelter in their homes, who has descended from heaven to be amongst her devotees for nine days. They also observe fasts as a mark of showing their devotion for the goddess. A pertinent scientific logic also supports the idea of fasting especially around the Navratris. Both the Navratris start when the season is on the verge of a change. Chaitra Navratri marks transition from spring to summer, while Sharad Navratri falls around October-November marking the beginning of winter. In this period, your immunity decreases and your body is more prone to sickness and infections. By observing these fasts and restricting a heavy diet you are able to protect yourself and boost your immunity. It helps to cleanse and detoxify your body and relaxes your mind. From the Ayurvedic perspective, eating foods like meat, garlic, onion, grains and alcohol attract and absorb negative energies and should be avoided during seasonal change

(Also read: A Refreshing Fruit Shake Recipe to Battle Mid-Day Hunger-Pangs)

Here's your guide to all that you need to avoid if you are observing the Navratri fasts:

1.Non-vegetarian foods like chicken, mutton, lamb, beef and eggs are to be strictly avoided during this time. Many devotees, even if they are not fasting try to refrain from having non-vegetarian food.

2.All your meals should be prepared without onion and garlic.

3.Table salt is to be avoided but you can use rock salt (sendha namak) instead.

4.Turmeric (haldi), asafoetida (hing), mustard (sarson or rai), fenugreek seeds (methi dana) and garam masala are also not allowed during your fasting phase.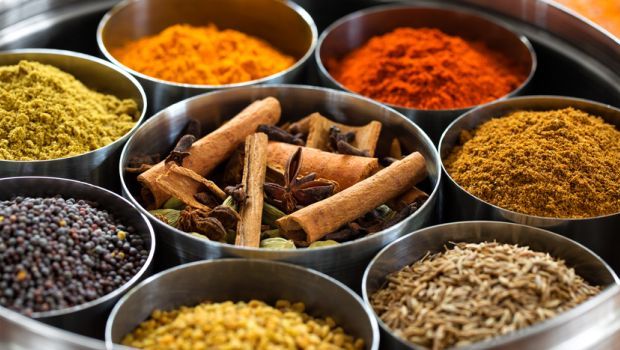 Image credits: iStock

5. You also need to keep away legumes and lentils.

6. Several types of flours need to be avoid including cornflour, rice flour, all purpose flour, whole wheat flour, gram flour and semolina are to be avoided. You can use buckwheat flour (kuttu) or water chestnut flour (singhare ka atta) only.

(Also read: 5 Foods You Can Still Eat While Fasting)



7. You cannot have your regular rice and can only consume vrat ke chaawal, popularly known as Samak ke Chawal.

8.You also need to steer clear of smoking and consuming alcohol if you are fasting. Again, many people who aren't fasting also keep away from smoking and drinking as a mark of devotion to the Goddess and to keep their body free of toxins.

9. Aereated beverages are also to be avoided during the fasting.



Many fasting rules differ from community to community and family to family, some consume only milk and fruits while some have one meal throughout out the day but the idea is to calm your body and mind.




Happy Chaitra Navratri everyone.