Think
Old Delhi
, and you are immediately transported to the lanes of loaded paranthas, succulent kababs, and absolutely sinful sweetmeats. The Lutyen's Delhi has its own vintage charm tracing back to the colonial roots and their culinary masterpieces. The
Punjabis
gave the city its widely acclaimed Dal Makhani,
Tandoori Chicken
and Butter Chicken. Similarly, the Kolkata Kathi Rolls, Mughlai Parothas, Fish cutlets and the
Ghugni
of the Bengali settlement in CR Park and the Dosas, Idiappams and Utthapams of the South Indian inhabitants further adds to the richness of the local cuisine of Delhi. It is no wonder then that the capital is also often dubbed as the culinary capital of the nation.The confluence of cultures witnessed by the city merits a chronicle of its own. Delhi, which has been a capital for several kingdoms in the past, has successfully adopted those flavours on its platter. The same goes for all the migrated communities who came, settled and made Delhi their own. The rich culinary heritage of the city is a mix of all those royal recipes from the Shahi kitchens, and the
roadside chaats
, the in-house family recipes passed down through generations and the plush restaurants that line the urban landscape of the city. These little pieces of history and culture clubbed together constitute what is known as the Dehlvi Cuisine. Dehlvi is an Urdu word which roughly translates to "From Delhi"Offering a tribute to this exquisite mix, Sheraton in New Delhi is holding "The Delhi Tablespread-Season One" at Delhi Pavilion. Sadia Dehlvi, a noted media person, activist, writer, and columnist, donned the Chef cap for the noted event. The Delhi Spread, seeks to bring forward the rich food history of Delhi. The festival began on Saturday, 16th December and is on until 23rd December, 2017.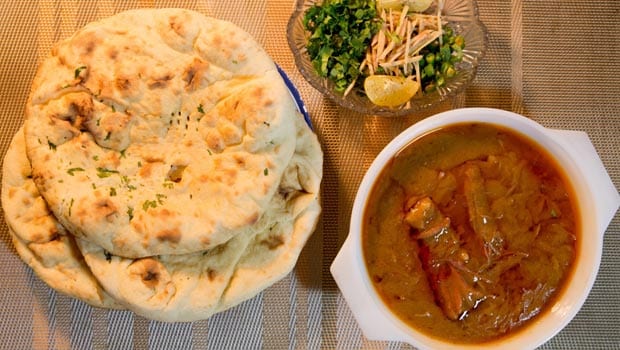 We interacted with Sadia Dehlvi, author "Jasmine and Jinns, Memories and Recipes of My Delhi" and couldn't help but fall in love with Delhi even more.
Emergence of Dehlvi Cuisine
Delhi
has always been fond of its food and hospitality. The earliest recorded evidence could be found in Medieval documents of the Delhi Sultanate. "Before the Delhi sultanate, there is very little recorded about the history of anything. We have tales of Ibn-e batuta, we know of Ghiasuddin Tughlak what was on his table. Then, there was Hazrat Amin Khusru who also wrote several memoirs. So, right from the tables of Razia Sultan to later we know that there was a very lavish spread at disposal", notes Sadia the food writer-turned chef. But the refinement came with the Mughals. The rich
Mughlai spread
with its Persian nuances tempered with Indian tastes and flavours spelt magic. It was during this time that Delhi's cuisine really began to emerge as one of the richest culinary fares across the world. "When Humayun was defeated by Sher Shah Suri for a brief period he had gone to Persia and lived there and when he returned he brought along a lot of cooks, artists, painters and calligraphers," says Sadia.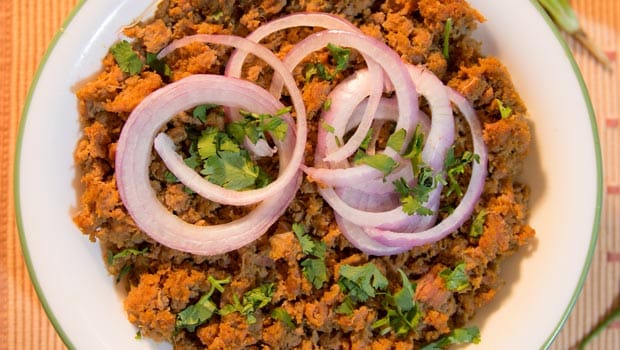 And there was just no stopping from thereon. Akbar had about 400 cooks from Persia and also cooks from all parts of India in giant kitchens that not only served the nobility but also thousands of people on special occasions.Sadia tells us "
Khichdi
underwent such refinement in Akbar's reign. We know of Akbar's recipes from his royal kitchens, many of them are given in
Ain-i-Akbari
. And then a great deal of refinement came with Shah Jahan's reign not just in terms of culture and architecture but food too. Now, what is commonly referred to as
Delhi food
is actually a large part of Shahjahanabaad (one of the old names of Delhi). There were Kayasths, Baniyas, Muslims and Jains in Shahjahanabad. There were these four cuisines and there was a lot of layering and borrowing from each other."While interacting with the Executive Sous-Chef of Delhi Pavillion, Chef Kusha Mathur we also learned how the Awadhi Mughlai spread is distinctly different from the Delhi Mughlai fare. "It is all about the play of ingredients and spices. There are marked differences in
Delhi's non-vegetarian spread
. Delhi's Nihari, for instance, is more reddish-orange as compared to Awadh's lighter and slightly yellower variant. So, there is definitely a difference, the difference that persisted and evolved over the years and became unique to Delhi."
Did you know about this interesting anecdote on how chaat was invented in Delhi?
When in Delhi you got to have chaat. Spicy, tangy and lip-smacking - the chaat of Delhi is addictive and we don't know how street- side strolls would have been, had there been no delicious chaats luring us towards them. "During the 18th century, a lot of people were falling sick because of the polluted canal and the food prepared with that water. It was in the late 18th century, when chillies entered Delhi's food scene. So it was on the advice of a Hakim who lived in the old city that the cooks started preparing chaats, which were made with the use of all the
spices
and chillies that would boost digestion and your immunity without compromising on taste," Sadia tells us.
The Post-1947 Refugee Settlements and their role in shaping Delhi's cuisine
Often known as mini-India, Delhi's cosmopolitan ethos has been an object of fancy for many historians and sociologists. A major credit of this could be given to the large scale migrations seen by the city in the 19th and 20th century, most significantly the 1947 Refugee settlements."When the people from Punjab moved to Delhi, there was some anxiety because suddenly the way of life seemed threatened whether it was language, cuisine or culture. Everything was beginning to change. They were so vibrant and dynamic. All my friends were Punjabis and we would take some nuances from their dialect which was remarkably distinct from ours.
Punjabi food
in the many Punjabi Colonies began to thrive in a big way. Before that there was the British influence. Delhi has a very textured and a very layered cuisine with multiple influences.
Butter chicken
and Dal makhani is as much as 'Delhi' as the
caramel custard
and the Shahi Tukda or the
Nihari
," Sadia tells us.The Delhi Spread - Chapter One is honouring recipes from Delhi, of Delhi and by Delhi. "The idea really is to preserve and share the recipes that were cooked in the family. Usually the Old dilliwalahs know these recipes. You would not get so many of our foods in hotels. Like every community who have their own family recipes. And I really felt that this needed to come out." I loved the Kachri Smoked Qeema and Aloo Gosht that they served. Sadia Dehlvi has shared the recipes of both these amazing dishes she presented as part of the Delhi Spread- First edition. Try them out and do let us know how it went.
Aloo Gosht (Recipe from Jasmine and Jinns)
Kachri Qeema(Recipe from Jasmine and Jinns)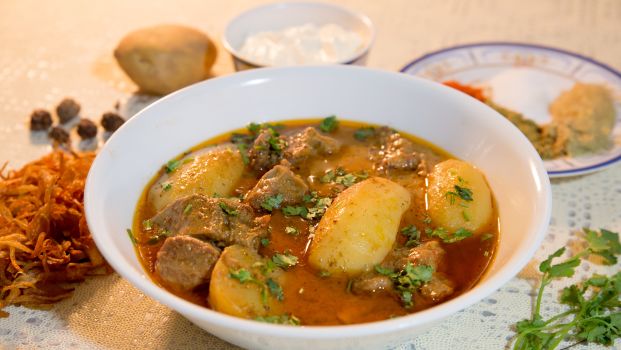 About Sushmita SenguptaSharing a strong penchant for food, Sushmita loves all things good, cheesy and greasy. Her other favourite pastime activities other than discussing food includes, reading, watching movies and binge-watching TV shows.