Khichdi is India's version of culinary comfort, known as 'Huggi' in
Karnataka
, 'Pongal' in
Tamil Nadu
, 'Pulagam' in Andhra, and 'Khichdi' in many parts of Northern
India
. There are as many recipes for khichdi in India as there are households, and the only necessary ingredients include rice and lentils. All over India, Palak Khichdi and Masala Khichdi are quite popular, along with Sabudana Khichdi during Navratri. In
Gujarat
, khichdi is eaten with a bowl of kadhi, a yoghurt-based curry; whereas in
West Bengal
, many people enjoy it with an assorted platter of fried fish and vegetables, and even prepare it for
Durga Puja
.
For me, a traditional khichdi devoid of any strong spices is
comfort food
, my version of chicken soup perhaps. The soothing combination of
rice
and lentils brings a sense of warmth - simmered till mushy, seasoned with a dash of
turmeric
and salt, and a dollop of
ghee
on top. I believe it's a one-pot cure to anything!Even the gorgeous Shilpa Shetty Kundra
(who's a die-hard foodie)
thoroughly enjoys her homemade vegetable khichdi with a dollop of ghee.
So when did khichdi become such an integral part of Indian food?
The History of Khichdi
The combination of rice and lentils has been a staple around the world (especially South Asia), for years and for good reason. During the 1600s, French traveler Jean-Baptiste Tavernier came to India six times and noticed khichdi being prepared with green lentils, rice and clarified butter (ghee), and referred to it as a peasant's evening meal. The Mughal cooks took this humble meal from the streets and gave it a gourmet appeal for the Royals. During the Mughal dynasty, the classic khichdi went through various adaptations with the addition of strong spices,
dry fruits
and
nuts
. In Ain-i-Akbari (a 16th century document about King Akbar), Abu'l Fazl mentioned nearly seven variations of khichdi. And Afanasiy Nikitin, a Russian adventurer who traveled to India, declared that Jahangir popularised khichdi. Even Aurangzeb was fond of it, particularly Alamgiri Khichdi, which was made with an Anglo-Indian twist featuring
fish
and
eggs
. During the
British Raj
, it was called Kedgeree.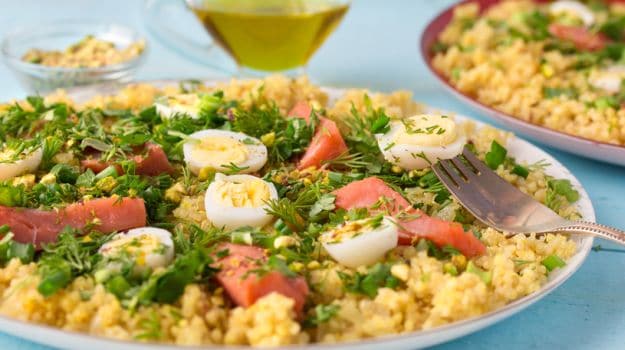 Contrary to the Western idea of comfort food, khichdi has many nourishing and healing powers. But do you know why khichdi is actually good for you?
5 Health Benefits of Khichdi1. Wholesome Meal
"Khichdi is the perfect balance of
carbohydrates
and
protein
, thanks to rice and lentils (respectively)," says Dr. Manoj K. Ahuja, Fortis Hospital. Moong beans are a great source of dietary fiber,
vitamin C
, magnesium, potassium, phosphorous and calcium. It consists of all 10 essential amino acids, making it a complete protein. "If you eat khichdi with desi ghee, you'll even get the right amount of macronutrients, complex carbs and fat", adds Dr. Ahuja. You can also add vegetables for added fiber, vitamins and minerals. "It's a
complete meal
when had with a bowl of curd or a glass of
buttermilk
", suggests Delhi-based Nutritionist Anshul Jaibharat.
2. Easy to Digest
"Khichdi helps ease
digestion
and assimilation, and is hence recommended by doctors during illness for fast recovery. It also heals and soothes the intestinal wall," says Nutritionist Anshul Jaibharat. Khichdi is also the first solid that babies are introduced to in India
(in a world far away from Gerber's baby food).
3. It's Gluten-Free
People who suffer from
gluten
sensitivity or celiac disease, or opt to go gluten-free as a lifestyle change, can eat khichdi. It packs enough nutrition and yet is really light on the stomach.
4. Balances Dosha

Khichdi is one of the most healing meals in Ayurveda because it is tri-doshic. It balances all the three doshas - Vatta, Pitta and Kapha. According to American author and Ayurvedic physician, Vasant Lad, in his book The Complete Book of Ayurvedic Home Remedies, "A five-day khichdi fast, using plain khichdi with just some chopped cilantro leaves added, will cleanse the system and help to strengthen memory."
5. Detoxifies Your Body
Khichdi is the food of choice of Panchakarma (
Ayurveda
's deepest
detox
retreat). Wondering why white rice is part of the mix? During a cleanse, the
metabolism
slows down and the digestive strength weakens, so any food you eat must be very easy to digest. You also need adequate protein to keep the blood sugar stable and burn fat, which is where the lentils come in.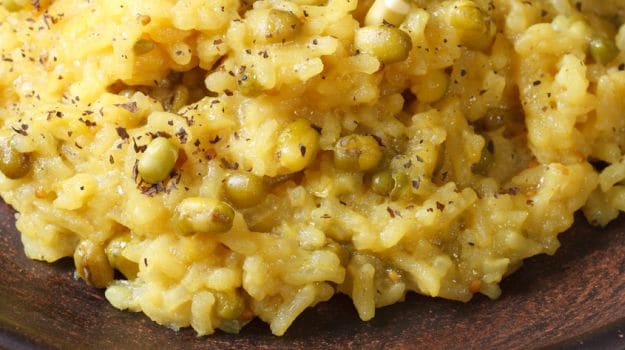 Now that you know that the marriage of rice and lentils works wonders, here are 5 scrumptiously simple recipes you'll want to try:1.
Khilli Hui Khichdi
by Chef Niru Gupta
2.
Ayurvedic Khichdi
by
Chef Aditya Bal & Devanshi​
3.
Bajre ki Khichi
by
Chef Niru Gupta
4.
Sabudana Khichdi
by
Chef Kishore D Reddy
5.
Moong Dal ki Khichdi
by
Chef Niru Gupta