With the advent of the festive season, sweet shops are flooded with various mithais and treats that are decorated beautifully and make for perfect gifting options. In a lot of these sweets and savouries you will spot a silver or gold coloured layering that is used to adorn them and makes them look exquisite. These silver and gold layers are not mere colours but are referred to as varq or leaf that is made with real gold or silver. They are made with edible gold or silver metal and are flavourless, but they do make a dish look appealing. Here's all you need to know about this special ingredient.
According to Culinary Expert and Food Blogger, Chef Reetu Uday Kugaji, "Chandi-ka-varq is a thin silver leaf and Sone-Ka-Varq is a thin gold leaf which is normally used as decoration or facelift on Indian sweets or mithai, chyavanprash, paan, supari, mukhwaas, biryanis, candied fruits and baked products and sometimes even in beverages like cocktails and mocktails." The silver and gold varq is made by pounding the metals into thin and fragile sheets backed with a paper for support and later peeled away before use.
Why is Varq used in foods?
It is believed that back in the day, silver and gold varq was used because of their health benefits. Silver was considered as an antimicrobial agent, while gold was regarded as an aphrodisiac. These two metals were known to have great medicinal properties; hence people added them in the food. With changing times, the meaning of varq also changed and it started being used for its value and for decoration purposes.It is also believed that silver and gold varq was used in the royal Mughal kitchens majorly for two reasons - one was to keep the food warm and moist, and the other was to ensure that the dish wasn't tampered with. The slightest touch could break these fragile sheets and that would tell that the dish had been tampered with and was instantly rejected.
It is believed that back in the day, silver and gold varq was used because of their health benefits
According to Ayurveda expert Dr. Dhanvantri Tyagi, "Ayurveda does not talk about adding silver or gold varq to foods. Although it is true that silver may be immunity boosting, but there is no significance of adding varq to foods. Other than this, one reason is that foods layered with varq cannot attract dust easily; hence you can enjoy clean and hygienic foods. Bu it is mostly used for decoration purposes and to make the dish look appealing."
Is the varq made with real silver and gold?
Codex Alimentarius (the Latin word for Food Code) which is a collection of recognized standards, guidelines and codes of practice relating to food safety and production, has approved the use of both silver and gold as a food additive that is used solely for external decoration. However, there may be some cases where it is adulterated. Chef Reetu shares, "Concerns have been raised about the quality of varq used, as it may not be pure silver. Nowadays, to save money, people may add silver foils instead of pure silver." Therefore, it is important to buy these ingredients from trusted sources and ensure you are not buying anything fake.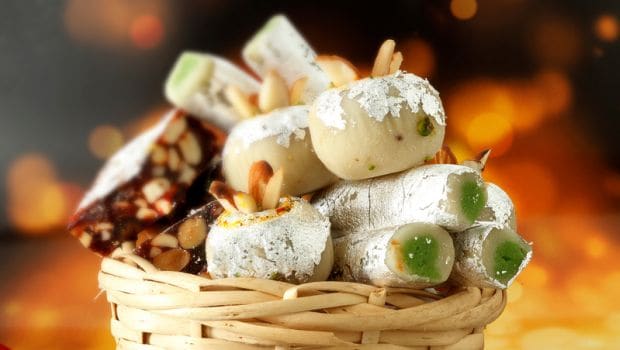 Concerns have been raised about the quality of varq used​. Photo credits: iStock
How To Use Silver and Gold Varq
Thanks to its shiny look, varq is used in many festive delicacies to make them attractive and give them a rich appearance. Here are some ways in which you can use gold and silver varq in your food:
1. Varq can be used to decorate various drinks like sharbats and thandai. A layer of silver or gold varq is added to the surface of the drink in order to make it look stylish.
2. Desserts like Phirni, Jalebi, Kaju Katli and Barfi have a thin layer of varq on them to give them an appealing look.
3. Dry fruits and nuts are often coated with silver varq to make them look festive.
4. Biryanis or rich meat curries are also often decorated with varq to give them a royal touch.
5. Silver varq is most often used on the outer layer of the betel leaf (paan) to make it look fresh and appealing. You may also find varq covered cardamoms inside the paan.
Although silver and gold varq is considered to be edible and safe, it is best to restrict their use for decorative purposes and also use them in moderation.