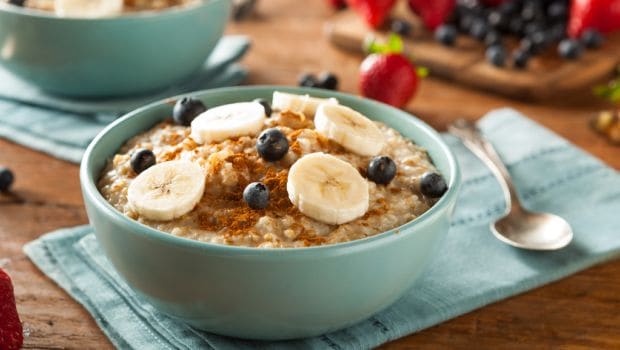 Consumed widely for its good quality protein, oats have been known to help in weight loss. But do they? Macrobiotic Nutritionist Shilpa Arora explains, "Oats are rich in fiber which helps you remain full and prevents binge-eating. Having oats for breakfast is one of the best ways to ensure you lose weight. Oats give you a fuller feeling as the fiber takes time to digest, thus preventing you from binging on other calorie high food."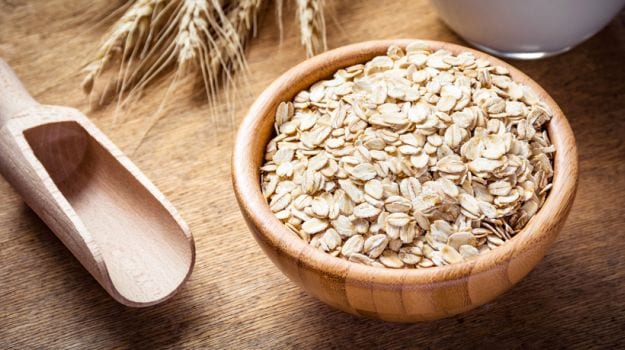 Oats are filled with dietary fiber which helps in weight lossLet us help you understand how the fiber in oats can help in weight loss. Oats contain soluble fiber which absorb the water in your stomach and becomes gel-like. It swells up and thus, takes longer to digest keeping you satisfied and reducing hunger until lunch time. Another reason why oats are great for breakfast is that they are full of protein.While proteins are essential for building your muscles, they also play a key role in keeping your blood sugar levels stable and preventing insulin spikes which may lead to fat storage.

Oats are also low on starchy carbs and are good diuretics which means they help regulate the excess water content in your body. They are packed with other nutrients like Manganese, Thiamin, Magnesium and Phosphorous and are also low in calories, thus aiding weight loss while ensuring good health.

(Also read: 9 Amazing Benefits of Eating Oats Everyday)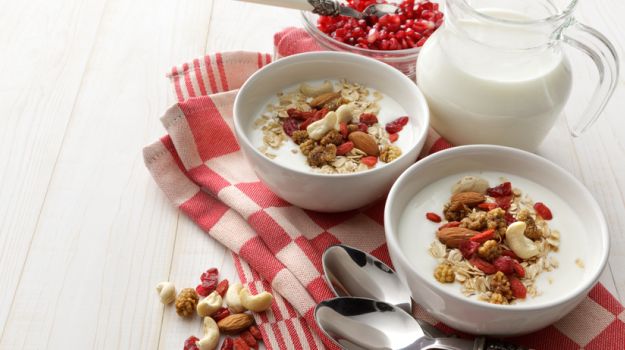 Oats are low in calories and full of good quality protein

There are multiple variants of oats (which are just grains) and oatmeal (rolled or flaked version of oats) available in the markets, but be cautious while purchasing them. Flavoured oatmeal may contain added sugar and have more calories. In that case, it is better to pick a pack of plain oats and cook it the way you like. You can make a breakfast bowl for yourself with coconut milk and fresh fruits or you can choose to make oats idli or upma if you would like a bigger meal. According to the Book 'Healing foods' the best way to have oats to reap maximum benefits is:
Raw and cooked? Oats are said to deliver the best results irrespective of whether consumed raw or cooked.
Oat milk: Oat milk naturally contains more calcium than dairy milk. It can be made easily by soaking oat groats in a glass of milk and can prove to be a healthier alternative to dairy milk.
Oats make for a balanced, ow-fat and delicious breakfast. So, what are you waiting for? Dig into a bowlful of nutrition for breakfast every day.

(Also read: 4 Exciting Ways to Make Oats Porridge for Breakfast)



Scientifically known as "Avena Sativa", oat is a cereal grain that has gained good reputation when it comes to healthy eating. Also known as 'Jaie' in Hindi, oats are widely grown and cultivated in the paddy fields of Punjab and Haryana. Rich in protein and fiber, oats are a favourite amongst fitness enthusiasts, not only because they are nutritious but also because you can cook up a variety of things with them. In the book 'Healing foods' by DK Publishing, the author credits oats with numerous health benefits. "Oats contain multiple nutrients and a gummy, water-soluble fiber, beta-glucan, which helps reduce unhealthy(LDL) cholesterol. They are also known to be a natural sedative, and excellent for easing indigestion," states the book.
About Sushmita SenguptaSharing a strong penchant for food, Sushmita loves all things good, cheesy and greasy. Her other favourite pastime activities other than discussing food includes, reading, watching movies and binge-watching TV shows.