Gol Gappe Recipes: All the street food lovers, raise your hands! The tantalising flavours of chutneys with fiery spices tossed with fried aloo tikka and curd is what makes our taste buds salivate with just the mere mention. While there are a variety of street food options available out there, one stellar delight that is loved by both kids and adults is gol gappas or panipuri. The flavourful gol gappas make us go weak in the knees every time we see a stall selling them.


This humble deep-fried street food snack is like a tangy addiction when filled with yummy goodies and flavoured water and as you go from state-to-state across India, the delicious treat changes its taste, flavour and even name! Did you know that gol gappa has a dozen different names that change from region-to-region? Even the recipe or stuffing isn't the same everywhere. Some like their chaat to be teekha while some like to balance it with some meetha but there is absolutely no one who would stop at just one! These irresistible little treats are known by many names across the country, from pani puri in Maharashtra to phuchka in West Bengal or gol gappa in North India and gupchup in parts of Odisha, it is equally loved all across the country.


(Also Read: 11 Best Street Food Recipes | Delicious Street Food Recipes)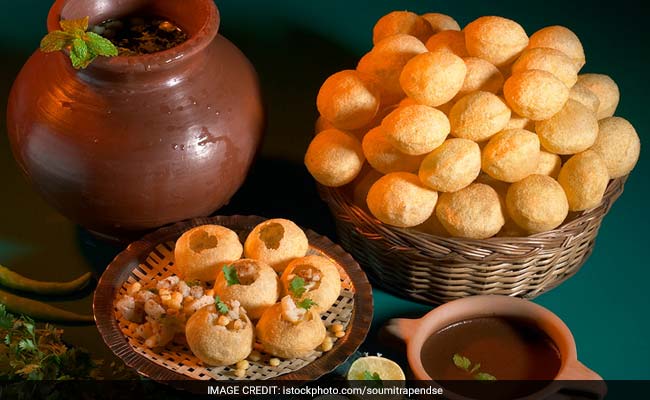 Gol Gappe Recipe: A tangy street food of India that can be relished at any time.
Many of us are also concerned about the hygiene of the gol gappa street side shops and may want to avoid eating out. But fret not! We've got three interesting and easy gol gappa recipes for you that can be easily prepared at home. These are not your regular gol gappas but are twisted with different fillings for a whole new flavour that would be loved by your family and friends.


To make your work easier, we've got Mumbai-based YouTuber Alpa Modi's three most interesting pani puri recipes posted on her channel "Something's Cooking With Alpa". Watch and prepare at home to relish the tanginess of this super snack!
Pani Puri Recipes
1. Gol Gappe Recipe
Here's the classic gol gappa recipe stuffed with boiled potatoes, black chana, green gram and onion along with a host of spices. It is dipped in the tangy water made with mint leaves, cilantro, green chillies, soaked tamarind and spices. The sweet chutney has the goodness of dates and jaggery combined with a few spices.


2. Sev Batata Dahi Puri
Stuffed with the spicy potato filling along with tangy green chutney that is staple to all delicious chaats we gorge on, this gol gappa recipe is sure to impress you. It is then topped with a sweet dates and tamarind chutney, onion, salted curd, a sprinkle of red chilli and sev.


3. Cheese Pani Puri Shots
This gol gappa recipe is just the perfect snack for kids who are going to love digging in the cheesy shots! Pani puri with an Italian cheesy twist, this recipe has a flavourful mix of onion, corn, capsicum, jalapeno and bell pepper sautéed together and mixed with chilli flakes, Italian herbs and pizza sauce along with grated cheese. Stuffed gol gappas with cheese on top, which are microwaved for less than a few seconds to perfection, these cheese pani puri shots are simply a great appetiser to kick start your next party.


With these three amazing gol gappa recipes, we are sure you won't be able to resist trying at home. So go on and let us know your favourite one in the comments section below.
About Aanchal MathurAanchal doesn't share food. A cake in her vicinity is sure to disappear in a record time of 10 seconds. Besides loading up on sugar, she loves bingeing on FRIENDS with a plate of momos. Most likely to find her soulmate on a food app.