In Lucknow, in the late 1980s-1990s, where I grew up, there was nothing like
Papdi Chaat
. There was
Aloo
ki Tikiya, served with more refinement, than the "
tikki
" everywhere else; and
matara
, an exquisite
chaat
of white peas, mashed, formed into little patties, and then fried crisp. They were topped with just
lemon
and
ginger
and
chaat masala
without the indiscriminate lashings of
dahi
and
saunth
that most people in India associate with
chaat
.There was Dahi ki Gujiya, better than Dahi Bade, but predominantly home-made, stuffed with
chironjee
, dry coconut and raisins to offer a delicious contrast of flavours and textures. And then there was the Pani ke Batashe. Not
gol gappe
, not
puchka
, not
pani puri
. But "batashe", served with Lucknowi elan, with either the tart
jalzeera
, or the same sour water with a spoonful of the sweeter
saunth
mixed into it for a more balanced flavour.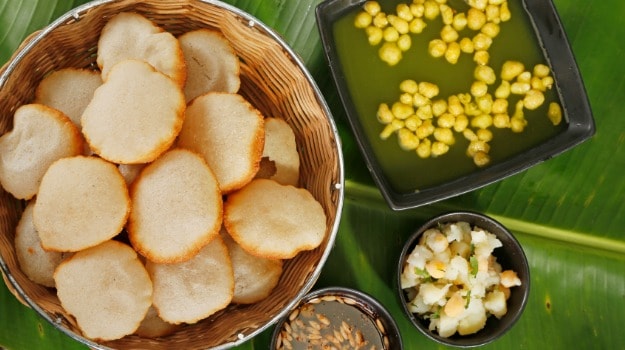 The better batashe were always made with atta, whole wheat flour. They were light and crisp and possibly took more dexterity to make than those thickishSooji ke Batashe, made with semolina, that all the adults frowned upon as a bastardisation of some sort. Because the sour water of the batashe was not always deemed good for children, as a special side treat - at home and at the chaatwalla's - we would always end the street food excursion with a round of Dahi aur Saunth ke Batashe, filled with the goodness of yoghurt, bhuna zeera and of course saunth.
The Many Elements in the Chaat
It was only when I came to Delhi at the fag-end of the 1990s, did I realise that the most popular chaat for the rest of humanity was what most plebeian places labelled "papdi chaat". And many homes called simply, Dahi Papdi. That it is one of the quickest chaats to assemble obviously has helped in this mass appeal. What's not to like about some crisp (ready-made) wafers, topped with a mishmash of boiled potatoes and chickpeas to give the dish more body, dunked in yoghurt and tamarind sauce, and generously spiked with a potent chaat masala? It is a quick-fix treat.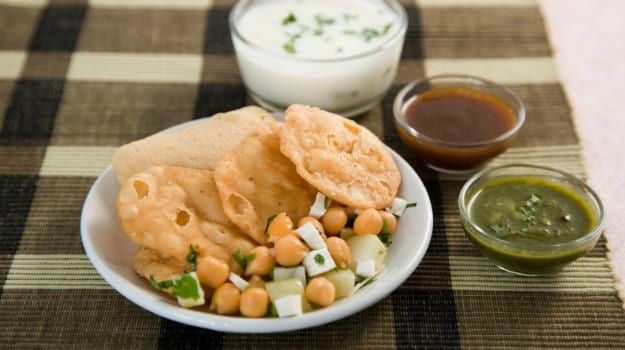 A Dahi Bada or Dahi Gujiya, which is one of the Dahi Papdi's progenitors, is so much more complicated to make. You need to soak the dal, make sure the batter is fluffy enough, fry the dumplings and soak them in salt water for the flavour to seep into the bada and so on... And then of course in summer, there is always the danger of the lentils spoiling. It is a difficult bazaar dish, where quantities must be huge, costs low (lentils have increasingly become a rich man's ingredient) and dishes need to be frequently recycled.
In the traditional old markets of UP and Delhi, where chaatwallahs (usually one-chaat specialists) did sell the Dahi Bada, little bits of fried whole wheat dough from the batashe/gol gappe would be crumbled and used as a topping to alternate the texture of the soft lentil dumplings with something crunchy. In old Delhi, sometimes, instead of the plain fried dough, a crunchy, hard version of the kalmi bada - made with three kinds of lentils, steamed and double fried into a hard disc - would be bunged in, side by side with the soft Dahi Bada (and lashed with the same yoghurt and tamarind sauce) to offer a textural contrast that forms the basis of any chaat preparation.
These specialised crunchy elements, we may contend, slowly disappeared as the old chaatwallahs lost touch with their art and audience tastes changed, to be replaced with a pop version: the Papdi Chaat.
The Key Ingredient - Papdi
Maida or refined flour in Indian cuisines is a relatively recent phenomenon. Papdis, those ready-made discs that we routinely get out of factory-produced packets, are made of this refined flour. The fried discs can be kept for longer without spoiling and remain crisp for longer than anything made with wholewheat flour perhaps can. The cost is substantially lower and thus it is hardly a wonder that Papdi Chaat should be so pervasive commercially.
If the Kalmi Bada is a Delhi chaat that perhaps is another forefather of the papdi crisp (at least in street versions; the Kalmi Bada done in homes like mine is distinctly different and softer), another parallel is perhaps the Palak Patta Chaat of cities like Benares in UP. Let us not argue as to how much healthier it is than a plain maida papdi - spinach leaves coated in besan that form the crunchy base in this case, are fried too after all - but it is indeed lighter. And yes perhaps more representative of the quirkiness and diversity of Indian cooking that the maida papdi.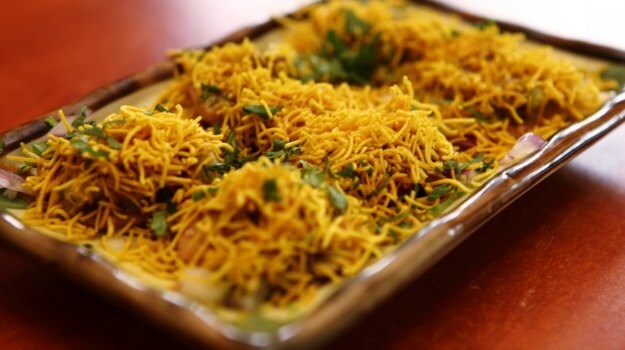 Luckily, it seems to have made a comeback of sorts: with fancier restaurants doing chaat in upmarket ways, putting it on their menus. It is not a tough proposition to crack even at home. You only need to figure out how to keep the whole palak leaf crisp enough. Shortcuts involve adding a little cornflour to the besan. Or you could add a little rice powder to the flour. Or, of course, you could just be very careful with the batter (to be kept light and thin) and the frying (on medium heat so that the leaf does not absorb too much oil). And then you could even replace the common saunth with innovative sauces - a raw mango panna for instance, as we do it at home - works just as well.
About the Author:
Anoothi Vishal is a columnist and writes on food for The Economic Times and NDTV Food, and runs the blog amoveablefeast.in. She tracks the business of restaurants and cuisine trends and also researches and writes on food history and the cultural links between cuisines. Anoothi's work with community-based cuisines led her to set up The Great Delhi Pop-Up three years ago, under which she promotes heritage, regional and community-based cuisines as well as researched and non-restaurantised food concepts. She has also been instrumental in reviving her own community's Kayastha cuisine, a blend of Indo-Islamic traditions, which she cooks with her family and has taken across India to a diverse audience.
Disclaimer:
The opinions expressed within this article are the personal opinions of the author. NDTV is not responsible for the accuracy, completeness, suitability, or validity of any information on this article. All information is provided on an as-is basis. The information, facts or opinions appearing in the article do not reflect the views of NDTV and NDTV does not assume any responsibility or liability for the same