Looking for ways to make your
breakfast
time more delicious and not a rush-rush affair? The most important meal of the day definitely needs your attention, and it is not fair, particularly for your health, to grab anything and everything that's easily available just to fill your tummy. With so many smart and easy breakfast ideas available, you can have a healthy and nutritious breakfast everyday without really slogging it out in the kitchen, and probably even feast like a king. Take pancakes for example. It's quick to make, and you can ditch the sweet versions to serve yourself a savoury pancake loaded with veggies, nuts, seeds and meats of your choice.
So how to get started? Here are some ideas -
1. Exploring Flours
All-purpose flour aka maida is passe. With more and more nutritious flours gaining limelight in the recent years, it is the perfect time to add variety to your cooking. Bring home ragi, jowar, bajra, buckwheat and other flours milled from ancient grains and reap their benefits. They are packed with nutrients and also lend unique flavour and texture to the dishes.
2. The Base of Pancakes
Why just stop at flour? Why not add in some more goodness to the base of pancakes? While making the batter you can add in a number of delicious ingredients to spruce up the flavour, such as herbs like basil, oregano, kasoori methi, coriander leaves, etc. If you don't have time to make fillings, you can even add in shredded veggies like carrots, zucchini, beets and onions, or mashed potatoes and pumpkins to make a loaded pancake.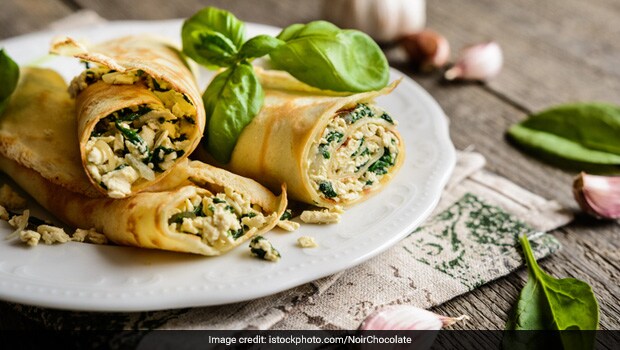 3. Go Nuts with Filling
This is the best part of making pancakes because you can stuff them with a whole lot of delicious fillings such as sausages, bacon, mushrooms, salmon, sprouts, corns, mixed veggies, almonds, cashews, sweet potato mash, roasted veggies or meat, pumpkin seeds, melon seeds - the list is endless. So unleash your creativity and make a power-packed breakfast.
4. Sauces and Dips
Sauces and dips are required because they will add moistness to your pancakes, making them more enjoyable. A simple home-made hung curd dip with chopped garlic is an effortless and delicious option. Or you can game it up with fresh tomato sauce, peanut dip, cream, sour cream, melted cheese, herbed butter, barbecue sauce, and the like.
Savoury Pancake Recipes to Try at Home
Now that you have the basics in place, you can right away start making wholesome pancakes at home. Here are two of our favourite recipes to get you started -
Ragi Pancakes with Sausage Filling and Yoghurt Dip Recipe
Recipe by Plavaneeta Borah
A delicious pancake made with ragi flour, and stuffed with a delicately spiced filling of sausages, baby corns, button mushrooms and red bell peppers. It is topped with a fresh yoghurt dip spiked with garlic and black pepper. The perfect start to the morning!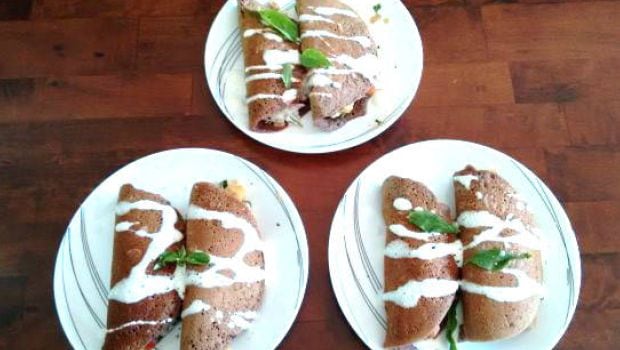 Banh Xeo (Vietnamese Pancakes)
Recipe by Chefs Nikhil and Natasha
Bahn Xeo are Vietnamese pancakes which are made with rice flour. Stuffed with shrimps, chicken and some bean sprouts these pancakes are a delight to eat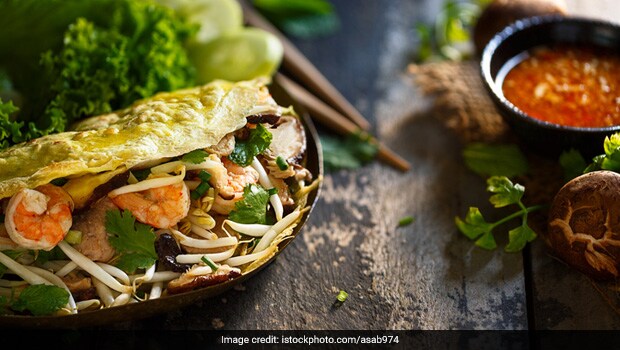 Inspired much? Some more combinations that have worked well for us are Buckwheat and Kasoori Methi Pancakes with Hung Curd Dip, Ragi and Roasted Chicken Pancake with Barbecue Sauce, Jowar Pancakes Stuffed with Zucchini, Carrots, Cucumber and Tomatoes, among others. What are the flavour combinations you plan to try? We would love to hear your experience of making savoury pancakes. Do share!