There's no denying the fact that summer makes us feel dehydrated and drained. But if we have to look at the positive side of it, we get the opportunity to relish a variety of seasonal fruits. Litchi is one such summer fruit that most of us eagerly wait to indulge in. Its juicy and pulpy texture tastes incredibly delicious, and we can never stop ourselves from having just one. The best part about litchi is that you can experiment with it in numerous ways. For example, a litchi sorbet is a great way to relish this fruit, along with the benefit of cooling yourself down on a hot summer day. Now, you may think making something that sounds so fancy is next to impossible. But trust us, it cannot get easier than this. To make this litchi sorbet, you don't need any fancy equipment. All you need are three basic ingredients, and you're good to go!
What Is The Difference Between Sorbet And Ice Cream?
Sorbet is basically a frozen dessert that has no dairy products in it. It is made using fresh fruits, sugar, and water. Whereas ice cream has milk and cream as the main ingredients. There is also a great difference in texture between these desserts. The former is icier and granular, while the latter is creamier and much smoother.
What To Serve With Sorbet?
Many people find it confusing to decide what to serve with this frozen dessert. But the truth is, there are no set rules for enjoying it. You can enjoy it as is or even serve it with some biscuits or fruits; the choice is all yours. Serving it with other side dishes helps create an interesting contrast of flavours.
Also Read: The Easiest Way To Make Mango Sorbet At Home - With Just Three Ingredients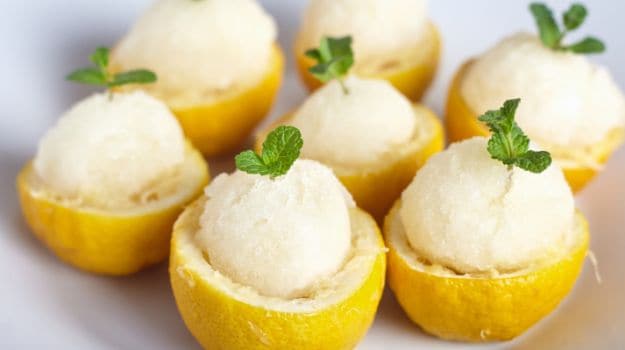 Litchi Sorbet Recipe: How To Make Litchi Sorbet
To make this sorbet, you only need fresh litchis, sugar, and some lime juice. You will also need some water to boil the litchis. First, we need to deseed the litchis. Now, place them in a pan and boil them with water and sugar. Make sure that the sugar has fully dissolved. Turn off the flame and allow the mixture to cool.
Also Read: When Life Gives Lemon, Make Yummy Desserts - 5 Recipes To Try
Transfer it to a food processor and add lemon juice. Blend all the ingredients until they are well combined. (You can also press this mixture over a sieve to ensure extra smoothness.) Now, transfer the prepared sorbet to an airtight container and freeze it for a few hours. Once it's set, churn it in the processor again before serving chilled! Your litchi sorbet is ready to be relished! You can store this sorbet in your freezer for several days.


Click here for the complete recipe for litchi sorbet.


Sounds easy, right? Make this yummy sorbet at home and beat the summer heat the right way. Click here for an assortment of exciting litchi dessert recipes to explore.
About Vaishali KapilaVaishali finds comfort in eating parathas and rajma chawal but is equally enthusiastic about exploring different cuisines. When she's not eating or baking, you can often find her curled up on the couch watching her favourite TV show - FRIENDS.