"He that sups upon salad, goes not to bed fasting" -- Thomas Fuller.

Best chicken salad recipes: Salads never fail to delight us. Be it a hot summer afternoon or just another day when you're craving something fresh and healthy. They're crunchy, light on the tummy and a colourful treat for sore eyes. They're also vibrant and extremely versatile. In fact, one of the most fascinating things about salads is the fact that there are no set rules to prepare them. You've got a wide variety of veggies to choose from, a long list of zingy sauces to play with and a medley of amazing spices to explore. You can also throw some fruits into the mix for a more wholesome meal.The two most prominently featured ingredients in a salad are vegetables and chicken. Chicken is widely used in salads all across the world. Be it exotic oriental salads or simple and hearty continental ones. Health experts have also long vouched for the combination of chicken and vegetables.

Health and nutrition expert, Dr. Shikha Sharma explains in her book '101 weight Loss Tips' how certain food combinations can wreak havoc on our health. According to the book, carbohydrates should never be teamed with protein rich food. Instead, it should be used with vegetables for a healthy and nutritious meal that helps with weight-loss.

According to aDelhi-based weight management expert, Gargi Sharma,"Chicken salads work wonders for those on a diet. A protein diet is absolutely essential for those who exercise and need to replenish lost energy and build muscle tone. I often suggest my clients to go for a light dinner which would primarily include chicken salad with some soup."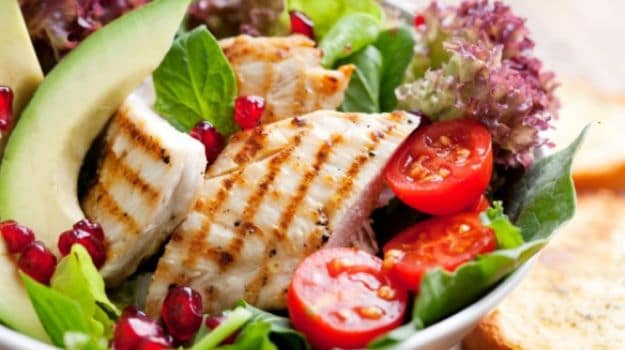 There are so many ways to add chicken to your salad. Grilled, baked or plainly boil it and leave the rest to your creativity. Boiled chicken loses its protein content and in order to make up for it, one can try adding nuts, flaxseed and sunflower seeds that not only adds depth to the dish, but also gives it a heightened crunch quotient.

So go ahead and loosen the reigns of your imagination. Cook up a brilliant salad with garden fresh veggies, crunchy nuts, succulent chicken pieces and your favourite dressing to seal the deal. Just in case you need some inspiration, we've fished out our best chicken salad recipes from across the globe. Gorge on an exquisite Asian sesame chicken salad or give your basic ingredients a good toss with chicken pieces to conjure up a classic, healthy breakfast salad.
Here are 13 chicken salad recipes you would love to try :

Tender chicken breast strips are teamed with mixed greens, asparagus and topped with sesame seeds. This healthy and delightful salad is an ideal addition you can make to your weight loss diet.
Toss your favourite pasta with a delightful combination of potatoes, asparagus, chicken ham, eggs and gooey cheese. And you thought an bunch of veggies can only be used to make all things bland and boring?



3. Breakfast Salad

A quick and easy way to create a wholesome breakfast meal. Chicken sausages, eggs, lettuce, capsicum and tomatoes wrapped in honey-mustard sauce to delight your mornings. Say goodbye to grumpy mornings!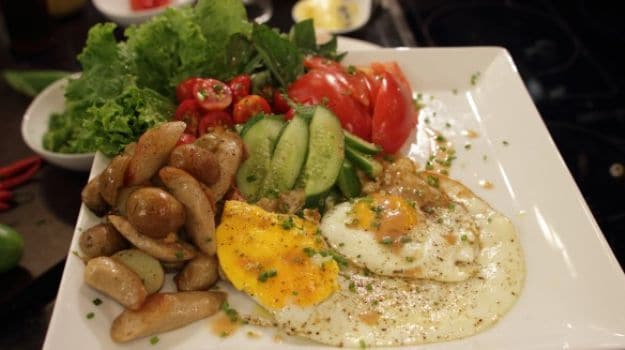 Grilled chicken combined with fresh gooseberries, lettuce, avocado, figs with an added dose of parmesan cheese to seal the deal. Crunchy, fresh and oh-so-delightful!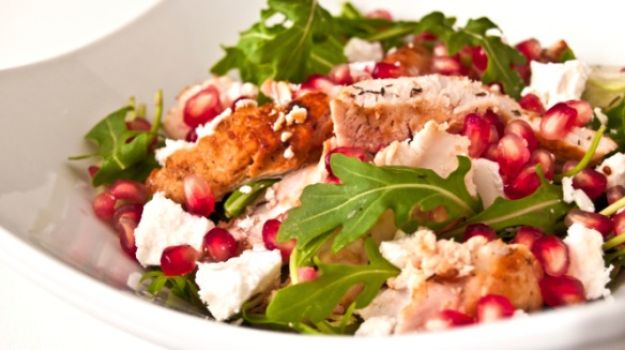 Roast your chicken to perfection and pair it up with a sensational potato and black tomato mash. An easy to make and healthy treat you can whip up in minutes.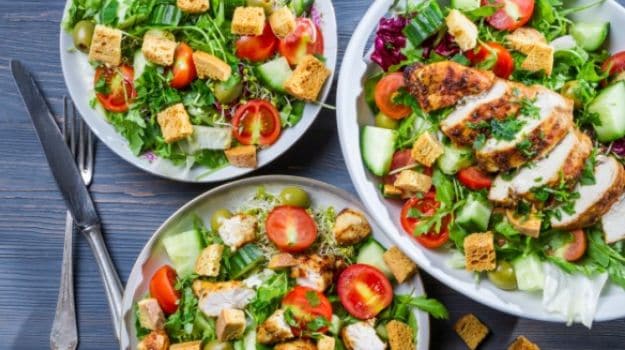 Succulent chicken pieces teamed with tangy plums. Here's an absolute delight for one and all!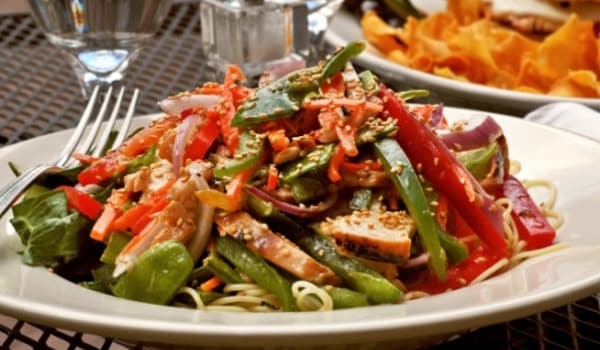 A heartwarming mix of fusilli with tender cherry tomatoes, broccoli, sweet corn topped with a zingy honey-soy dressing.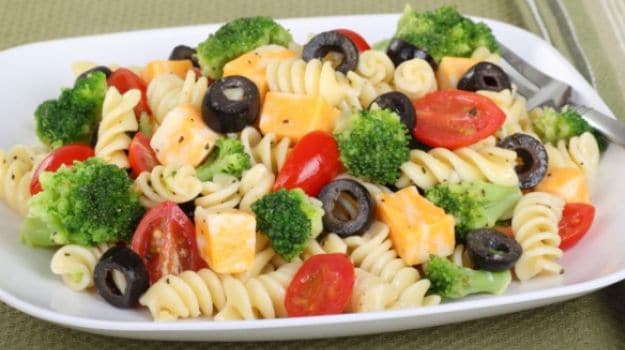 Here is an ultimate treat for those who keep a close watch on every extra calorie. An all time Italian classic with boiled chicken pieces, fresh vegetables and a dash of olive oil.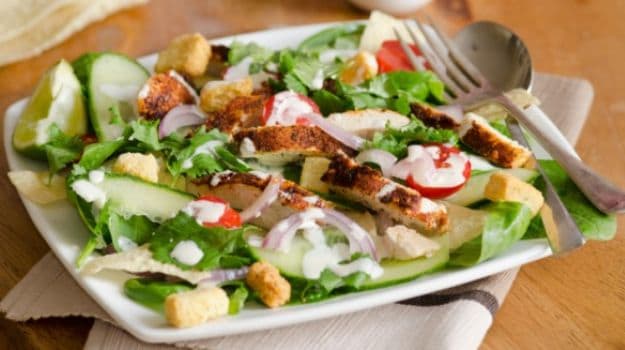 The classic Caesar salad is a must on every salad menu. Give this vegetarian version a meaty twist by adding chicken in the form that you like the most.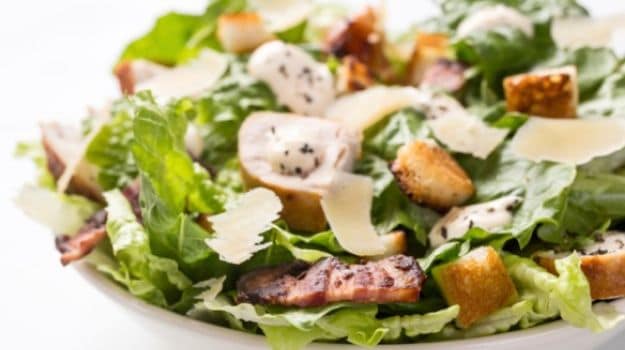 Make it into a salad or stuff it in a sandwich for a filling meal. Chef Manju Malhi shows how to create this versatile dish with cold chicken meat, tomato puree, mayonnaise and herbs.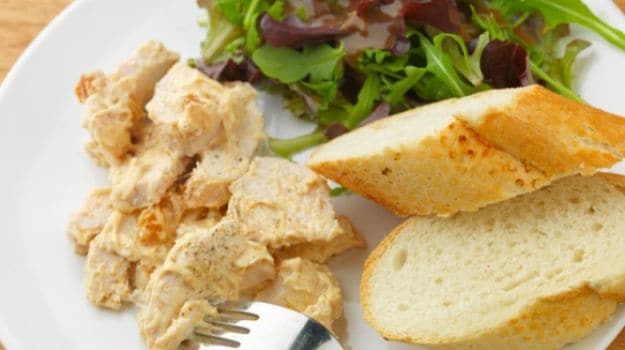 A salad with a boozy twist! This delicious treat packs the crunchy goodness of pearl barley spiked with whiskey paired with delightful flavour of smoked chicken. The warm salad combined with the crunch of sprouts, cucumber and pomegranate is one delicious treat you would not want to miss.
Minced chicken tossed with a host of spices and veggies like carrots, cabbage, and green onions along with a delicious sauce made of sweet chili sauce, ginger, peanut butter, soy sauce and red pepper, served in tarts.
A crunchy mixed chicken salad cooked with Thai herbs and served with a bowl of fresh vegetables and hot sticky rice.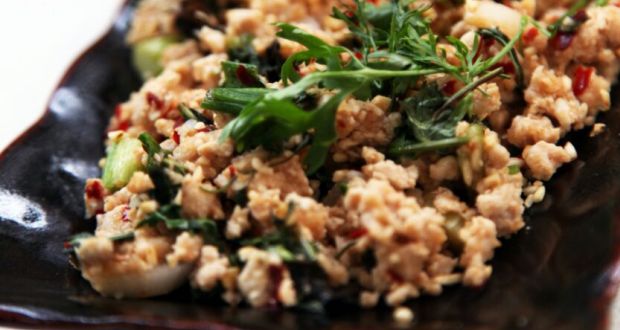 Try these delicious recipes at home and tell us which ones you liked the best in the comments below.