It's a pear-shaped, wrinkly fruit with a dark green, leather-like outside and a soft and creamy inside. Health experts will tell you that it's rich in fiber and low in carbohydrates. An
avocado
is also loaded with carotenoids, which are natural pigments synthesized by plants and are responsible for the bright colours of various fruits and vegetables. These carotenoids have high antioxidant properties which show protective effects against
cancer
and cardiovascular diseases.A 2015 study found that having an avocado a day can improve bad cholesterol levels, especially in overweight and obese people. Apparently, avocados are high in calories and the good kind of fat i.e. monosaturated fat which gives it the ability to lower bad cholesterol. One avocado also packs almost 4 grams of protein which makes it one of the few high-protein fruits. Its also has more potassium than a banana, 975 milligrams in an avocado versus 487 milligrams in a banana. A 2014 study published in the
Journal of Nutrition
found that avocados when eaten with tomatoes or raw carrots can give you great,
healthy skin
. How does this work exactly?
Avocados
help carotene-rich foods convert pro-vitamin A (inactive form) to Vitamin A which is its active form. Avocados are also rich in oleic acid which can help reduce high blood pressure and cholesterol levels. Lastly, they will add to your nutrient profile as they're rich in vitamins K, B and E.For a long time avocados were marketed in glossy magazines as the 'fruit for good health' or found on health food blogs for vegans and sport enthusiasts. Fast forward to today and avocados have made it to our Instagram feeds and recipe books. Avocado dips, avocado butter also used in muffins and cakes, avocado fritters and what not. They're used in salads, eaten on toasts and especially embraced by those trying to lose weight. It also makes a fantastic cure for sunburns, patchy skin and wrinkles as it has exceptional hydrating properties. Just mash some of it and apply on your face and see the results.
How to Peel an Avocado
According to experts, how you peel an avocado can make all the difference. Apparently, a lot of the phytonutrients in an avocado are actually on the outside, between the leather-like outer skin and the pulp so when you peel the fruit you need to be sure you don't do away with that part.Grab a knife and cut around the center of the avocado.Now hold both the halves, twist and pull. The avocado will come apart with ease and one of the sides will have the seed. Grab a knife, stick it into the seed and pull it out. There, now you've got two gorgeous halves.Now, we need to separate the leather-like skin from the real fruit. So grab a spoon and start scooping around the edges and pull out the fruit. Or you could take a knife and slice the fruit into small squares and then scoop them out with a spoon. Another way to detach the peel would be to slick the outer skin and pull the peel off.You could also just watch the
video here
.
How to Eat an Avocado
The two most common ways of eating an avocado are in a salad or as guacamole, both of which are tried, tested and outdated. In my search for different ways of eating avocado I found 5 recipes that make the buttery fruit totally stand out.1.
Baked Egg & Avocado
- If you've logged on to any health food site then it's possible you may have heard of this recipe before. All you need is one avocado, two eggs,
salt
,
pepper
, chives or any topping of your choice. It's a fantastic recipe that's high in protein, fiber and the good kind of fats. A perfect and healthy start to your mornings.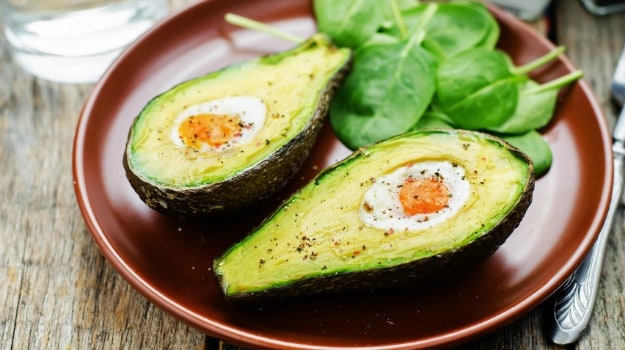 Ingredients
:
1 avocado
2 eggs
Salt and pepper to taste
Method
:
1. Once you've got two perfect avocado halves, scoop out the pulp.
2. Break one egg into each half. Sprinkle it with salt and pepper.
3. Bake it in the oven for about 15 minutes.2.
Greek Avocado Toast with Cherry Tomatoes
- A quick and really easy way to eat avocado and toast, this recipe is absolutely fantastic. All you need is a ripe avocado, half a teaspoon of
lime
juice, 1 clove
garlic
and salt and pepper to taste. Use a mortar pestle and mash the avocado, lime juice and garlic in a small bowl. Now, spread this over toast. season and dress it up with some
feta cheese
and
tomatoes
.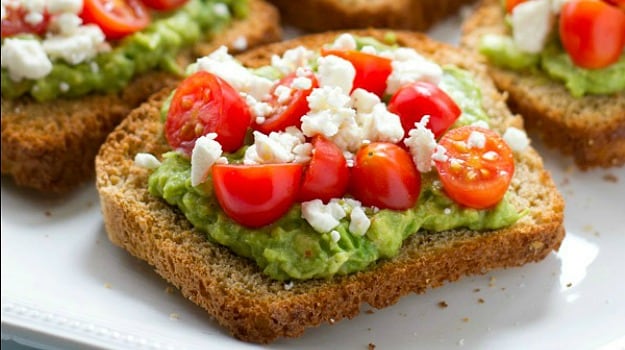 Recipe and image from
wholeandheavenlyoven.com
3.
Avocado Dip
– If you've got a bag of chips that need some loving then this is the perfect dip. All you need is some garlic,
onions
, avocado,
yoghurt
and a few minutes to whip up this green and gorgeous bowl of dip.Get the recipe
here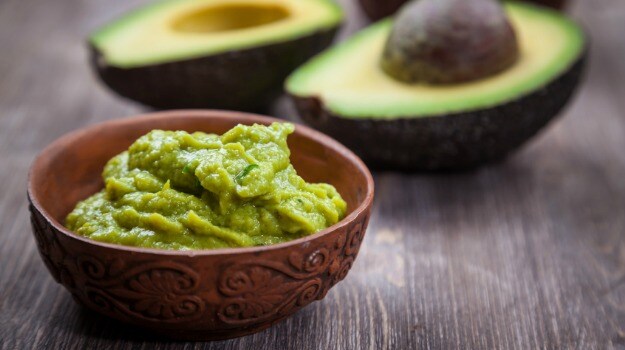 4.
Avocado Salad Dressing
- Bored of the usual thousand island and ranch dressings and feel like trying something new, green and healthy? This avocado lemon dressing is just what you need.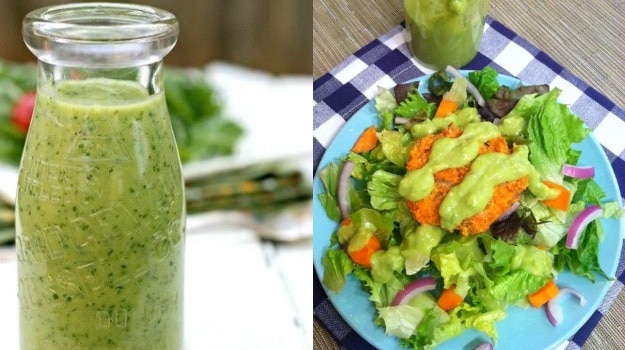 Image and recipe from
theleangreenbean.com
Ingredients
:
1/3rd cup mashed avocado
2 tablespoons lemon juice
1 tablespoon
olive oil
1 teaspoon
honey
2-3 tablespoon water
Method
: Combine all the ingredients in a small bowl and stir till consistent.5.
Avocado Salsa
- A chunky salsa, this one can be eaten with chips, toast and all kind of snacks.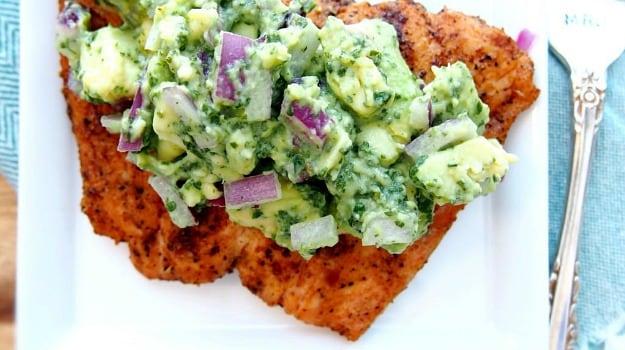 Image and recipe from
thecookierookie.com
Ingredients
:
1 avocado, sliced
1/2 small red onion
Juice from 2 limes
2 tablespoons cilantro, finely chopped
Salt to taste
Method
:
Mix well and serve