Perhaps one of the most vibrant and evocative books about the food of China is
Shark's Fin and Sichuan Pepper: A Sweet-Sour Memoir of Eating in China
by Fuchsia Dunlop, who spent many years of her life in China; at first, lured by the study of ethnic minorities in China, and then falling head over heels in love with the food, and plunging deeper into the study of that. Through
Shark's Fin
, I got my first glimpse into the cuisine of a country that is as variegated and diverse as my own. Dunlop fills a great deal of the book with her experiences with Sichuan cuisine, both eating and cooking it. It is said that Sichuan food is the most vividly flavoured of all Chinese regional cuisines, the 'spice girl' if you will, and it was through her book that I learnt about such delights as fish-fragrant aubergines, and Sichuan hotpot. Delightful though they seem, I can't see those dishes taking hold in India in the way, say, pastas and pizzas have. Instead, we have been captivated by the slightly more lurid charms of Triple Schezwan
rice
, noodles, vegetable and paneer swept by a waterfall of orange gravy; fiery chilli
chicken
; crisp Gobi Manchurian, among others. No Chinese person would recognise these dishes as being from their country - most appear to be made from a mix of soy sauce, chilli sauce, tomato ketchup, and Schezwan sauce. It is a cuisine all our own.That is not to say that we don't have more 'authentic'
Chinese
food on offer, say at Ling's Pavilion in Mumbai. But by and large, India has been swept by a craze for Indo-Chinese (Sino- Indian?) food. So popular has it become that it regularly features on menus of multi- cuisine restaurants everywhere.
Street
food vendors everywhere offer such delicacies as Chinese Bhel and Chinese Dosa. Even certain Irani cafes have now succumbed to popular demand and offer it on their menu.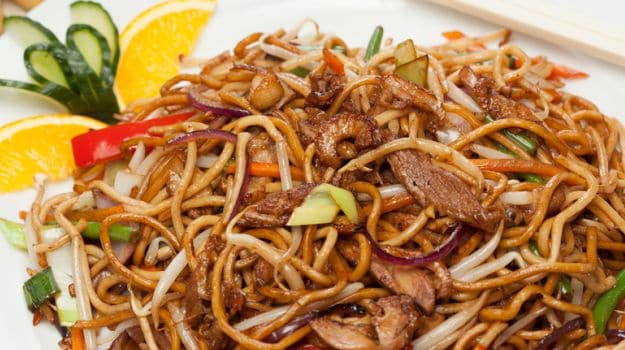 The History of Indo-Chinese Food
Notwithstanding current political frigidity, India and China have long been partners in trade. Way back in 1780, a Chinese gentleman called Yang Daijang (called Atchew by the British) was allotted a plot of land in Kolkata by then Governer General Warren Hastings. He built a factory making refined sugar (hence the name 'chini'). Nor was he the only one. The Chinese population in Kolkata and Mumbai, especially, slowly swelled, bringing with it a slew of Chinese hair stylists and beauty parlours, dentists, and shoe shops. Plus, of course, Chinese restaurants. It is hard to pin down the precise beginning of Indo-Chinese food. Many claim that Kolkata's Chinatown, Tangra, was the pioneer, bringing Hakka Chowmien and Mixed
Fried Rice
, to us. Today, even though the community (mostly Hakka and Cantonese) has shrunk massively, you can still find whispers of a flourishing Chinatown; recently, a spate of articles about Chinese breakfasts in Tangra have also flooded newspapers and magazines. Whenever I travel to Kolkata, I eat my way through Tangra and Tiretta Bazaar, but I also never forget to eat at an old favourite - Eau Chew, famous for its chimney
soup
and Josephine noodles. That latter dish is an invention of the restaurant, nothing you will find in China.The Chinese community in Mumbai has shrunk even more, but it has left us tangible fragments in the form of Flora, Kamling and Ling's Pavilion, all Chinese owned. It is in these restaurants that we first got our taste of Hakka Noodles and Sweet Corn Chicken Soup.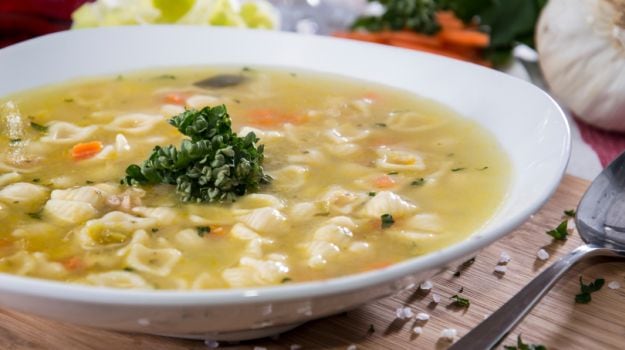 And Then There Was Manchurian Chicken
It is said that that masterstroke of Indian Chinese food, Manchurian, was invented by Nelson Wang, renowned restaurateur of China Garden fame. Wang is as Indian as they come though; his family has lived in Kolkata for generations. Born in Kolkata himself, Wang, an intrepid and canny businessman, moved to Bombay to look for work. Cooking his way through several restaurants, he landed the contract for catering at the prestigious CCI i.e. The Cricket Club of India. Even today, a large part of CCI's menu is taken over by Wang's dishes, and they are the most popular items there. Emboldened by his success, he poured all his money into the now-famous China Garden.Wang not only invented Manchurian Chicken (in which he threw together ginger, garlic, green chillies, soy sauce, coriander and cornflour), but a host of other dishes that are now considered an inimitable part of the Indo-Chinese pantheon. Creamy Corn Soup, Chicken Lollipops, Date
Pancakes
, Hot and Sour Soup and more!Wang, like other restaurants such as Ling's Pavilion, had two menus. One regular one, offered to most clientele, and a 'hidden' menu, offered to Chinese guests and those in the know. This I know to be true. My parents, often entertaining friends from Hong Kong, have had the regular menu handed to them, while the more discerning Hong Kong dwellers, having requested off- the-menu items such as pork broth dumplings, were handed another, totally different menu.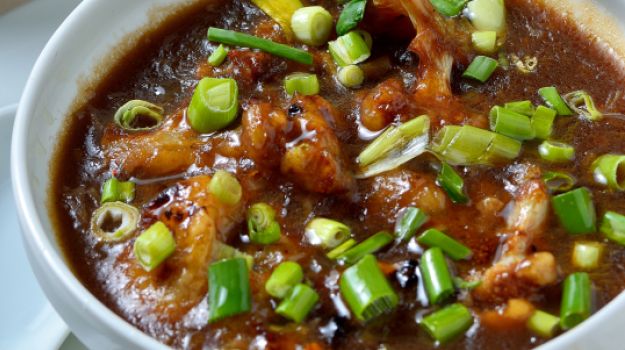 The Unbelievable Popularity of Indian Chinese
Authentic or not, the food has grasped our taste buds and refuses to let go. It has infiltrated almost every city in India, from Hyderabad to Ludhiana to Kerala. Spicy, crispy Gobi Manchurian makes an excellent drinking companion to cold beer, and even the least talented cook can fling together a hasty fried rice, preferably glistening with oil and soy and chilli sauce. Tarla Dalal and Sanjeev Kapoor offer recipes, and even masala brands offer a Gobi Manchurian instant mix. So beloved has it become that even in the US, you can now find homesick Indian expats opening restaurants serving Indian Chinese food. And while I enjoy red braised pork and tea-smoked duck gizzards, there's no denying the charms of Spring
dosa
and Chinese
samosa
. After all, it tastes just like home.
About the Author:
Meher Mirza is an independent writer and editor, with a focus on food and travel. Formerly with BBC Good Food India, she loves anime, animals and artsy things but also comics, technology and death metal.
Disclaimer:
The opinions expressed within this article are the personal opinions of the author. NDTV is not responsible for the accuracy, completeness, suitability, or validity of any information on this article. All information is provided on an as-is basis. The information, facts or opinions appearing in the article do not reflect the views of NDTV and NDTV does not assume any responsibility or liability for the same.