It is that time of the year again when hundreds and thousands of women across North India gear up for the much awaited Karva Chauth. This year, Karwa Chauth will be celebrated on 4th November, 2020. It is one such festival that all newly married North Indian women look forward to. Traditionally, the festival celebrates a wife's devotion toward her husband and stands for her fasting to pray for the husband's long life. It is also symbolic in nature, a celebration of the institution of marriage. The festival has its roots in mythology. The puja is marked by the storytelling of Princess Veeravati who gets married to a king. On her first Karwa Chauth, she decides to go visit her parents. The rigour of fasting all day renders her weak and she faints. Her seven brothers, who love her immensely, can not bear to see their sister in this state and trick her into thinking that the moon has risen. Just as she breaks her fast, she gets word that her husband, the king is dead. The queen is heartbroken and rushes to her husband's palace. Enroute, she meets Goddess Parvati and Lord Shiva who tell her that it is a penance and fasting on Karwa Chauth will help bring back her husband. The tale ends happily as the king gains consciousness and they live happily ever after.
Getting Ready For Karwa Chauth
Celebrated with great fervour in North India, married women start preparing for the festival a few days in advance. Their outfit is picked out, usually in bridal colours of red or pink. They buy new accessories to go with it and get henna put on their hands. In fact, the night before Karwa Chauth is when henna artists charge the highest. Rates go as high as Rs.1000 per hand, depending on how intricate a design you want and in how much area on your hand/ arm.
Karwa Chauth Vrat (Fast) Vidhi
If you've seen the film Kabhi Khushi Kabhi Gham, you will relate to the concept of Sargi. A tradition observed largely by Punjabis, it is a sort of food hamper that a mother-in-law lovingly assembles for her daughter-in-law. It includes foods that one is supposed to eat early morning before sunrise on Karva Chauth. It includes nuts, vermicelli kheer and even mathri. One is supposed to enjoy these treats before sunrise and have lots of water as you can not have any food or even water until the moon-rise.

Karwa Chauth: This year, Karva Chauth will be celebrated on 4th November, 2020
India's leading weight management expert, Gargi Sharma shares the following sargi tips for women observing Karva Chauth:1. Include lots of fruits like banana, papaya, pomegranate, berries, apples etc. in the sargi2. Avoid oily and fried foods like paranthas and pakoras in the morning as these are heavy and may make you dizzy. Eat a heavy meal like multigrain chapatti with vegetables or paneer.3. Avoid tea or coffee as both of them tend to dehydrate you later in the day. Instead, drink up a glass of fresh juice, milk, buttermilk or a cup of green tea4. Avoid mithai/ sweets and instead opt for dates, figs or apricots5. Munch on a few nut like walnuts, almonds and pistachios
Karva Chauth Puja
The day passes slowly but before you know it, it is evening. The women dress up and gather together to perform the puja. The katha is read aloud as the thali with a sweet, glass of water, a diya and other puja materials is passed around in a circle. All that is left now is to wait for the moon to rise.

Breaking the Fast
Different people break the fast in different ways. The one consistent tradition is to look at your husband through a sieve and then take a sip of water from his hands to break your fast. In recent times, men also choose to fast for their wives, breaking stereotypes. Everybody then enjoys a delicious meal together.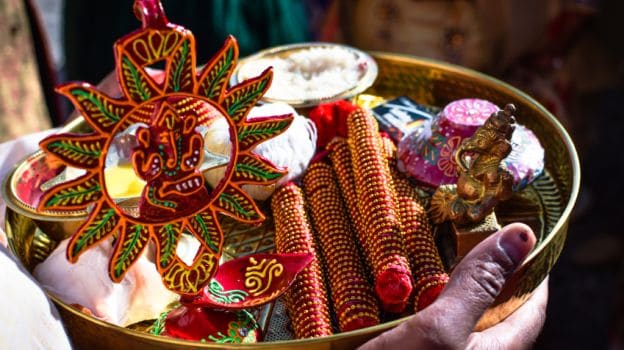 Karwa Chauth 2020: Different people break the fast in different ways. Image credits- iStock

Having fasted all day, it is important that you be careful about how you break your fast. Gargi Sharma shares:1. Start by drinking one glass of water and then munch on a few nuts. Take a couple of almonds, one or two walnuts and a few sunflower seeds.2. Your stomach's acidity levels are probably already high, so avoid drinking tea or coffee. It'll only make things worse.3. Avoid oily, spicy and fried foods. Opt for light and easily digestible foods like idli ,dosa, uttapam with sambhar/ vegetables, dalia, oat meal chapatti with vegetables or paneer bhurji/steamed rice or pulao with dal, etc.4. Eat some yogurt.5. For those with a sweet tooth, you may eat two or three dates, a small piece of dark chocolate or homemade kulfi to finish off your meal.
Happy Karwa Chauth 2020!