Titled as the "queen of tropical fruits" around 1903 by David Fairchild, an Americanplant explorer and botanist, and later in his 1930-book Exploring for Plants, the delicious purple mangosteen has been known by that name since. And it's not called so without reason. The beautiful sweet and tart pulpy segments, encased in a deep purple cover, can get quite addictive if you like the taste. The shell is soft when you harvest the fruit, and it's easier to break it with one's hands, leaving you with cleaner inner segments. But if you let mangosteen sit for a few days, the shell turns harder due to the loss of water, and you will need to use a knife to cut it cleanly.Originating in the Sunda Islands of the Malay Archipelago, and the Malaku Islands in Indonesia, the mangosteen is also grown in Sumatra, Java, and Southeast Asia. Its entry to the western countries began much later, in the mid-1800s when they were being grown in English greenhouses. It was also later found to be growing in West Indies.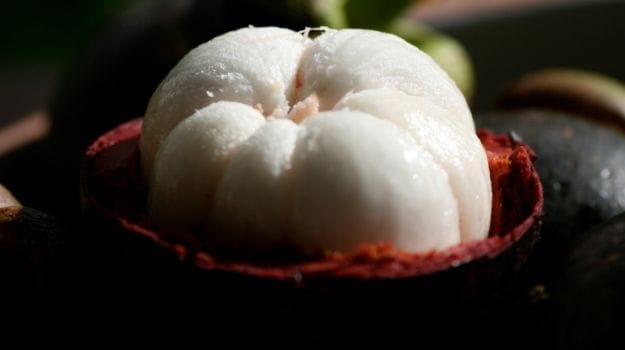 In India, the mangosteen is known to have been cultivated since the 1800s, and is mostly available in the Nilgiris, Tinnelvelly and Kanya Kumari in Tamil Nadu, and Kerala, owing to the required humidity and rainfall in these regions.Health Benefits of Mangosteen
Apart from the fact that the
fruit
taste
delicious
by itself, it also comes with quite a few
health
benefits
. Now whoever said the
tastiest
things are the most sinful, should really considering withdrawing that statement.The best news is that it's fairly low on
calories
, has zero saturated
fat
, and is free of
cholesterol
. Plus it's rich in
dietary fibre
. Mangosteen is also a good source of
Vitamin C
, and therefore helps in developing resistance against
cold
and
flu
. It also helps to prevent
anaemia
, and improves
blood
circulation in the body. Good quantities of
minerals
such as
copper,
manganese
,
magnesium
and
potassium
helps the
fruit
to protect the
heart
and keep
blood pressure
in check. Incidentally, the
fruit
is also known for its anti-inflammatory properties, but for that to work, you need to eat one mangosteen at least twice a day.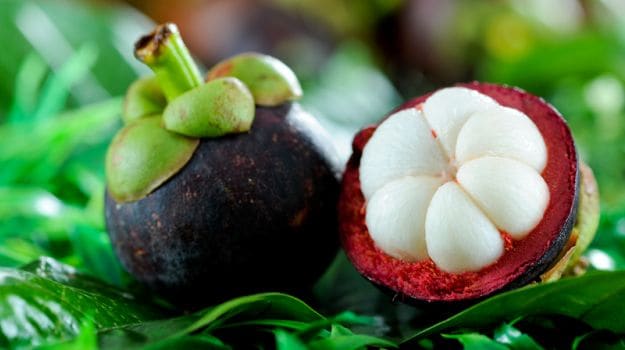 Cooking with MangosteenOkay enough of health and history, let's get down to eating this delicious fruit. Tossing fruits in salads is not an unusual thing, and no, we aren't referring to the common fruitsalad here. When it comes to the mangosteen, there are some really cool recipes that are guaranteed to impress. For example, mangosteen and shrimps are a good combination for a salad. You can take about four whole mangosteens, 250 grams of shrimps (cleaned and boiled), and lettuce to make a lovely salad. For the dressing, use mayonnaise, chilli sauce, some olive oil, and fresh tomato sauce. Also keep some sugar and lemon juice handy.And then there's mangosteen jam for the breakfast table, or to slather it onto crackers for midnight hunger pangs. To make this, for every 100 grams of mangosteen (either in pulp or pureed form), you need 2 grams of pectin, 3/4th cup of sugar, half a cup of water, and 1 1/2 tablespoons of lemon juice.The method: Take the sugar, add some water to make a syrup. Once the syrup is ready, filter it by using a thin (and clean) cloth. In a pan, mix the mangosteen with the rest of the water on medium flame, and keep stirring till it turns soft. As you stir, add the syrup, the lemon juice, and the pectin in the end. Turn the flame down, and let it cook for some time. The jam should start thickening by now; it usually takes about half an hour. Before taking it off the flame, do the jam test. Always store in sterilized glass bottles, and make sure the lid is airtight.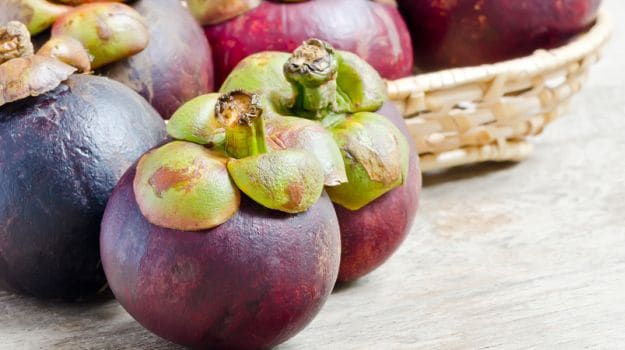 For the serious baker, the clafoutis, an old-fashioned French dessert, which is traditionally made with black cherries, is truly a treat. Incidentally, it can also be made with plums, prunes, apples, etc, in which case it's called a Flaugnarde. However, did you know you can also make it with the mangosteen, and that it turns out as tasty as ever?
There's a lot you can do with this queen of tropical fruits. So go on, make the most!

About the author:Priyadarshini Nandy would love to call herself the writer who "divides her time between London and Prague", but being able to call both Bengaluru and Kolkata her home is equally gratifying. As an independent journalist, she writes about food, theatre, travel, and more food, for various publications - new age and old school.
Disclaimer:
The opinions expressed within this article are the personal opinions of the author. NDTV is not responsible for the accuracy, completeness, suitability, or validity of any information on this article. All information is provided on an as-is basis. The information, facts or opinions appearing in the article do not reflect the views of NDTV and NDTV does not assume any responsibility or liability for the same.