In the battle of
flours
, wheat flour (
atta
and
maida
) has been ruling the culinary world for years. Most of us can't think of getting past a day without using it to create our beloved
parathas
, sinful cakes, cookies, breads and the like. It is a must in our grocery lists. But then what about the not-so-popular flours? Are they incapable of creating tempting dishes or matching up to the abilities of
atta
and
maida
? The truth is – of course not! Flours like
ragi, jowar
and
bajra
are not only healthy and gluten-free alternatives to the wheat variants but can be used to create some stellar dishes. All you need to do is get accustomed to them by experimenting a little in the kitchen, and you are guaranteed to be in for a big surprise.
Discovering Jowar Flour
When it comes to millets,
jowar
is one the first few ones that come to mind. That's because it is relatively common in Indian households, especially in the western and central parts of India where it is used in making wholesome
rotis
, which have the ability to keep you from feeling hungry for a long time and make you feel active as well. Such is the power of millets!
Jowar
or sorghum is a hardy crop. The grains are often boiled or steamed and used in making porridges and soups, or milled into flour, which are then used in making a number of preparations. Unlike wheat flour, it lacks elasticity aka
gluten
. So while making
rotis
, one often uses the palm of his or her hands to give them shape before tossing them onto the hot
tawa
. Or, it can be mixed with other flours to make
pooris, muthias
(Gujarati steamed dumplings),
khakra, thalipeeth
(Maharashtrian spiced pancakes), and
paranthas
; and even cakes, cookies and breads. Since it lacks gluten, it gets a little tricky to use it, but as you discover more and more about its capabilities, you will be able to create a lip-smacking range of treats, even
gluten-free
ones.
(New Diet Mantra: Dietary Fibre from Various Food Sources Could be More Beneficial)
How Healthy is Jowar?
It is said that jowar is a powerhouse of nutrients. It is a high source of calcium, vitamin B and dietary
fiber
. According to a
study
done by researchers at the University of Leeds that was published in the British Medical Journal, increasing consumption of fiber-rich foods can lower risk of both cardiovascular disease (CVD) and coronary heart disease (CHD).Jowar also contains essential minerals like
iron
and phosphorous, and is loaded with
antioxidants
that work towards keeping cancer and other diseases at bay.
Cooking with Jowar
While cooking with jowar, the one thing to keep in mind is that you will not get the same elasticity that you are accustomed to while using wheat flours. You therefore need to think of a smart recipe that can work along this property, or identify some binding agents that will help in bringing your dish together without any glitches. In
baking
batter, because it has oil,
sugar
and eggs, there is not much to worry about. But while making
breads
, it is easier to work with it by mixing in a small amount of wheat flour.
(Kitchen Basics 101: How to Cook the Ancient Grain Barley)
Starting off on a 100% gluten-free note, we decided to make an Apple Crumble using jowar flour. This worked out brilliantly and we added in some oats and chopped nuts to the crumble mixture for that extra crunch. Served with fresh cream, it all came together like a dream. Next we tried to make a
banana
cake. Here, you need to keep a check on the measure of jowar flour that you add in the batter. It works very differently than wheat flour, so the quantity will not be the same in a
cake
recipe. The trick is to add a teaspoon of the flour at a time and keep folding until the batter is nice and smooth. That way you will know the difference. Some people like to add in a tablespoon or two of wheat flour which helps in the binding, but you can also skip it completely. The
cake
takes a while to rise but the result is a moist loaf, which when teamed with salted caramel sauce is simply divine. We just couldn't stop digging in! And come to think of it, it's jowar we are talking about here.We then got a little adventurous and tried to make some
tacos
. Yes, tortilla from scratch! Here we mixed in some wheat flour along with jowar flour, added butter and poured in warm water to make the dough. It was a success! The
tortillas
held their shape and we then loaded them up with crisp greens and spicy chicken filling.
(Kitchen Basics 101: How to Cook with Ragi Flour)
There's actually no dearth of dishes that you can create using jowar. If you have an idea, delve into it and dish it out. It's bound to be healthy,
gluten-free
(if you choose) and probably would taste as delicious, so what's not to like? It's about time you keep the wheat variants aside and start including the "not-so-popular" flours in your diet.Here are a few simple recipes to help you get started –
1. Jowar Apple Crumble
Bringing a healthy spin to the much-loved apple crumble, this recipe uses jowar to create a delightful treat. Load it up with nuts for that extra crunch.For the recipe, click
here
.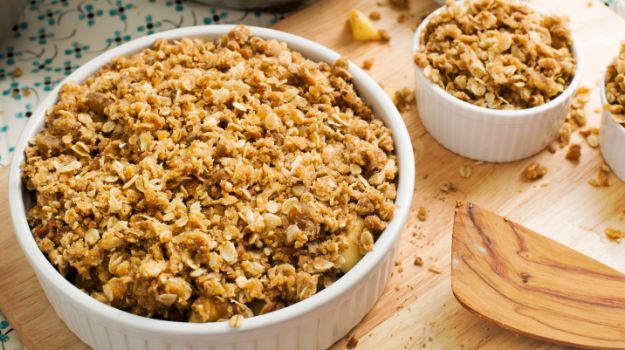 2. Jowar Banana Cake with Salted Caramel Sauce
A wholesome jowar cake made with banana, and slathered with decadent salted caramel sauce for a sinful treat. You could also use chocolate sauce and throw in some nuts if you like.For the recipe, click
here
.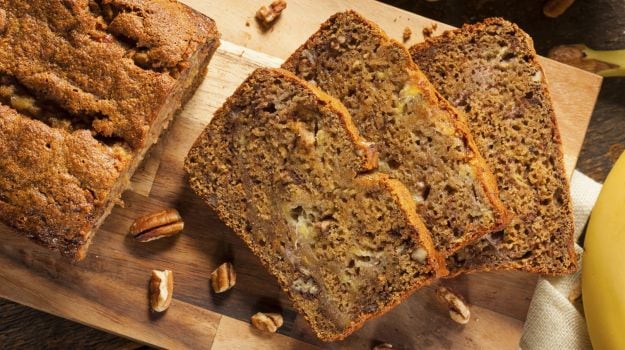 3. Jowar Tacos with Spicy Chicken Filling
Quick to rustle up, make the tortilla from scratch with this simple recipe using jowar flour. Fill it up with spicy chicken, lots of crisp veggies and indulge!For the recipe, click
here
.