"What are you baking? It smells like heaven!"
Scones
can be the peak of a perfect afternoon, spruced up with clotted cream and a delectable strawberry jam, accompanied by a pot of strong tea and clear blue skies. But more often than not, you bite into a scone and all you get is claggy dough stuck to the roof of your mouth. Dry and disappointing. Yes, scones promise so much sometimes and deliver so very little indeed. That's why I took upon the challenge to deliver a
foolproof recipe
which ensures a batch of rich and crumbly scones every single time. Did I mention they are
downright divine
?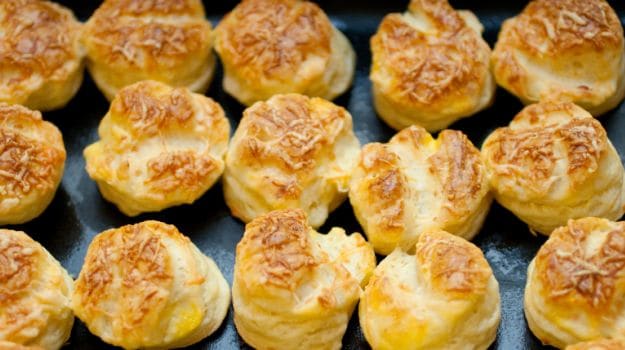 I tried one recipe after another from everyone whose name is synonymous with
fabulous baking
, including my grandmother's, and derived
my own
. The result? Scones as flaky as shortbread, and nothing short of spectacular.
Tips and Tricks
1. When baking scones, there's no room for room temperature ingredients. It's important that your ingredients remain cold, especially the
butter
.
2. If you want a terrific crust, bring the ingredients together swiftly, with as little mixing as possible. Or else, you'll end up with a batch of terrible scones.
3. Before you shape your scones or work with the dough at all, rest it overnight and you'll be surprised by more symmetrical, taller scones the next day.
4. To ensure that the dough only rises upwards, arrange the scones side by side and close to one another.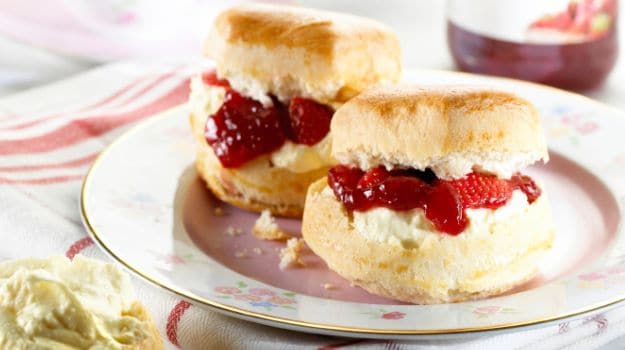 Ingredients:
1 3/4 cups all-purpose flour
4 teaspoons baking powder
1/4 cup white sugar
1/4 cup sour cream
5 tablespoons butter
1/2 cup + 1 tablespoon milk
1 egg
strawberry jam (optional)
clotted cream (optional)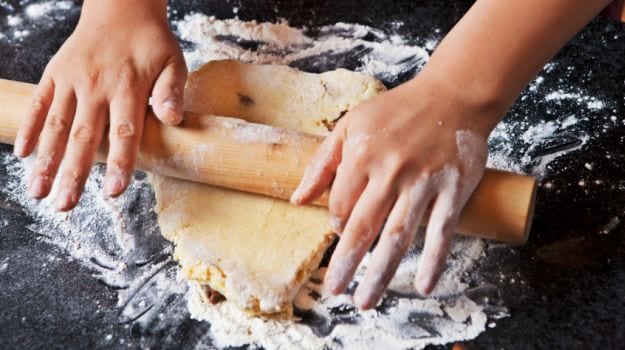 Instructions:
1. Preheat the oven to 400 degrees F (200 degrees C).
2. Sift the flour, baking powder and salt into a large bowl. Cut in butter using a pastry blender or rubbing between your fingers until it looks like fine crumbs. Stir in the
sugar
.
3. Mix together 1/2 cup
milk
and sour cream in a measuring cup. Pour into the dry ingredients, and stir gently until well blended.
4. With floured hands, cut the dough round into 8 pieces. Place onto a greased baking sheet, and flatten lightly.
5. Whisk together the
egg
and 1 tablespoon of milk. Brush the tops of the scones with the egg wash and let the scones rest for about 10 minutes.
6. Now bake for 10 to 15 minutes in the preheated oven, until golden brown. Slice each scone in half and serve immediately.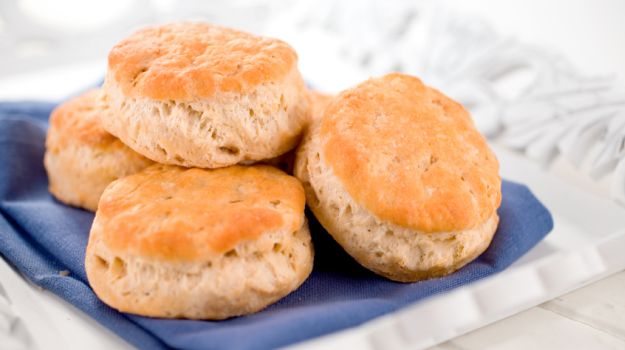 And the best part? Scones are a blank canvas to add any fruits, nuts and spices you're excited about at any given time. If you're in the mood for something
savoury
, you can always add some
bacon
, cheddar and chive, or
ginger and beer
, or ham and Swiss cheese, or rosemary and thyme. But if you want to satiate your sweet tooth and play around with flavours, try the irresistible combination of
chocolate
and cherry, or pistachio and cranberry, or apple and cinnamon, or apricot and ginger.