Hyderaba
d has always been irrevocably entwined with its food. In Charmaine O'Brien's Penguin Food Guide to India, I read that Hyderabad state's official flag had a symbolic representation of a
kulcha
. "It was there because, legend has it, the first Nizam consumed seven
kulchas
in the presence of a Muslim holy man who then prophesied that the Asaf Jahi dynasty would last for seven generations. It is fitting that the flag has bread on it - the Nizams certainly made Hyderabad famous for its food."Nizami courtly food was renowned for its ostentatiousness, "crushing pearls into dishes; distilling quail and venison into alcohol; and serving hundreds of dishes at banquets," writes O'Brien. It was a meat-heavy cuisine, something that has passed down through the centuries (although thankfully the extravagance has been curtailed) and is manifested in the many
non-vegetarian dishes that Hyderabad is today known for.
I fell into my love for Hyderabadi food much like everybody else - through the charms of its delectable
kacche gosht ki biryani,
an undeniably courtly dish that many believe has its origins in Mughal kitchens (although Pratibha Karan's Biryani throws this belief into some disorder). Some people consider it to be India's only proper
biryani
since it is made from raw meat and rice that are cooked together rather than the
pakki biryanis
that are made by layering separately cooked meat and rice together. The jury is still out on that one. Although
kacche gosht ki biryani
is the state's most well-known
biryani,
Hyderabad
(and Telangana) also have others: the celebratory
Kabuli biryani
that is pure vegetarian, the
kairi ki biryani
, the tart
karonde ki biryani
and the gentle-tasting
doodh ki biryani.
It was in Nizami courts that Afghan, Persian and Turkish aristocrats came, bearing a wide variety of culinary influences. Naturally, Nizami food is where cultures met: the cuisine as it has come down to us, is a blend of Persian, Arabic, Mughlai and Turkish with traditional South Indian influences (
Safed
mirchi ka salan
, for instance, is prepared using dry
coconut
and is the Hyderabadi biryani's loyal sidekick). Intrigued by the various, seemingly disparate strands sewn together, I turned to The Jewels of Nizam: Recipes from the
khansamas
of Hyderabad, a book on rich, courtly Nizami food by Geeta Devi. Geeta Devi is a food consultant, instrumental in relaunching the Hyderabadi speciality restaurant named Jewel of Nizam and "hails from the Malwala family of the late Raja Dharam Karan of Hyderabad, who came to the city with Nizam ul Mulk, the founder of the state."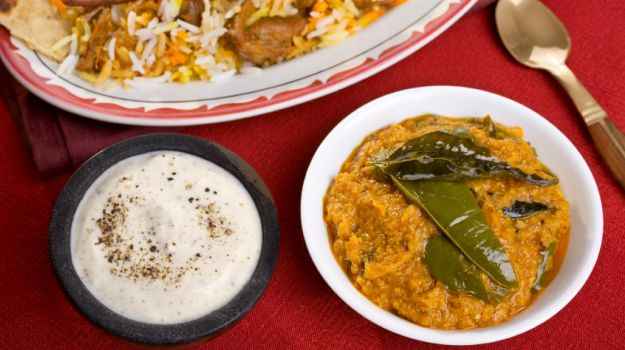 Naturally, any Nizami spread would be unthinkable without
haleem
, the signature stew of meat and broken wheat which is served with onions, lime and sometimes chilli. Said to have originated in Persia, it was refined in Hyderabadi royal kitchens and takes hours to prepare, the meat's long, torrid bath in the grain transforming the dish completely. Luckily, the recipe Devi provides takes only about an hour, although the
wheat rawa
requires an overnight soak in water. She writes that it is "mostly prepared and eaten in the month of Ramadan, (and) is made in pure ghee. Its rich, high satiety value helps offset hunger during the fasting period. The slow cooking helps bring out the
flavours of the mutton
and the spice."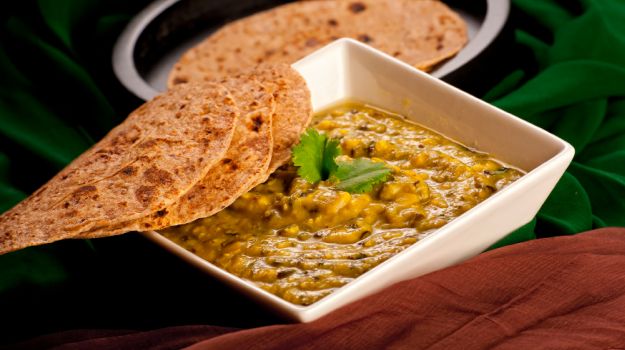 Haleem is not the only dish made of grain and meat. There is also chakoli, made of wheat flour and meat blended in a gravy made of curd. The addition of wheat flour in the dish cannily does away with the need for accompanying
rotis
. The Nizams have also been credited with the birth of the
kheema khichdi
, made from lamb mince, Basmati rice and
masoor dal
, (although some don't add the lentils at all). The mince is spiced and cooked with the
dal
and
chawal
in a sealed pot. The
khichdi
is usually served with
tamarind
chutney on the side,
papad
and pickle. I remember reading about a Nizami
khichdi
that was once prepared by Chef Arun Sundararaj of Taj Hotels. It was a royal dish, apparently made of 30 ingredients including partridge, almond paste, lamb and chicken. But this was rare. Most
kheema khichdis
are made at home with far fewer ingredients.In Geeta Devi's book, many of the recipes are goat dishes, the flavour of the meat embellished with a blend of
nuts and dry fruits
such as in magzeyti dulme. You will find
mutton pickle
, fish pickle and prawn pickle; she has also included
several tongue, brain and kidney dishes
, including a
biryani
made from goat's kidneys. But I was especially drawn to the
aamras ke kofte
, which I am going to make once mango season comes around. The
kofte
are prepared from a blend of mincemeat, Bengal gram and mango pulp, then cooked on a slow flame until silk-soft, a fascinating dish that "speaks of the ingenuity of the
khansamas
, the cooks of the Mughal royalty."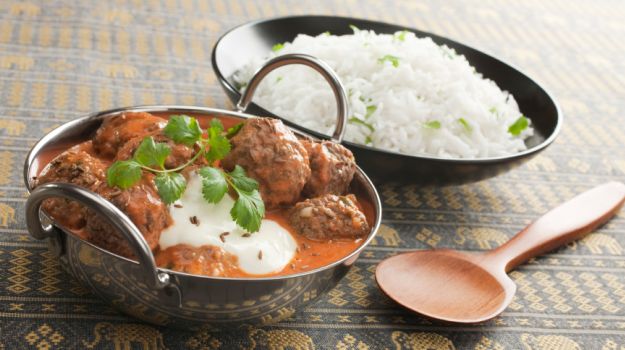 Naturally, there is plenty more to but I'll end now on a
sweet note
.
Khubani ka meetha
and
shahi tukde
take pride of place in the Nizami pudding lexicon, but Devi also offers the recipes for
anokhi kheer,
prepared with white onions and
gilai firdaus,
a sweet made by cooking grated pumpkin in milk, with sugar and elaichi.
Badam ki jali
is another sweetmeat made with
khoya
and almonds and the quaint ashrafi is modelled on coins from the erstwhile Nizami era. It is a coin-shaped sweet stamped with the Nizam's seal, a sweet throwback to times gone by.
About the author: Meher Mirza is an independent writer and editor, with a focus on food and travel. Formerly with BBC Good Food India, she loves anime, animals and artsy things but also comics, technology and death metal.
Disclaimer:
The opinions expressed within this article are the personal opinions of the author. NDTV is not responsible for the accuracy, completeness, suitability, or validity of any information on this article. All information is provided on an as-is basis. The information, facts or opinions appearing in the article do not reflect the views of NDTV and NDTV does not assume any responsibility or liability for the same.