Come Navratri 2018 or any other Indian festival where devotees observe a fast, sabudana becomes an essential ingredient during the fasting period. The little sabudana pearls can be cooked in myriad ways to create lip-smacking dishes that not just provide essential energy during fasting, but also with flavours to relish inspite of following a restricted diet. No Navratri is complete without savouring sabudana khichdi or sabudana vadas along with family and friends. Spiked with a handful of aromatic spices, fresh herbs and crunchy nuts, these treats are immensely relishing.
Since whole grains are not allowed during the fasting period, so the question that arises is what really is sabudana? What is it made of? Sabudana is actually a form of tapioca, also known as cassava root. This plant is very common across India, Southeast Asian countries, South America, Portugal, Spain, and West Indies to name a few countries. Sabudana refers to the starch that is extracted from tapioca roots, which is then processed to form spherical pearls that may vary in size. The pearls are produced by passing the moist starch through a sieve under pressure, and then dried.
According to experts, tapioca is not rich in nutrients, even though various cultures consume it as a staple in their regular diet. It is a good source of carbohydrates, and probably is the reason why it is included as part of fasting foods. Due to its high starch content, tapioca is commonly used as a thickening agent too while making stews, soups, etc. You will also find sabudana commonly used in faloodas, bubble teas, fruit slash and other sweetened beverages to add some texture or bite to it.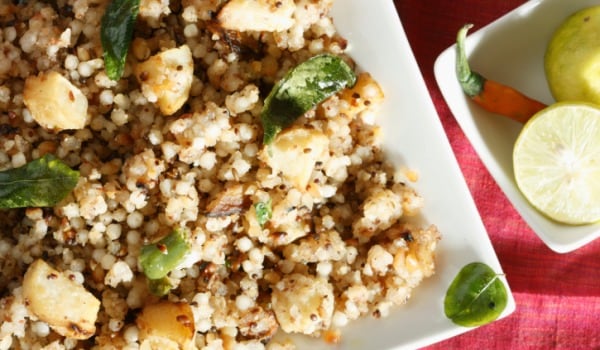 It is required to first soak the sabudana pearls in water before cooking, for it to rehydrate, when it swells up to almost double its size. Once the pearls are well-drained and pat dry, they are then stir-fried with other ingredients and spices to make the popular sabudana khichdi. There are of course certain tricks involved in cooking sabudana perfectly, or else you will end up with leathery and very chewy pearls. A practice that is followed by some home chefs is to also soak the pearls in curd or dahi for a few hours before making the khichdi. This is said to prevent the pearls from becoming sticky and chewy during the cooking process.
To dish out a relishing plate of sabudana khichdi at home, we present our top recipe by Chef Niru Gupta. Click here - Sabudana Khichdi.
Best Sabudana Recipe to Try During Navratri 2018:
Feasting and Fasting! The season of many festivals is here, from Navratri, Durga Puja, Karva Chauth, Diwali, Eid and Christmas; it is celebration time everywhere! The 9 pious days of Navratras is here and if you too are celebrating this festival then this is the the right place. From Fasting Rituals and Do's and Don't's for Navratri 2017 to recipes, myths and trivia - we have a yummy line-up planned for you. Most Read: Best Vrat Recipes,Kuttu Recipes, Paneer Recipes, Vrat Wale Aalo.