One of the most loved breakfast items in India, upma scores high not only for the delicious flavours that are packed in during the cooking process of the dish, but also because it is light and healthy, a perfect start to the day. Usually, it is prepared using rava or semolina, along with a host of vegetables and spices. In south and western India, upma is most commonly served during breakfast. The tempering of mustard seeds, chillies, urad dal and curry leaves that go on top, works miraculously in transforming the simple dish to a delightful treat.Thanks to the age of innovation, the herd of passionate cooks have found different ways of sprucing it up at home, substituting the main ingredient – rava – with others like bread, vermicelli, sabudana and even cauliflower.If you ask me, I have always preferred the vermicelli upma to the rava version. It's almost like digging into a plate of noodles but of course with a twist of Indian masalas. As a child, it would always bring a smile to my face to see a plateful of it early morning, amused by the thought that I was starting the day with noodles and not being touted by my mother that it was junk food.
I usually like to mix the vermicelli
upma
with a spoonful of fresh coconut
chutney
, which I feel makes it taste even better. During my stint in Bangalore, I would go around neighbourhood idly shops to relish their own versions of the
upma
, each unique with their play on the
masalas
and vegetables. While trying to replicate it back at home, it made me realise that it is a rather easy recipe, which takes only about a few minutes and is sans any fuss.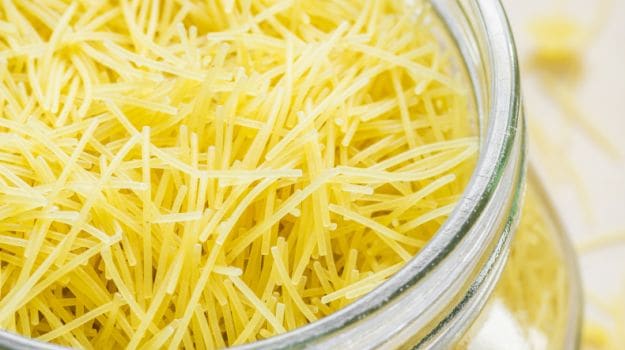 VermicelliHow to Cook Vermicelli UpmaVermicelli is a common ingredient that is used extensively in various regional cuisines across India. It is therefore readily available in the markets. You can pick the raw vermicelli or for a quick-fix, go for the roasted version. Doing so will save you a little time because it is always advisable to roast the vermicelli before using it in any dish to get rid of the raw flavour and to lend in some smokiness to the dish.Coming to preparing vermicelli upma at home, you have plenty of options for cooking it. First, decide on the vegetables. Most people like to keep it simple and use only onions and thinly sliced carrots. But to make it more wholesome, you can also throw in some beans, peas and potatoes, and nuts like peanuts or cashews for an added crunch.For the spices, mustard seeds, chillies and curry leaves are most commonly used. You can also tip in some cumin seeds, chopped fresh ginger and opt for coriander leaves instead. Keep the quantity of oil to a minimal. You only need oil for sautéing the veggies and spices. You can opt for regular sunflower oil or use olive, canola, rapeseed and other healthier choices. If you are among those who cannot handle a spicy breakfast, then cut down on the chillies and maybe use just one fresh green chilli for a little heat. Without it, the upma will be incomplete, almost falling flat.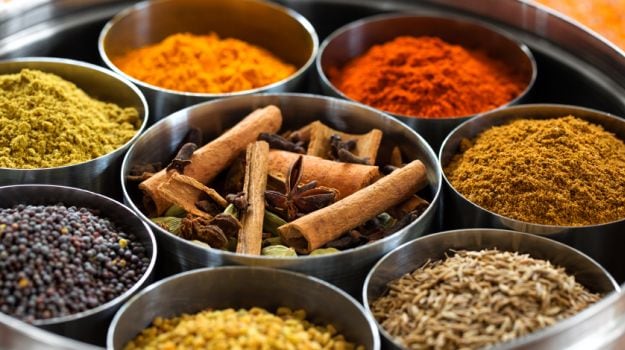 A spice boxSo just take a large wok or kadai, heat a little oil and throw in the whole spices, curry leaves and chillies. Let them crackle for a few seconds and then add the onions and other veggies. Check seasoning and allow the mixture to cook for two to three minutes. Add turmeric and other ground spices if you prefer, and mix well. Pour in some water, bring the mixture to a boil and then add the roasted vermicelli. Stir and let it cook on medium flame for four to five minutes with the lid closed, until the vermicelli is cooked through and the excess water has dried up. You can also use some tomato puree and reduce the quantity of water and let the vermicelli cook in it to lend in some more flavour. Finish off with roasted nuts and serve immediately along with coconut chutney.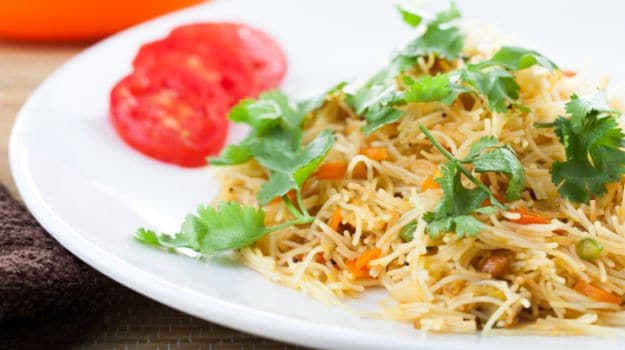 Find the full written recipe of easy vermicelli upma here.
Try it at home and share your experience with us in the comments section below.