Badam Pasanda - it's a dish that my dad makes on every festive occasion and these days, for most of his entertaining at home as well. Long revered as the centrepiece of Mathur-Kayasth cooking, especially from old Delhi, the Badam Pasanda is one of those disappearing heritage dishes that you may have only heard of but never quite tasted. Which is why when it is served up in traditional homes like my parent's, it always elicits reactions that are over the top to say the least.
The way my father cooks it, it seems as though it is not a particularly tough dish to prepare. In the older days, including in the time of my grandmother Mrs. LC, the proper way to do the Mathur-style Badam Pasanda was a painstaking task. Thin and flat strips of meat - always goat meat, taken from the thigh - were marinated and stuffed with sliced slivers of almonds and pistachios. These would be carefully rolled up and tied with a string before being lowered into a bubbling bhagona of curry, where the meat would curl up and cook, giving you a dolma-like preparation in a sauce. This was the great delicacy that only the best, most dexterous cooks, knew how to prepare. My dad's aunt, Mrs. KC was the pasanda expert in the family, legend has it. With her passing, the art would have all but died but for my dad, who finally eschewed his workaholic routine much later in life and took to cooking with a gusto befitting any shaukeen Kayasth gent.

The way my dad cooks the pasanda is simpler than how his aunt cooked it. The
meat
is marinated and then lowered into a rich gravy full of almonds, without any of that intricate rolling/stuffing business. It does not take very long to cook this dish. And yet, the pasanda is a deceptively simple dish. Why it is almost dying out as an art form is because not too many butchers now know how to make a proper pasanda. What really is one? Before we come to that, here's a little bit of food history and sociology.
Kayasth Cuisine - A Brief Intro
Most traditional dishes reveal far more than just their taste, if we have the patience to examine them in deeper ways than mere consumption allows us to. A bite of the pasanda can be fairly revealing too. It tells you all about the history of the Kayasths-a unique community in the Subcontinent, whose culture and food reflects India's upper class composite culture-in almost a single bite.
Courtly cultures have traditionally played around with culinary ingredients that were rich, exclusive and hard to come by. Thus dishes created for the elite are easily discernible from those of the more rustic/agrarian or poorer communities both in the kind of ingredients that they use and in the way these ingredients are cooked. Any courtly cuisine thus has more "finesse" than in the rough and hardy ways in which bolder dishes may have been concocted by other communities.(All the aromatics and seasonings you need to cook up a masterpiece, get your stock from SmartCooky)

Pasanda - The Choicest Cut of Meat
The Kayasths, as courtiers to the Mughal kings, were obviously a privileged community-not quite royal but close enough. The use of pasanda, one of the choicest cuts of meats, reflects that sense of upper class privilege. In fact, even the name of the cut borrows from the Urdu word "pasand". The Ganga-Jamuni culture of the community is equally referenced in this name as in the choice of meat: red meat dishes are traditional to the Kayasth repertoire and came about obviously because of a mingling of cultural influences.
However, while the community was urbane and elite, especially in Shahjahanabad - the splendid capital Shah Jahan built on the banks of the Yamuna and to which he invited several high-ranking families from different castes/communities to settle in and be a part of his court, the Kayasths were not quite royalty.
They kept to their local, Hindustani roots in many ways-retaining their religious identity, preference for fried breads like poori and parantha, and many of the womenfolk not eating meat at all and being strictly Vaishnavite, even though they cooked meat perfectly. In the Kayasth way of doing the pasanda, the dish, we see a reflection of this local culture as well. The tenderiser for the meat is kachri powder, made from local wild berries grown in Rajasthan and other parts of northern India bordering Delhi. Papaya, the more regal tenderiser, preferred by the court cooks of Avadh and Delhi, is not used. It must have been quite an exclusive and foreign ingredient in those times, having come to us through the Colombian exchange.


Pasanda - The Dish
You can taste all of this history and cultural nuances in a single dish. But what exactly is the pasanda? And why is it so exclusive? In the Kayasth universe, a pasanda is always made from goat meat. There are only a few butchers who now know how to fashion it out in the correct way. Meat is taken from the thigh and then flattened with heavy wooden mallets. Criss-cross scores are then carefully made on the thin slices to aid cooking.
"Escalopes" does not quite define the pasanda. And even though we now have quite a few copycat dishes tom-toming Chicken Pasanda/Parchey (made from flattened breast of the bird), to my mind, that is not quite the "with it" thing either. That's just a flat, dry strip of fowl meat in a random sauce. If you haven't slaved over the pasanda, you haven't got them right!
Badam Pasanda Recipe
Courtesy: Mrs LC's Table
Ingredients:
1kg goat meat pasande
250g yoghurt
Salt to taste
50g garlic paste
100g kachri powder
150g almonds, soaked and peeled
50-100g refined oil (oil for frying onions is seperate)
100g onions
50g ginger paste
Red chilli powder to taste
250g tomatoes, freshly puréed
2 cups of water
2 Tbsp garam masala powder
2-3 drops kewra essence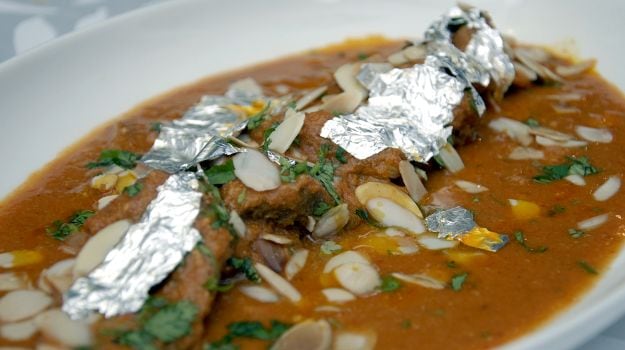 Method:
1. Clean and wash the meat pieces, drain. Mix well 100g of beaten yoghurt, half of the garlic paste, salt and kachri powder, and marinate the pasande in this. Keep aside for about 45 minutes.
2. Make a paste of half the almonds and keep aside.
3. Fry the finely chopped onions till brown. Now crush them with your hands or in a blender and keep aside.
4. In a deep pan, add oil and sauté the ginger and almond pastes and the rest of the garlic paste till golden brown and aromatic, about 2-3 minutes. Add salt and red chilli powder.
5. Now add the fresh tomato purée and stir well for about 2-3 minutes till the oil separates and floats on top.
6. Add the remaining yoghurt and cook for a few minutes.
7. Then add the meat pieces with all the marinade. Add about 2 cups of water and the rest of the whole, peeled almonds. Let all this cook on a low flame for about 15-20 minutes. Now add the crushed, browned onions. You will see the gravy becoming richer and instantly getting more body. Let it simmer for 10-15 minutes for the flavours to blend and the pasande to be fully cooked. They should be tender enough to split with a spoon.
8. Finally, add the garam masala powder and the kewra essence.
9. Enjoy the pasande with hot white rice or poori.
(Read more about the pasanda and stories about Kayasth food and culture in Mrs LC's Table by Anoothi Vishal)
About the Author:
Anoothi Vishal is a columnist and writes on food for The Economic Times and NDTV Food, and runs the blog amoveablefeast.in. She tracks the business of restaurants and cuisine trends and also researches and writes on food history and the cultural links between cuisines. Anoothi's work with community-based cuisines led her to set up The Great Delhi Pop-Up three years ago, under which she promotes heritage, regional and community-based cuisines as well as researched and non-restaurantised food concepts. She has also been instrumental in reviving her own community's Kayastha cuisine, a blend of Indo-Islamic traditions, which she cooks with her family and has taken across India to a diverse audience.
Disclaimer:
The opinions expressed within this article are the personal opinions of the author. NDTV is not responsible for the accuracy, completeness, suitability, or validity of any information on this article. All information is provided on an as-is basis. The information, facts or opinions appearing in the article do not reflect the views of NDTV and NDTV does not assume any responsibility or liability for the same.