"It doesn't quite taste the same without spring onion", Rukshana Perrera is one of Singapore's better known culinary experts and this is one of her tips if you ever attempt Singapore's best known dish. I was at Culinary Magic, a quaint culinary academy she runs in one of the city's residential quarters where she taught me how to make an authentic
Singapore-style Chilli Crab
- a dish that originated in a street cart and is now on the city's finest hotel menus. The conversation eventually drifted from Chilli Crab to
spring onions
.
Chives, spring onions, green onions, garlic scapes and scallions are similar yet quite different. They are all alliums - bulbous plants that are essentially part of the onion family, yet marked by subtle flavour differences and appearances. We are most familiar with spring onions, that's commonly available in vegetable stores across India and a 'go to' flavour enhancer for Asian cuisine. Many chefs and culinary enthusiasts are discovering the flavour credentials of garlic scapes that is gradually making its presence felt in menus across the world.Green Garlic vs Garlic ScapesGreen garlic is often mistaken for garlic scapes but it's actually young garlic with tender leaves harvested before the garlic bulb attains its full size. Green garlic is harvested early. Garlic scapes, on the other hand, are the curly shoots from the plant that form later in the season. These shoots resemble green stalks with closed buds on top. Most farmers chop these shoots once they've curled, so that the plant can focus on producing larger garlic pods. Garlic scapes have a great flavour - the fresh appeal of greens with a hint of garlic, and have now become a regular at farmer's markets around the world.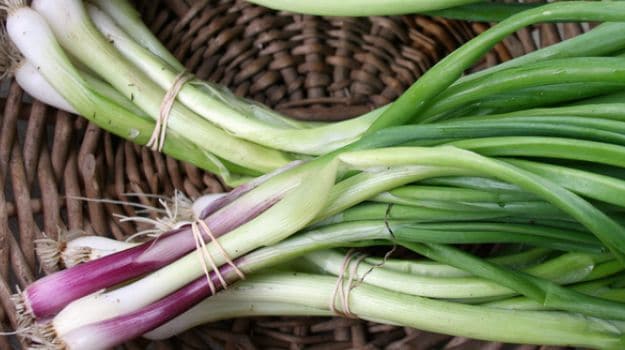 Green Garlic
Garlic scapes are certainly not commonplace in Indian vegetable stores but the easiest way for you to source them is to try growing garlic in your backyard or balcony garden. Many green thumbs will tell you that garlic is relatively easy to grow and doesn't need that much attention.
The ideal containers for planting garlic are large rectangular or square trays, which are at least 4-6 inches deep. Insert garlic cloves (break the bulbs into cloves just before you plant them) into the soil, ensuring that each of your cloves are at least 6-8 inches apart with their pointed ends facing upwards. You can cover the planted area with a few leaves or hay. You can snip the shoots once they begin to curl and freeze them in sealed jars if you would like to use them over a period of time. It's what most people do to use garlic scapes (that sprout normally in the summer) round the year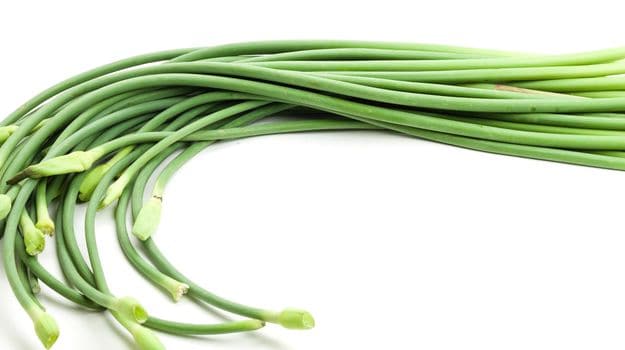 How to Use Garlic Scapes
Garlic scapes work almost in every scenario where you might use garlic as a flavouring agent. It is a great substitute for those who might find the taste of garlic too strong for their liking. They also work as a refresh ingredient in
salads
. You can also use them as a finishing ingredient in an Asian stir fry.
I'm a big fan of chives in a fluffy, cheesy omelette. Garlic scapes can do the same magic to an omelette. Just chop a few shoots and blend them into your omelette. I'd also suggest using garlic scapes in dips or salad dressing. Blend finely chopped garlic scapes into a yoghurt-based dip or salad dressing.
Garlic scape pesto is a great twist of the classic pesto recipe. Blend in garlic scapes with traditional pesto sauce ingredients like pecorino (or parmesan cheese), extra virgin olive oil, sea salt and pine nuts. You could try two versions: one that combines garlic scapes with basil leaves and one without basil. Garlic scapes work with Italian staples like pizza and pasta. Just sprinkle finely chopped shoots on a pizza or into a Spaghetti Carbonara a few minutes before you finish the dish. Aside from the subtle flavours, they possess very strong health benefits. They are known to reoxygenate the blood (improve oxygen levels in the blood), high in anti-oxidants and a rich source of vitamins (B6 and Vitamin C).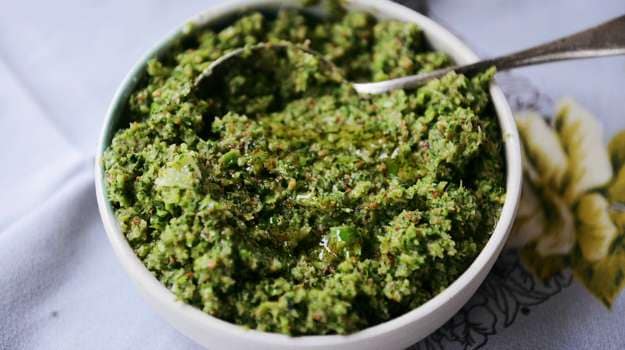 Garlic scape pesto
About the Author:
Ashwin Rajagopalan is a cross cultural training expert and lifestyle writer. When he's not writing about food, he thinks about gadgets, trends and travel experiences. He enjoys communicating across cultures and borders in his weekday work avatar as a content and editorial consultant for a global major and one of India's only cross cultural trainers.Disclaimer:
The opinions expressed within this article are the personal opinions of the author. NDTV is not responsible for the accuracy, completeness, suitability, or validity of any information on this article. All information is provided on an as-is basis. The information, facts or opinions appearing in the article do not reflect the views of NDTV and NDTV does not assume any responsibility or liability for the same.
About Ashwin RajagopalanI am the proverbial slashie - a content architect, writer, speaker and cultural intelligence coach. School lunch boxes are usually the beginning of our culinary discoveries.That curiosity hasn't waned. It's only got stronger as I've explored culinary cultures, street food and fine dining restaurants across the world. I've discovered cultures and destinations through culinary motifs. I am equally passionate about writing on consumer tech and travel.