Meher Mirza | Updated: February 23, 2018 12:28 IST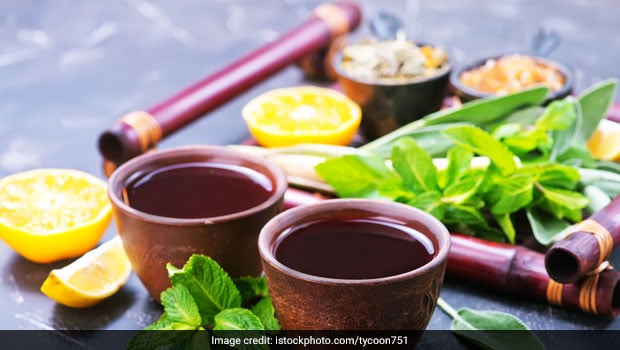 kadak chai in the monsoon, or a masala chai to unclench my sinuses when I have a cold, but otherwise, I don't like tea all that much. Except that is, Sulaimani tea.
Sulaimani chai is a ambrosial sweet-sour tea made from black tea usually, and served without any milk. The perfect Sulaimani chai is brewed to a pure golden colour with sugar, and a daub of lemon. Perhaps, cloves, cardamom and cinnamon will be added. You may find a basil or mint leaf within. The chai tastes superb either way.

It is said that the Prophet Muhammad himself used to enjoy a well-brewed cup of Sulaimani tea, a tradition that was picked up by the Arabian world, who added sugar to the original. That is why, even today, in places like Dubai, Sulaimani tea is extremely popular, and available at almost all tea shops there.

Kerala and its Love Affair with Sulaimani Chai

The first time I tasted it was in Kerala, on a rollicking road trip I went on with friends. My Malayali friend took us all to eat plates of delightful fish biryani in Thrissur, which were served with chutney on the side (the chutney went back untouched), and was later followed by glasses of Sulaimani chai. These were darker-hued, but no less refreshing. "The Sulaimani chai is supposed to be a good digestive," explained my friend, "Which is why it is often served after heavy meals such as biryani, especially throughout the Malabar regions of Kerala." There is even a restaurant called Sulaimani 168 in Thrissur! Kerala is indubitably entwined with the chai; it has even made its way to the Kerala film industry. In the film Ustad Hotel, for instance, the protagonist uses cups and cups of Sulaimani chai as a device to draw closer to his grandfather.

(Also read: 10 Spectacular Black Tea Benefits You Should Know)


Operation Sulaimani

Sulaimani chai has also lent its name to a benevolent food programme, that was started in 2015 by Prasanth Nair IAS, the District Collector of Kozhikode, in an effort to reduce (and hopefully eliminate) poverty in the region. Operation Sulaimani is based on the Western concept of pay-it-forward (Coffee on the Wall and Food on the Wall), where customers in cafes pay for an extra cup of coffee that, then, is given to any underprivileged person that asks for it. Inspired by this, the Kerala Hotels and Restaurants Association came together with the District Administration to ensure that no person in Kozhikode goes hungry. Coupons for food are available at certain distribution outlets; anyone can collect them, and claim their free hot meal from select eateries.

The scheme was very popular, receiving plenty of support from restaurateurs and also the film industry, most notably by the star and script- writer of Ustad Hotel, Dulqar Salman. So popular was it that it has spread from Kozhikode to Balussery, Vadakara and Kuttiady districts.

Sulaimani Chai in India

Hyderabad is another place where Sulaimani chai is immensely popular; it is known as ghava (very similar to kahva) amongst the locals. It is available at many shops on Mosque Road, along with seekh kebabs and kheema parathas (it gets particularly bustling during Ramzan), and at old restaurants such as Taj Tea House in Frazer Town.

And although it isn't quite as popular as in Hyderabad or Kerala, you can find it in Mumbai as well, at Irani cafes like Yazdani where I quaff it with buns and pao, and at swankier places such as Taj Mahal Tea House in Bandra, which serves a variety of teas from around India. This particular one is known as Hyderabadi Sulemani tea and it is made with a plethora of spices, such as pepper, star anise, and cardamom.

How to Make it at Home

It's pretty easy to make Sulaimani chai at home, but everyone has their own particular way. This is mine. For this tea, I use Assam tea, but you can also use Darjeeling. I boil a teaspoon of tea leaves, with an equal amount of sugar, and a stick of cinnamon. After the tea has been boiled, I let it rest for a little while, and then pour it out into a cup. Then I squeeze half a lime into it, and there, it's ready to drink.

(Also read: Types of Tea - The Best Way to Have Chai)


You can of course add or subtract anything you like - add more cinnamon, or cloves, star anise, cardamom, even mint leaves to make it fresher- tasting. You may even make it with honey or jaggery instead of sugar, but if you use honey, then pour in a spoonful towards the end, not the beginning of the boiling process.

About the Author:

Meher Mirza is an independent writer and editor, with a focus on food and travel. Formerly with BBC Good Food India, she loves anime, animals and artsy things but also comics, technology and death metal.

Disclaimer:

The opinions expressed within this article are the personal opinions of the author. NDTV is not responsible for the accuracy, completeness, suitability, or validity of any information on this article. All information is provided on an as-is basis. The information, facts or opinions appearing in the article do not reflect the views of NDTV and NDTV does not assume any responsibility or liability for the same.


What I am about to say is sacrilege in this tea-loving nation of ours - I don't like tea very much at all. Sure, I'll enjoy the occasional cup of