Today, we're turning to the Swiss for a scrumptious breakfast idea. After all, any country who does chocolate and cheese that brilliantly cannot be wrong.
Enter
muesli
: A blend of raw grains, nuts and dry
fruits
that you can prepare warm or soak overnight and enjoy cold the next morning. Muesli typically has less
sugar
and calories than most
breakfast
cereals, and is high in fiber, which helps regulate the digestive system. Muesli is also a potent source of antioxidants and can aid in
weight control
. Contrary to its many health benefits, you'll also hear that muesli is unhealthy and we don't deny that. Muesli can in fact lack nutrition when it is unroasted, the serving size exceeds ⅓-½ cup, or low on the glycemic index. The commercial kind is often packed with dry fruits that make it too high on sugar content (read: it's time to make your own muesli)!
DIY muesli
is an excellent alternative and takes very little time. And by making your own muesli, you'll be able to control the goodness of all the ingredients. If you make it right, muesli can be a true breakfast luxury and also an incredible time-saver during the busy week. You can add a touch of sweetness and spice by sprucing it up with dried
cranberries
and candied
ginger
, or
cinnamon
and
nutmeg
. Throw in a handful of chia seeds and dry roasted
almonds
for that extra crunch.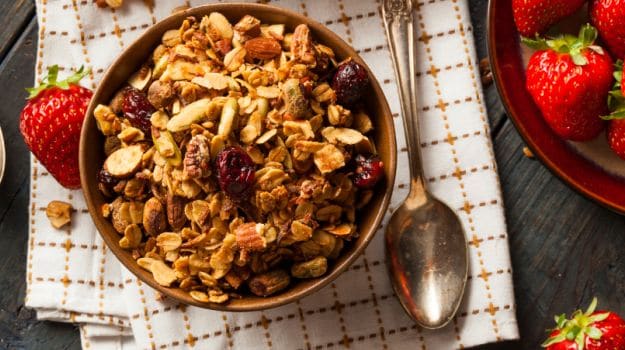 Now don't get me wrong, I do love the occasional
Eggs Benedict
or full
English breakfast
, but
beginning the day
with a bowl of muesli packed with nutty, crunchy goodies makes me feel like I'm off to a good start. When it was first developed in Switzerland by Dr. Maximilian Bircher-Benner at the end of the 19th century, muesli was typically a dry cereal made from toasted whole
oats
,
nuts
, fruit and wheat flakes. Now, you can find many versions, including gluten-free muesli, fresh muesli soaked overnight in water, untoasted or toasted muesli, and its close cousin(you guessed it):
granola
.So, what is the difference between muesli and
granola
? They are both
healthy
, made with oats, nuts, seeds and fruits and both served with milk or
yoghurt
. Depending on how the muesli is made, it often contains less calories and sugar than granola, which usually has more added syrup to aid in the toasting. Basically, muesli is an uncooked cereal combining grains, nuts, seeds and fruits; whereas granola is a baked cereal that typically combines grains with sweetener and oil in order to bind the ingredients together.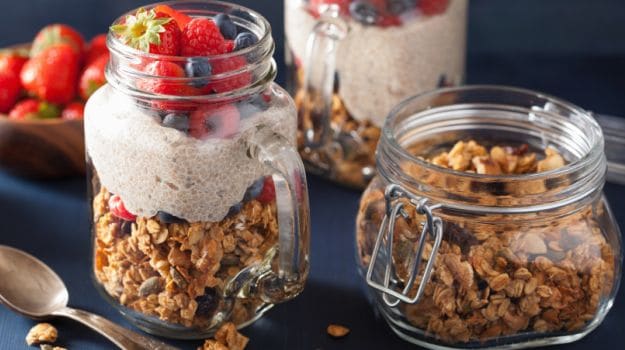 How to Eat Muesli1. Go nuts!
Since muesli is usually very soft and creamy, adding a handful of unblanched almonds,
flaxseeds
,
walnuts
or even
peanuts
adds a textural element and takes your muesli to a whole new level of divine. If you like the end result to be thicker, add
chia seeds
as they absorb the liquid and thicken the cereal.
2. Let it chill:
Give your muesli a good stir, then cover the bowl loosely with plastic wrap and refrigerate it overnight. It needs a minimum of 8 hours to thicken.
3. Top it off:
Muesli is wonderful eaten plain, cold, and straight from the refrigerator. But if you want to add something extra, stir in a spoonful or two of nut butter or a fruity jam or your favourite mix-ins. You can top it off with something crispy, maybe puffed
quinoa
or toasted amaranth.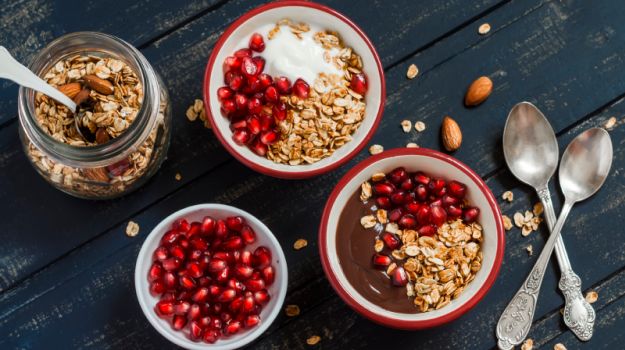 You can up your breakfast game this 2016 with acai bowls, or muesli in a jar or even a gorgeous
parfait
. Maybe even make your own home-made muesli
bars
for your kids' lunch boxes or serve it as an after school treat. They're healthier than the store bought variety and quick to make too.Here are 3 muesli recipes you'll love!
1. Acai Bowl with Muesli
Ingredients:
2 bananas
1/2 cup blueberries
2 tbsp acai powder
Water (to blend)
½ cup muesli
Directions:
1. Place all the ingredients, except muesli, into a high speed blender and blend until smooth. Place in a bowl and add muesli on top.
2. Two-Ingredient Muesli Bar
Ingredients:
3 cups muesli
1 can condensed milk
Directions:
1. Preheat the oven to 180°C.
2. Combine muesli and condensed milk,and stir well.
3. Press the mixture into the baking tin and bake for 25 minutes or until the top has just begun to turn golden.
4. Remove from the oven and let it sit for about 10 minutes.
5. Cut into bars and allow to cool completely before storing in an airtight container.
3. Muesli Parfait
Ingredients:
3-4 medium strawberries
1/2 cup muesli
A handful of blueberries
A handful of raspberries
3/4 cup vanilla Greek yoghurt
Directions:
1. Layer fruit, yoghurt, and muesli in a mason jar or a daiquiri glass and serve immediately. It's like the crème de la crème of muesli, and really that simple.