Summer
is known to make me sluggish. My mood and my
stomach
seem to have a slower pace. I try to eat healthy. Seasonal, check. Hydration more than just water, check. Fresh and cooling foods, check. Yet, I don't feel like a warrior. Then, someone brought it up. 'How do you start your day?'-'With a tall glass of cold
coffee
'- 'Try almond milk.' It's been a few weeks since I've made the switch and I've become quite a fan of the sweet and nutty flavour. I also feel lighter and my gut is happier. But I'm not ready to give up on dairy still. How do you know which milk is right for you?"Ideally, infants should be fed their
mother's milk
for the first three years. After the age of three, they stop producing an enzyme called lactase which is required to
digest
milk. Their bodies lose the ability to break down the milk proteins (casein) which inhibits the absorption of calcium from milk," says Meenu Nageshwaran, Vegan Chef and Healer.
It makes sense, then, to believe that animal milk is not giving you the right nutrition you need because about 82% of milk protein is casein. In their 2013 study published in the journal JAMA Paediatrics, Pediatrician Dr. David Ludwig and Harvard nutritionist Dr. Walter Willett urge us to regard milk as a dietary choice and not a nutritional requirement. In countries where people consume no dairy products,
osteoporosis
rates don't appear to be higher, possibly because people are getting their dose of calcium from other sources, they claim."70% of the Indians are actually allergic to milk and they may not even know it. You could have skin breakouts, acne or any mild symptoms that often go unnoticed. Broccoli has more calcium than milk. Soya has more protein than milk. So, you don't really have to depend on milk for these nutrients," says Sakshi Hari Khanna, Founder of All Nut in New Delhi that offers milk alternatives.
This has become a matter of debate and the jury is still out. According to Dr. Rupali Datta, Chief Nutritionist, SmartCooky,
"
Milk provides complete nutrition. It is one of the best sources of
calcium
and good quality proteins. In fact, dairy is an important food group in a balanced diet. I have come across many patients who find milk hard to digest or feel bloated after drinking it; in such cases I suggest you have it with cereal, in the form of a porridge or
yoghurt
. Having it lightly brewed with Tulsi leaves also makes it easier to digest."
A lot depends on the quality of milk you buy but there are fears surrounding the extreme commercialization in modern dairy. "In an attempt to increase productivity from the cow, the dairy industry puts immense
stress
on them by impregnating them again and again; this leads to the release of the stress hormone "cortisol" which is then consumed by humans. They are further treated with antibiotics that are also then consumed by humans through their milk. All of these hormones and antibiotics create an acidic pH in the human body and also wreak havoc with the endocrine system and hormonal balances within the body, leading to a number of chronic
health
problems and allergies," says Devika Modi who's been off dairy for eight years now and runs Shuddha Foods in New Delhi known for its vegan beverages.To make matters worse, studies have found that pasteurization renders much of the calcium contained in raw milk insoluble. I don't really feel guilty about breaking up with milk and this is not the first time. Two years ago, I was diagnosed with a
Vitamin D
deficiency and I took to drinking soy milk. I have to confess I couldn't tolerate the taste. During this time, I learned that most of the soy crop might actually be genetically modified – a fact that made me spit out my Soy Latte in alarm. Better to skip than sip unless your carton of milk speaks otherwise.The new health drink everyone's talking about is
almond milk
. It is the pulp extracted from almonds after blending it with water. "Almond milk is alkaline in nature versus dairy which is a highly acidic. It's light on your stomach and easy to digest. It does not have as much protein or calcium as regular milk but there's a lot of room for creativity to enhance its nutritional value
.
You could throw in some chia
seeds
to make your drink calcium rich drink. Two tablespoons of chia seeds have six times more calcium then milk. At Shuddha, we also make a protein-packed
smoothie
with bananas, dates, raw cacao, almond butter, almond milk and flax seeds," shares Devika.
I'm in love with their Cold Brew Almond Milk Latte – the perfect way to start my day and when I'm in need of some cozying up I'd head up to Devang House at the Ashok for a hot cup of Vegan Filter Coffee. "Almond milk is definitely lower in
calories
and cholesterol. It could be a good replacement for juices that have concentrated
fruit
sugar and can sometimes cause the dumping syndrome in the
summer
heat when your system is already stressed. Out of three recommended glasses of milk in a day, you could swap one with a milk alternative in order to break monotony," says Dr. Datta.
"You may question the nutrition in almond milk is, but it all depends on how you make it. You could use 10 almonds to make a cup of milk and that will fulfill your daily dose of
nuts
. Almond milk has a soothing and calming effect on your body, especially if you drink a glass of warm milk before getting into bed," says Meenu. The next best alternative to dairy milk, in terms of taste, is cashew milk because it is naturally creamy. It blends beautifully when making Masala
Chai
. It is thicker and sweeter than almond milk but not as nutty. Put it in your smoothies to make a rich drink or just have it plain.In his restaurant, Lavaash, Chef Sabyasachi Gorai whips up a delicious
Aam
Panna Smoothie with coconut milk, aam papad and coconut water. "When I was in Australia, soy milk was the norm. Chai Latte and Flat White, both made with soy milk, were everyone's favourite. I usually like to use milk alternatives in shakes along with fruits like melon, mangoes or bananas that blend well and provide the body and a thick texture to the drink," he says.Starbucks gives you the option to choose soy milk but it is kind of an acquired taste. I quite enjoyed their Soy Hot
Chocolate
and the Soy Macchiato but if you're not lactose (a type of sugar found in milk) intolerant, you could choose to avoid soy milk or look for healthier options.The idea of drinking milk has been deeply ingrained. We've grown up with our mothers and their mothers sharing milky tales of its goodness. I'm not saying you should give up your milk habit or ditch dairy completely. I just want people to know that it's alright to question what they've always believed to make more informed choices. I don't consider cheap milk from industrial farms a better alternative. If you'd like to discover nut milks, don't be an ignorant hipster. Seek out the best-quality from local sources or better still, make your own!
Almond Milk Thandai
Recipe by Chef Meenu Nageshwaran
This refreshing mix of almond milk, spices and protein-packed seeds is the perfect addition to any celebration.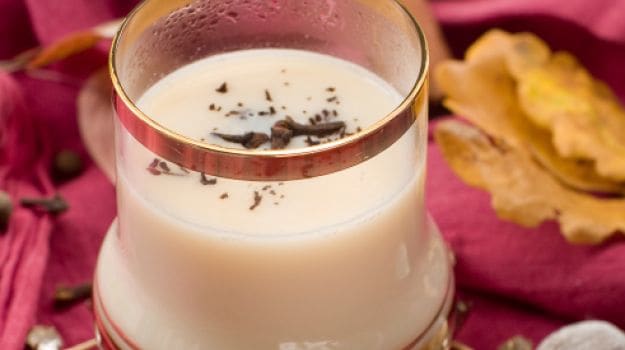 Sol Kadi
Recipe by Chef Meenu Nageshwaran
Sol Kadi is famous Konkani drink which is made with kokum and coconut milk. It acts as a natural digestive.