Don't go by the name or the size, bell peppers are nothing like their potent look-a likes - chillies, or even black pepper for that matter. Even though they contain small amounts of the chemical 'capsaicin', which is responsible for the tongue-burning sensation produced by chillies, on the contrary, they have a sweet flavour, along with a slight zing. Scientifically, they are known as Capsicum annuum, and therefore are often called 'capsicum' in some countries, such as India, although in America they know it as 'bell pepper' and most parts of Europe call it just 'pepper', referring to its slight pungency.

It is said that its misleading name 'pepper' was given by none other than the great explorer, Christopher Columbus. Bell pepper is native of South America and Mexico, so when it was brought to Europe, he introduced it as 'pepper' drawing from the fact that any ingredient which was relatively spicy in those days was associated with black peppercorns, a prized spice from India.





Apart from the sweet flavour and the nice crunch, bell peppers are a loved ingredient also for their bright and peppy hues, which make them a perfect ingredient to spruce up mundane recipes as well as create some stellar dishes. They come in glossy red, green, yellow, orange and even purple and black colour, and hence are an excellent source of carotenoids and Vitamin C. Toss them into salads, cut into chunks and use them to make veggie kebabs, top them on home-made pizzas and pastas, or bake them by stuffing them up with delicious fillings - there are plenty of ways to cook this beautiful produce. Point to remember: don't cook them on high heat for prolonged time because that will make them lose all their nutritional goodness.





We bring you our 10 best bell pepper recipes to help you find interesting ways to dish them out at home and impress your friends and family -






1.Roasted Red Pepper Soup
Recipe by Chef Vicky Ratnani





Red bell peppers are roasted and blended along with fresh herbs to create a heart-warming soup.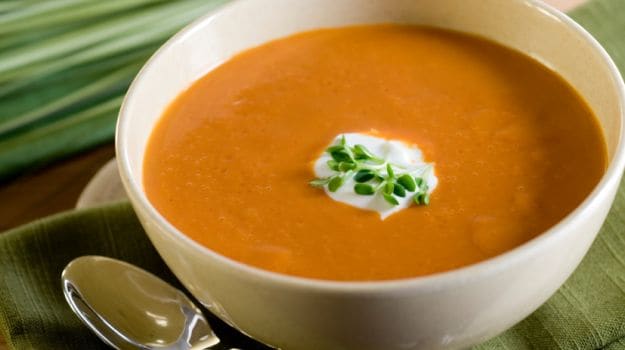 2.Bell Pepper and Bean Dip
Recipe by Chef Padmaja Vasireddy
An innovative dip made with grilled bell peppers, garbanzo beans, chillies and garlic. Serve with freshly cut vegetables, pita bread or crackers.

3.Yellow Pepper and Asparagus Stir Fry
Recipe by Chef Aditya Bal
Fresh asparagus and yellow peppers are tossed with tangy spices and roasted almonds to make an immensely satisfying side. You can serve it with breads or meat dishes.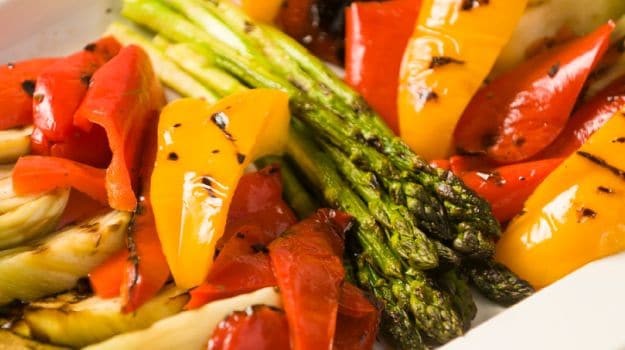 4.Baked Mexican Potatoes
Recipe by Chef Roopa Gulati

Baked potatoes stuffed with a scrumptious filling made with corn, bell peppers, cucumber, garlic and chillies.






5.Chicken Stuffed Peppers
Recipe by Chef Ipsita Roy Choudhury





Bell peppers stuffed with a tangy chicken keema mixture, topped with cheese and microwaved. Don't have a microwave? Not to worry, use a pressure cooker.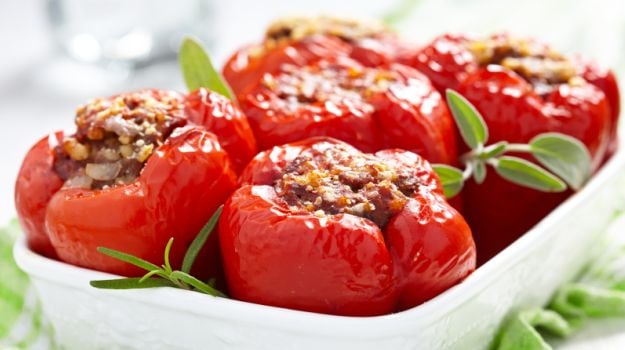 6.Roasted Bell Pepper and Broccoli Salad
Recipe by Chef Vicky Ratnani
Yellow and red bell peppers, broccoli and spring onions are tossed in delicious seasonings and sprinkled with apricots.
7.Red Bell Pepper Salsa
Recipe by Chef Roopa Gulati
A zesty red bell pepper salsa served with pickled vegetables and a dry melba toast. Perfect start to your brunch party.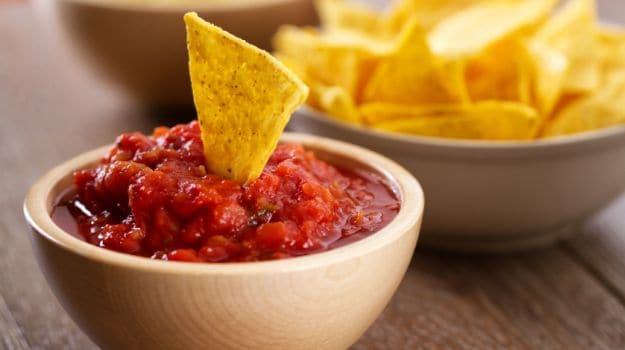 8.Vegetarian Burrito
Recipe by Chef Rishi Verma
A burrito is a delicious, portable answer to on-the-go meals. Rice, beans, bell peppers, all are snugly wrapped in a salsa smeared tortilla, keeping everything warm for long and making it full of flavours.
9.Marinated Stuffed Peppers
Recipe by Chef Roopa Gulati
Bell peppers stuffed with tomatoes and a delicious filling of aubergine and fresh herbs.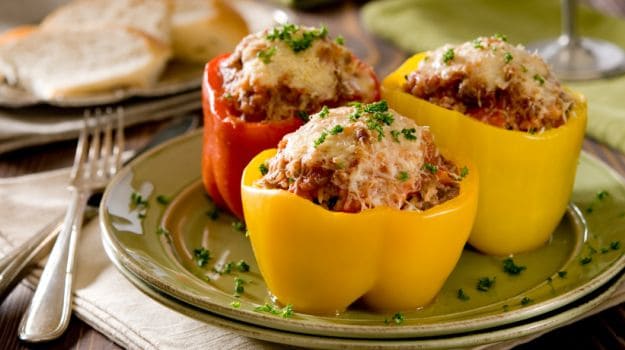 10. Pineapple and Bell Pepper Margarita
Recipe by Chef Shatbhi Basu
Not your usual fare, the classic Margarita gets a makeover. The slightly bitter taste of bell peppers is complimented by the sweetness of pineapple.