handy ingredient to stock up in the refrigerator. Whenever the hunger pangs kick in, you can just take out a few pieces and use them in a number of ways to delight your taste buds.

The process of making sausages started out as a traditional food preserving technique. Now it is almost a breakfast staple across the globe. There are various kinds of sausages available in the stores these days. While you ponder about the kind of meat you want to choose, the endless flavourings (peppered, herbed, chilly spiced, cheese stuffed, etc.) and the treatment (uncooked, smoked, cured and aged) too would leave you spoilt for choice. For those who love a little spice, chorizo is what you need to get your hands on. Of course, one of the easiest ways to enjoying sausages is to sauté them lightly in a little oil, but if you are looking for something more thrilling to snack on, we bring you our 10 best sausage recipes.





From tossing them into pastas and casseroles, to using them as spicy fillings in pancakes and burgers, there is no limit to savouring them to your heart's content. If you want some exciting bite-sized ideas for your next cocktail party, how about turning them into wantons or barbecuing them with a range of herbs and sauces? For those who love traditional flavours, there's nothing like a bowl of Bangers and Mash to kickstart the morning - comfort food at its best!

So go on, spruce up your sausage game with these recipes -





1. Sausage and Potato Casserole
Recipe by Chef Vicky Ratnani





Time to slow down and enjoy life. Here's presenting a comforting casserole made with bell peppers, capsicum, potatoes, baked beans and sausages. For the recipe, click here.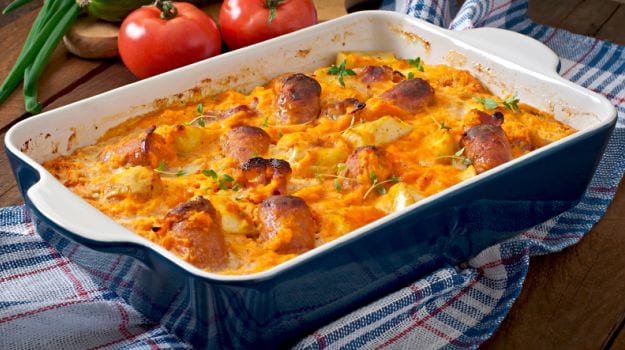 2. Ragi Pancakes with Sausage Filling and Yoghurt Dip
Recipe by Plavaneeta Borah
A delicious pancake made with ragi flour, and stuffed with a delicately spiced filling of sausages, baby corns, button mushrooms and red bell peppers. It is topped with a fresh yoghurt dip spiked with garlic and black pepper. The perfect start to the morning! For the recipe, click here.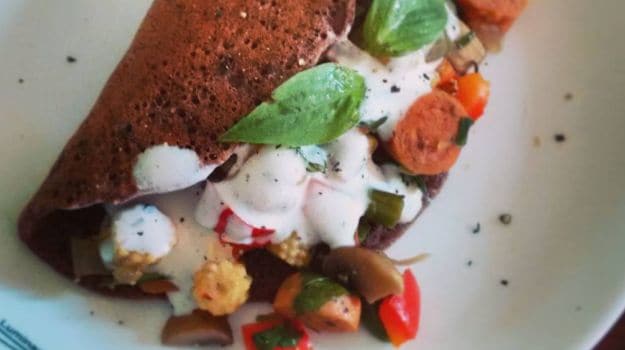 3. Sausage Wantons
Recipe by Chef Roopa Gulati
Sausages with delightful filling wrapped around wonton skins and fried crisp. A perfect snack to munch on. For the recipe, click here.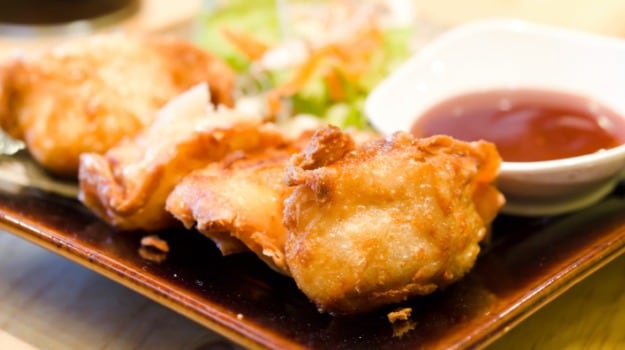 4. Barbecued Sausages
Recipe by Chef Roopa Gulati
Sausages split and filled with dry herbs. A tangy sauce with mustard and Worcestershire poured over it and baked to make a succulent treat. For the recipe, click here.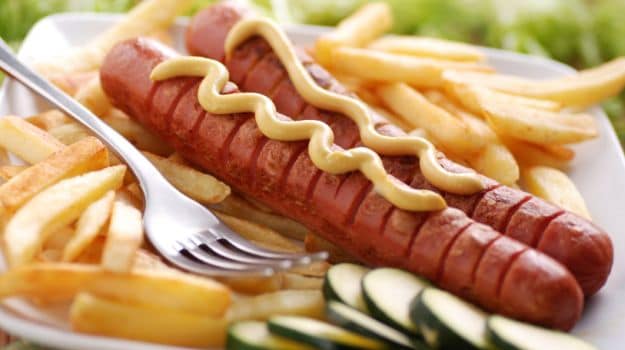 5. Chicken Legs with Chorizo, Garlicy Cheesy Beans and Wasabi Mayo Dressing
Recipe by Chef Joey Mathew
Chicken legs cooked with spicy pork sausage and served with beans and wasabi mayo dressing on the side. For the recipe, click here.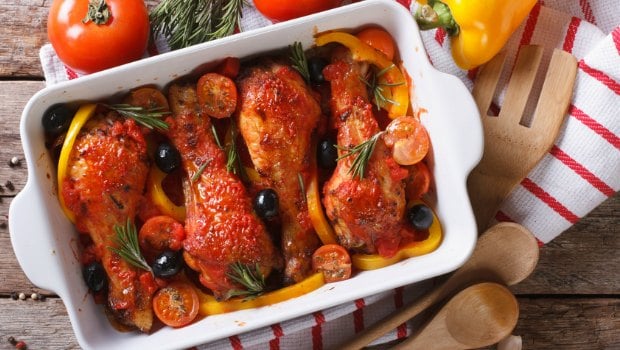 6. Calzone Glazed Sausages with Sweet Potatoes
Recipe by Chef Aditya Bal
A quick and easy mash up of chicken sausages apple juice, honey and calzone powder. Served on bed of mashed sweet potatoes. For the recipe, click here.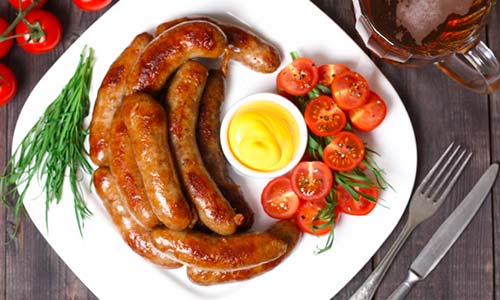 7. Bangers and Mash
Recipe by Chef Manju Malhi
Bangers and mash is a traditional British dish that is quick and easy to make. Chicken sausages with fluffy mashed potatoes, what's not to love? For the recipe, click here.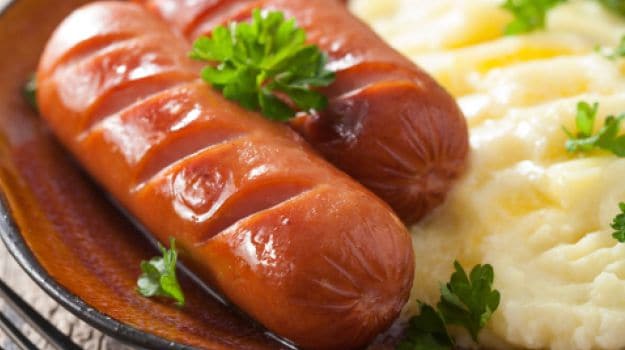 8. Fruity Sausages
Recipe by Chef Roopa Gulati
Sliced sausages stir fried with onion rings, drizzled with apple juice, topped with fresh mint leaves and grapes. A good depart from the usual!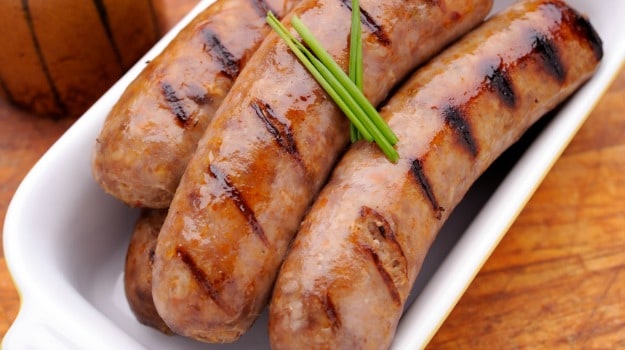 9. Sausage Pepper Burger
Recipe by Chef Vicky Ratnani
Quick and easy, stir-fried sausages and onion in a sweet and tangy sauce which is then filled between burger buns.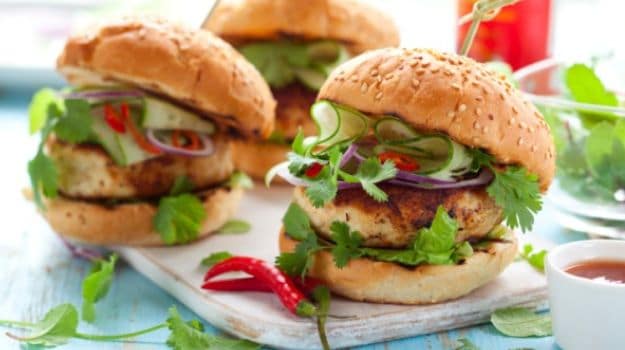 10. Chorizo Penne Pasta in Tomato Sauce
Recipe by Plavaneeta Borah
This recipe is for the lazy cooks and pork lovers. All you need to do is add all the ingredients in a pan, and let the chorizo do its magic.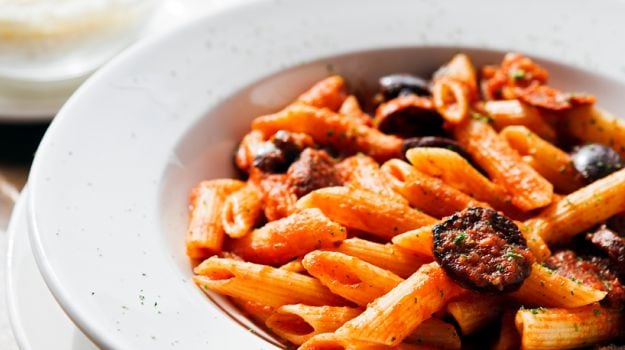 The idea of a perfect breakfast is almost incomplete without a few sausages on the side. At least such is the case for the meat lovers. Plump and juicy, not only do they help in offsetting the dry texture of toasts, but also in adding a burst of flavours. Besides, they are a